This article is more than 1 year old
Micron moves up stack to Excelero-powered flash array product
Flash fabber fabricates NVMe over fabrics flash array
+Comment Micron is building SolidScale, an all-flash, scale-out, NVMe over Fabrics access array using Excelero software aimed at low latency and high-throughput data access needs.
It is introducing its SolidScale architecture, with multiple nodes connected using high-speed RDMA over Converged Ethernet (RoCE) fabric, for low-latency, high-speed access to compute and storage resources, and ready for the coming NVMe over Fabric (NVMeoF) standard.
Excelero is an Israeli startup producing NVMesh server SAN software which uses NVMeoF to speed remote node data access and avoids using the remote node's CPU when making such data accesses.
Micron is basically adding its 3.2TB 9100 SSDs, 16nm MLC drives, which have NVMe access, to a 2U x 24 bay commodity server running the Excelero RDDA block access software, and fitted with a Mellanox Ethernet RoCE fabric. This fabric uses Spectrum switches, ConnectX-4 adapters and LinkX cables.
It's initially launched for Linux environments with expansion to other environments in its roadmap. End-to-end latency is claimed to be less than 200 microseconds.
The maximum per-node raw capacity is 76.8TB. We were told that having eight drives will saturate the network link though. Micron has a follow-on to the 9100 coming later this year, which we understand will be higher capacity, probably using 3D NAND. We might imagine a capacity jump to the 6-7TB drive area and even beyond.
SolidScale can be used either as a collection of nodes forming a single, converged effective storage target or as a collection of separate nodes forming a virtual SAN, both with end-to-end NVMe, using the Excelero RDDA software for now.
In comparison, Micron said, Pure's FlashArray//X uses NVMe internally but does not yet have NVMe access in accessing servers.
The SolidScale servers scale out to a tested 256 nodes and onwards.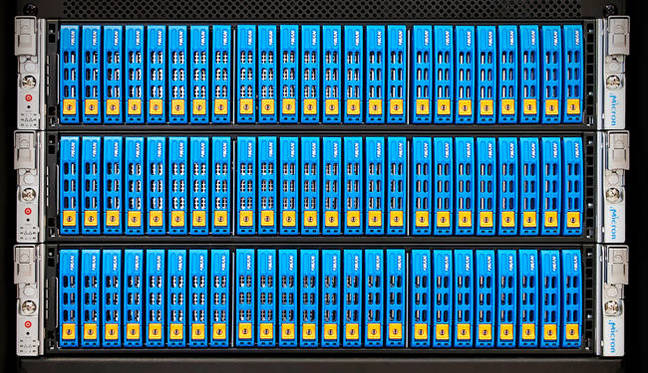 Micron 3-node SolidScale rackmount cluster
Performance
A three-node configuration produces 10.9 million IOPS. Micron says that access to data on a remote SolidScale node adds one per cent or less incremental latency compared to a local NVMe SSD access, and has checked this out running Apache Cassandra.
A single SQL Server node achieves 11.1GB/sec and Micron says customers will see 100GB full line rate with a three-node SolidScale cluster.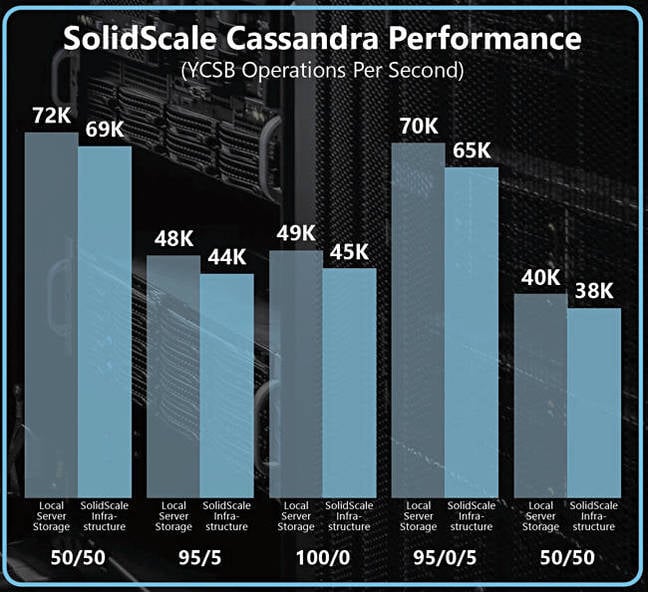 There is single pane-of-glass management of a SolidScale cluster.
SolidScale is available in a customer early access program to key Micron customers and partners to test their own application workloads in existing data center environments.
It comes with the Micron 9100 SSD. This drive uses 16nm MLC flash. Later this year, Micron should deliver a higher-capacity drive using its 3D NAND technology. The company is shipping 32-layer 3D NAND chips now and has 64-layer product coming.
The early access program should give way to full Micron-branded appliance product availability in early 2018.
Pricing is still being worked out. The target market is one needing low-latency, high-performance block data access where the latency and performance needs supersede desires for general data management services. Such services are on Excelero's roadmap.
Micron is still working on go-to-market arrangements and said it will engage with the channel to take SolidScale to market. Customers interested in taking part in the early access program and prospective OEMs should contact Micron at www.micron.com/solidscale.
The system is hardware-agnostic and could use different servers and other components, including NICs and SSDs.
Darren Thomas, VP of Micron's Storage business unit, said SolidScale was the culmination of three years' work, with the availability of 3D NAND technology a clear requirement that could very soon be met. He can see ways to make this version 1 product even faster, using other technologies inside Micron, at both media and software levels: "We have a path to using Quantx (3D XPoint) but no announced time line."
SolidScale today accelerates NVMe SSD use within systems, with Thomas saying, "We estimate that companies using NVMe SSDs deployed in application servers today are on average using less than 50 per cent of their IOPS and capacity." SolidScale should help fix that imbalance.
He also said that SolidScale was a step in Micron's storage systems road, and there would be others.
Micron is aiming SolidScale at online transaction processing, virtual platforms and analytics, machine learning and other applications with low latency, high data throughput needs.
Excelero software
SolidScale uses Excelero software and that is pretty bare bones as far as data services are concerned. We understand the roadmap for feature additions includes:
Deduplication and compression
Thin provisioning
Snapshots
Quality-of-service features
Kubernetes support
Erasure coding
These features will probably slow performance a little, as the associated metadata processing will use up CPU cycles. We haven't seen any mention of replication.
Excelero's client software runs on Linux and supports the KVM hypervisor. Other hypervisor support could, in theory, be added. Micron told us that it and Excelero had a joint roadmap, by the way.
Reg comment
With SolidScale, Micron becomes the second flash foundry vendor – after Western Digital and its InfiniFlash – to move up the vertical integration stack into full-scale storage array provision.
Disk drive supplier Seagate is also in the array business with its ClusterStor HPC arrays and Dot Hill arrays for the OEM market.
Micron's entry means that there are now at least 18 mainstream all-flash array vendors: the established incumbents – Dell, HDS, HPE, Huawei, IBM, and NetApp – joined by Pure Storage, plus Kaminario, Tegile, Tintri and WD, and startups Apeiron, E8, Mangstor and Pavilion Data Systems. Then there are hyperconverged infrastructure appliance vendors, such as Nutanix and Pivot3, with others likely to join in.
We should point out that Dell has a reseller agreement with Excelero.
It seems unlikely that all these 18 will still exist in three years' time, and it also seems possible that server vendors such as Inspur and Supermicro will also be included in the ranks of NVMe storage array suppliers. Toshiba, with its Flashmatrix, may also become a larger player.
And another point to bear in mind is that other flash foundry and SSD operators, such as Samsung, could also move up stack and start producing storage arrays. What a furiously fermenting flash fracas we face. ®