Analysis Intel is a formidable competitor in the enterprise and consumer SSD business but it has yet to stop losing money. The key to that looks to be increasing SSD sales volume and making XPoint a success.
In its latest quarterly results and among the record quarter news there were these information nuggets:
Non-Volatile Memory Solutions Group revenue of $866m, up 55 per cent year-on-year from $557m
That revenues was up 6 per cent quarter-on-quarter from $816m
NVM Solutions Group operating losses;

First quarter 2017 - $129m
Fourth quarter 2016 -$91m
First quarter 2016 - $95m
That's pretty poor.
Stifel analyst Aaron Rakers said: "The company noted that demand outpaced supply during the quarter (no surprise)."
And it still made a whopping loss: "Losses were driven by the company's ongoing investments in 3D NAND and its 3D XPoint development." But: "However, the company expects to run at breakeven for the core business in 2H2017 and be profitable for the entire non-volatile memory business near the end of 2018."
Rakers has charted Intel's NVM quarterly revenue performance. It's not that great since 2011 but did see a 2016 revenue boost: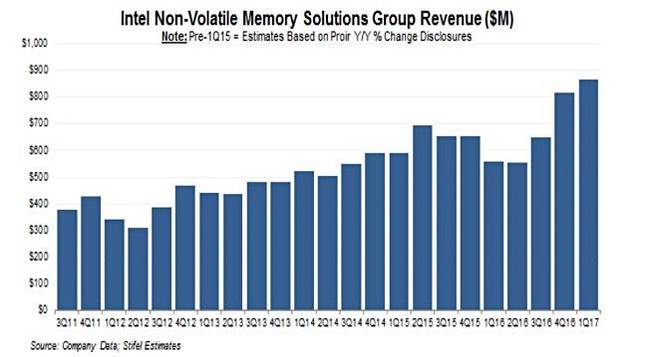 We think that revenue boost has to continue this year for the NVM business unit to move into profit.
But, again, costs are going up: "Intel reiterated 2017 CAPEX at $11.5-$12.5 billion, up $2.5 billion y/y due to increased investments in 3D NAND and 3D XPoint. The company reiterated that it expects CAPEX will likely increase in 2018 as the company continues to build out its memory fabs."
So there have to be increased product sales, and better margin, if it is to move its NVM business into profit.
P4000 class SSDs
The product development status is good, with a new P4000 class Data Centre set of SSDs. The previous P3000 class products looked like this in overview:
Technology - 20nm MLC (2bits/cell)
DC P3100 M.2 128GB - 1TB - 114,000/10,000 R.W IOPS - 1.8/0.175GB/sec R/W bandwidth
2.5-inch form factor;

DC P3500 - 400GB - 2TB capacity - 450,000/35,000 R/W IOPS - 2.5/1.7GB/sec R/W bandwidth
DC P3600 - 1TB - 2TB capacity - 470,000/70,000 R/W IOPS - 2.6/1.7GB/sec R/W bandwidth
DC P3700 - 400GB - 2TB capacity - 460,000/175,000 R/W IOPS - 2.1/1.5GB/sec R/W bandwidth
We see up to 2TB capacity, 460,000 read IOPS and 2.5 GB/sec read bandwidth as take-away characteristics. The latest P4000 class, with an NVMe interface like the P3000s, has new technology and impressively improved performance:
Technology - 3D NAND TLC (3 bits/cell)

DC P4500 - 1TB - 4TB capacity - 710,000/68,000 R/W IOPS - 3.29/1.89 GB/sec R/W bandwidth
DC P4600 - 1.6TB - 4TB capacity - 702,500/257,000 R/W IOPS - 3.28/2.1 GB/sec R/W bandwidth

Optane 3D XPoint
The DC P4600 comes in either U.2 or Add-in-Card (AIC) format and the capacities vary;
U.2 - 1.6TB, 2TB, and 3.2TB
2TB and 4TB in AIC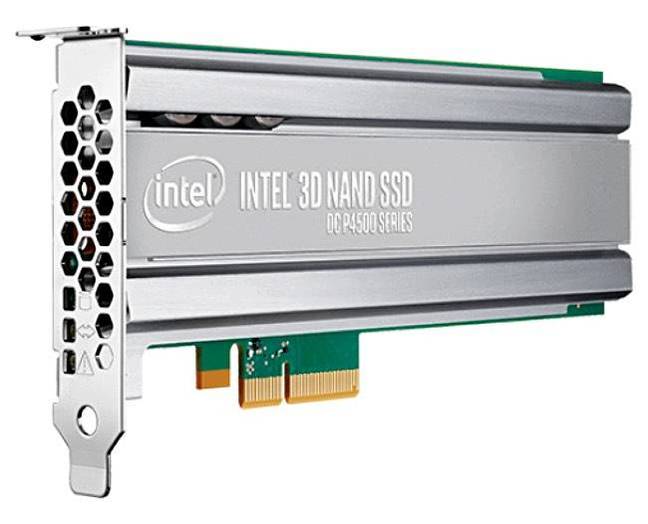 Intel P4500 SSD
P4800X and P4500/4600 performance
Intel doesn't directly compare the P4800X with the P3000 and other P4000 products, saying it's a new class of non-volatile device and media. It has higher endurance than the NAND P4000s, better, we assume, low queue depth performance, can be used as quasi-memory with DRAM, and is limited to a 375GB to (a coming) 1.5TB capacity range. All these points make it harder for customers to choose between the P4800X, with its glamorous XPoint media, and standard SSDs.
We would think tbat Intel doesn't want the P4800X to cannibalise its existing NAND SSD sales and so its performance is characterised in a non-NAND way. It is difficult to estimate P4800X sales volumes as the application area is, we think, ill-defined and not well understood, and new as well.
It will likely take some time to show if it is a useful device or not. We think that P4800X SSD sales in 2017 will be relatively low because of this.
Turning back to NAND, in general we can think of P4000 SSDs as having up to 4TB capacity, 700,000+ read IOPS and 3.3GB/sec read bandwidth which compares very well indeed with the P3000's 2TB capacity, 460,000 read IOPS and 2.5 GB/sec read bandwidth. These are significant improvements. Intel has engineered new controllers and written its own firmware for the P4000 NAND SSD controllers and these must contribute to the performance boost.
If Intel is to move its NVM business unit into profit then, we think, the P4000 NAND SSDs will play a crucial role, and their eye-catching performance numbers will help them do it. Whether that's enough, given the high level of SSD supplier competition and Intel's CAPAX needs, is another matter. Our bet is on another operating loss this time next year.®
Bootnote
Get a DC P4500 brief PDF here and the P4600 equivalent here .