This article is more than 1 year old
China's first large passenger jet makes maiden flight
The C919 will compete with the 737 and A320, has already won 99 orders
China's first large passenger jet has successfully taken to the skies and then landed again.
Just after 06:00 GMT, the first C919 rolled down and off a runway at Shanghai Pudong airport, to the sounds of applause of onlookers and plenty of senior officials who showed up to celebrate a milestone for Chinese industry.It touched down 75 minutes later after a successful flight.
The C919 is a competitor for Airbus' A320 and Boeing's 737 and will offer configurations of between 158 and 172 seats. The single-aisle twin jet will have a range of up to 5,500 km.
Built by the state-owned Commercial Aircraft Corporation of China (COMAC), the plane has taken nine years to get off the drawing board and into the air. COMAC's secured 99 firm orders for the plane, which is expected to enter service in the year 2020.
COMAC's already built a regional jet, the 90-to-100-seat ARJ21. Six have been built to date but only two are in service.
There's nothing revolutionary about the C919 that you won't find in other airliners. But China's always keen to show it can match anyone when it comes to high technology, if only because politics and national pride demands that the nation be able to show it can meet its own needs.
It will therefore come as no surprise that of the 23 carriers to express an interest in the plane, just two are from beyond China and its territories.
Plenty of nations worry that China's state-owned enterprises don't have to worry about little things like making a profit, which is felt to give them an unfair advantage. A story today in state-owned organ Xinhua headlined "China-made C919 no challenge to Boeing, Airbus dominance" therefore looks like a deliberate attempt to douse such worries.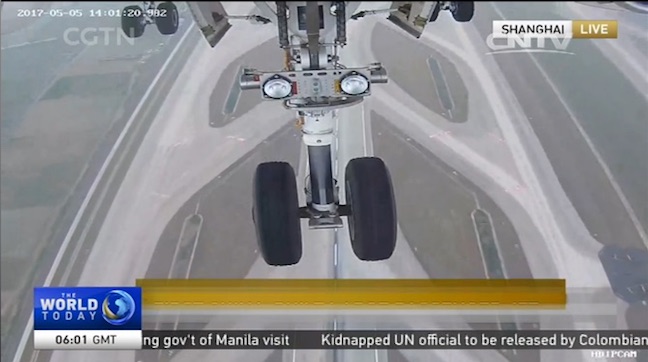 Wheel-well-cam on the C919's maiden flight
But plane-makers everywhere will know that if the C919 proves a worthy rival, it will win orders because demand for this class of plane is high. Boeing and Airbus each have backlogs of thousands of their own single-aisle planes and struggle to increase production. Demand for C919-class planes is also expected to just keep climbing as flying becomes more affordable and more people around the world become prosperous enough to afford air travel, so a new entrant has a chance to cash in.
But the wider aviation industry won't feel competitive pressure, as the C919 includes parts from many established aviation companies, including CFM's Leap engines. China's working on engines for commercial planes, and COMAC has ambitions to build a wide-body plane too, but both efforts are years off bearing fruit. ®