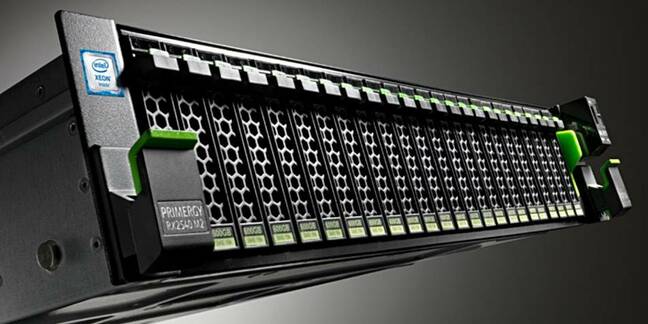 Fujitsu has introduced a Microsoft software-flavoured hyper-converged infrastructure appliance product. PRIMEFLEX for Storage Spaces Direct uses Microsoft virtualised infrastructure software, including Storage Spaces, and comes in pre-configured and pre-tested systems based on Fujitsu's PRIMERGY x86 servers, all-flash storage, and networking.
The Storage Spaces Direct technology - virtual SAN-like - comes from Windows Server 2016. Fujitsu says these systems provide highly available and scalable, software-defined storage at a fraction of the cost of traditional SAN or NAS arrays, but it did not provide comparative prices.
The system comes in either all-flash or hybrid flash+disk configurations. It starts with two servers and scales to 16, with 384 drives, supporting up to 800 virtual servers or desktops with sub-millisecond response times – we presume if you have flash storage – and 150,000+ IOPS/server. There are quality of service controls for the storage, with per-VM IOPS limits, and erasure coding for in-system data protection.

Basic configuration data for PRIMEFLEX for Storage Spaces Direct
Fujitsu suggests these systems are suited to small and medium-sized businesses, and enterprise remote and branch offices – the traditional HCIA market, then.
You might want to compare and contrast them with products from HyperGrid, which also uses Microsoft virtualisation software.
Fujitsu exec Olivier Delachapelle* produced this from the quote cannery: "It does not make economic sense to try and build a hyper-converged infrastructure foundation from scratch, as it is highly complex and time-consuming, and requires specialist skills. To take the headache out of moving to hyper-converged systems, Fujitsu and Microsoft have worked together to provide a proven, integrated platform."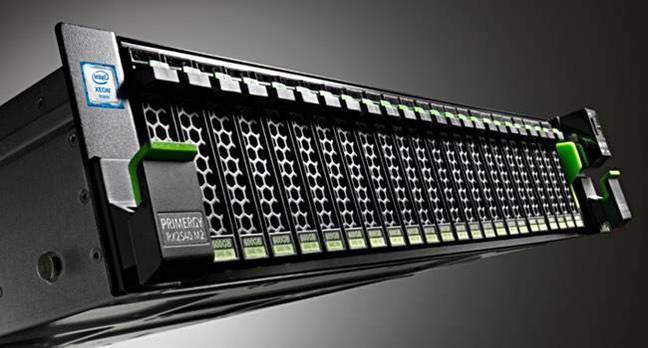 Fujitsu PRIMEFLEX for Storage Spaces Direct
We'd think most business would understand the don't-build-it-yourself point already. PRIMEFLEX for Storage Spaces Direct is available in EMEIA from May 2017 directly from Fujitsu and through Fujitsu's partners. We aren't given any prices; Fujitsu says pricing depends on configuration and region. Get more info here (PDF). ®
* Olivier Delachapelle, Head of Enterprise Business, Category Management Data Centre at Fujitsu in EMEIA.
Sponsored: Webcast: Ransomware has gone nuclear