Phew! We had to order a new array to hold all of this week's Dell EMC announcements
A roundup for file geeks, blockhead nerds
---
My god, it keeps going – how do we get off this crazy train?
Dell EMC has responded to the rise of converged data protection needs and the growing use of cloud backup with an Integrated Data Protection Appliance and disaster recovery in the cloud through a boosted Data Domain Virtual Edition product.
Here's the details:
Integrated Data Protection Appliance
The IDPA is a turnkey rack-scale box converging storage, protection software, search and analytics with four models:
DP5300 – 34TB to 130TB usable, for entry-level mid-size customers
DP5800 – 144TB to 288TB usable, for mid-size enterprise
DP8300 – 192TB to 720TB usable, for larger enterprises
DP8800 – 624TB to 1PB usable, for larger enterprises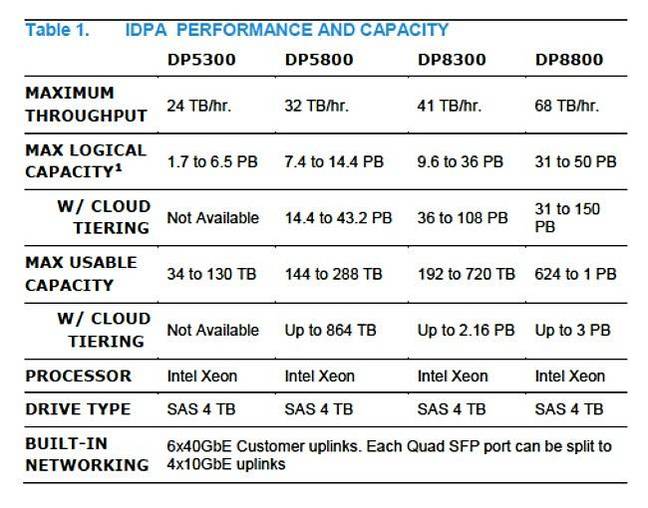 IDPA comparison
Dell EMC says "logical capacity" means a mix of typical enterprise backup data (file systems, databases, email, developer files). The low end of this capacity range represents a full backup weekly or monthly, incremental backup daily or weekly, to system capacity. The top end represents full backup daily, to system capacity. All capacity values are calculated using Base10 (ie, 1TB = 1,000,000,000,000 bytes).
A datasheet says the system is flash-enabled and offers up to 10,000 unspecified IOPS. It also claims it is up to four times more scalable than the leading, but unnamed, competitor.

The IDPA rack
It is scalable and offers native private or public cloud-tiering, apart from the DP5300, using S3, for long-term retention, with coverage for physical and virtual workloads, vSphere and Hyper-V hypervisors, and supported applications including: Oracle, SAP, Microsoft Exchange, SharePoint, SQL Server, Sybase, MySQL, MongoDB, Hadoop (Cloudera, Hortonworks), Pivotal Greenplum, IBM DB2, Lotus, and others.
The cloud tiers are ECS, Virtustream, Azure, and Amazon.
There is a GUI so users can schedule and manage protection jobs, set up policies for long-term retention in the cloud, and comply with protection SLAs.
The IDPA has encryption, fault detection and healing, plus, of course, deduplication with a claimed average 55:1 deduplication rate for data both on-premises and in the cloud.
Dell EMC claims it has 20 per cent faster performance than the closest but unnamed competitor. IDPA is flash-enabled and VMware optimized for instant access and restore of virtual machines. Customers can use the flash-enabled capabilities and have the appliance function as live storage for dev-test environments.
There are services, such as remote monitoring and auto-dispatch of parts from globally distributed service depots, to keep IDPA systems running.
Data Domain in the cloud
Dell EMC says it is introducing Disaster Recovery to the cloud and Protection Storage in the cloud with Data Domain Virtual Edition (DD VE) 3.1. This is Data Domain software that can run in the Amazon and Azure clouds.
It offers replication to, from and within the cloud. Dell EMC's Data Protection Suite can perform monitoring and reporting of these backups in the cloud. We're told a combination of Data Domain and the Data Protection Suite can provide low-cost disaster recovery to the cloud with protection of on-premises environments extended to AWS S3.
Data is sent securely and efficiently, lowering the need for compute cycles and footprint within AWS. If on-premises disaster strikes, VM images can be restored and run from within AWS. Neither Data Protection Suite nor Data Domain are required in the cloud, so compute cycles are only required in the event of a restore.
You can look at a basic IDPA spec sheet here [PDF].
IDPA competition
DP5300 competitors are listed by Dell EMC as Quantum DXi4700, HPE StoreOnce 5100 and Veritas NetBackup 5240.
For the DP5800, the listed competitors are the Quantum DXi6900, HPE StoreOnce 5100 and Veritas NetBackup 5240 again.
DP8300 competition is Quantum's DXi6900, HPE StoreOnce 5500 and Veritas NetBackup 5330. Finally the DP8800 competitive systems are Quantum's DXi6900 HPE StoreOnce 6600 and Veritas NetBackup 5330 once again.
A big question is whether the IDPA has Data Domain systems inside it? And what are the other components? Dell EMC isn't saying, but we would assume that the IDPA is an integrated product bundle based around Data Domain systems, with other component products from Dell EMC's Data Protection unit.
Availability
The IDPA can be ordered now and will be generally available in the summer of 2017. The new Data Domain cloud stuff is available with Data Domain Virtual Edition (DD VE 3.1) and the latest Data Protection Suite. Phew, all done. ®
Similar topics
Broader topics