This article is more than 1 year old
Michael Dell? More like Michael in-Dell-nial: No public cloud, no future
He's got it all – and it's all to lose... even Oracle has woken up to it
Opinion You look at Michael Dell, as he gazes out on an audience of 13,000 attendees at this week's Dell EMC World event in Las Vegas, and you think it's like looking at a Sun King and his worshippers.
The audience stretches from side to side in front of him in a 180-degree arc. The multiple video screens on either side relay every twitch of his face in brilliant 4K detail, while the sound system is to die for.
But then a $74bn revenue run rate gets you the best – gets you the Sands Conference Center at the Las Vegas Venetian resort, gets you 300-plus media-related attendees alone, and an exhibition hall needing 75 trucks full of kit to carry the machines and stands, and an army of builders, decorators, security guys and Dell staff to build it and run it.
It is, literally, too much to take in, to comprehend.
Who rivals this monarch, this Michael Dell and his $74bn run-rate IT business, which he started from his college dorm? IBM CEO Ginny Rometti? Nope, she's Big Blue through and through, a career corporate ladder climber about to be shooed off the stage.
Tim Cook? Not really. Career Apple logistics corporate ladder climber picked to ensure Steve Jobs' vision continued. Not Tim Cook's vision. Chuck Robbins at Cisco? Nah, another career exec corporate pole climber.
Bill Gates, retired Microsoft founder and CEO? Yep, for sure, but he's retired and Microsoft has moved into the public cloud under corporate ladder-climbing CEO Satya Nadella.
Meg Whitman? She's cutting HPE back to find the spring wood hindered by the dead timber, but can she relight HPE's spark, the fire lit by HPE's garage band founders? It's a work in progress and, so far, a strong and sustained spurt of growth hasn't been seen after the severe pruning.
Zuckerberg at Facebook? Well, yes, who the hell knew social media could be used to build a Facebook empire? But Zuck isn't a business IT supply guy, so we'll rule him out.
Larry Ellison? Now we're cooking. Long-term, hard-edged, hyper-competitive Larry has kept Oracle at the top of the on-premises IT tree for decades and now, he's moving Oracle into the public cloud. If you can't beat them – meaning AWS and Azure at that point – then join them. So he did, and how people laughed. Another change of strategy! Oh well, never mind. He'll soon do something else. But he didn't. When Larry sets his mind to do something then he damn well sets his mind to do something.
Larry Page and Sergey Brin at Google? Oh yeah, they see what the public cloud can do, how awesomely immense it can become. Because a shining light has shown the way.
Behold Jeff Bezos and Amazon. Single-handedly Amazon has forced Microsoft, IBM and Oracle to join the public cloud, and its dominance and the cost of competing against it forced HPE and the EMC-owned VMware to throw in the towel, along with Verizon and other hopefuls.
That's the guy, that's the real rival to Michael Dell now.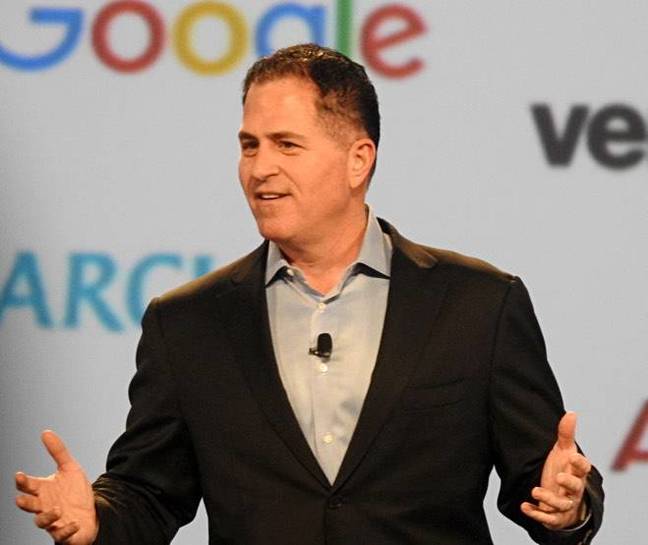 Who rivals Michael Dell?
What doesn't Dell have? A public cloud, that's what. Arguably the single biggest threat for Dell. Sure, it rules the on-premises IT roost. It is one of the four pillars of that part of the IT jungle, along with Larry Ellison's Oracle, Meg Whitman's HPE and Ginny Rometti's IBM. How can these empires ever fall?
But the public cloud is colonizing the on-premises IT forest, and clear-cutting it, leaving devastation behind. Oracle knows this, and has gone into public cloud. Microsoft knows this and has gone into the public cloud with Azure. IBM knows this, and has gone into the public cloud with Softlayer.
HPE knew it, but threw its public cloud away, and is now in denial.
VMware knew it, but Dell bought EMC which owned VMware, and that public cloud was thrown away, leaving Dell in... what? Denial? Limbo? Never-never land? Who knows?
What your humble Reg hack believes is that the single biggest strategic threat to Michael Dell and his multi-part, dominating IT empire, is represented by Azure, AWS, and the Google Cloud. These three, aided by IBM and Oracle, could kill Dell, stunt its growth, and turn it into another Unisys, another Bull, a once-was giant, forever cutting costs and reducing its ambitions as it fades into irrelevance.
Long-term business survivors perpetually re-invent themselves, however painful it is. Re-inventing yourself for the on-premises IT world these days is to pursue fools' gold. The real stuff is elsewhere. Look at Jeff Bezos and Satya Nadella and Larry Ellison and Larry Page; they know it, which is why they all have a trace of smugness in their expressions.
We, their expressions say, are on the fast track, and you, Michael, you at the peak of your on-premises IT prowess, you at the top of an amazingly impressive, self-built, $74bn corporation, are not. Because on-premises IT is on a road to nowhere.
You have to get yourself a public cloud, Dell, because otherwise, in ten years' time, you'll be struggling like hell to keep up, and being downward bound is no fun at all. ®
PS: Yes, we know Dell owns Virtustream. No, it's rather niche.