This article is more than 1 year old
Chinese supercomputer newbs smash student cluster-building record
New top speed set by Weifang proto-boffins
HPC Blog Yet another record has fallen at the Asia Supercomputer Community Student Cluster Competition. This time, it's the HPCG (High Performance Conjugate Gradients) mark.
Little-known Weifang University in Shandong Province, which also set a new student LINPACK record, notched a score of 992.333 GFLOP/s, handily topping the rest of the field.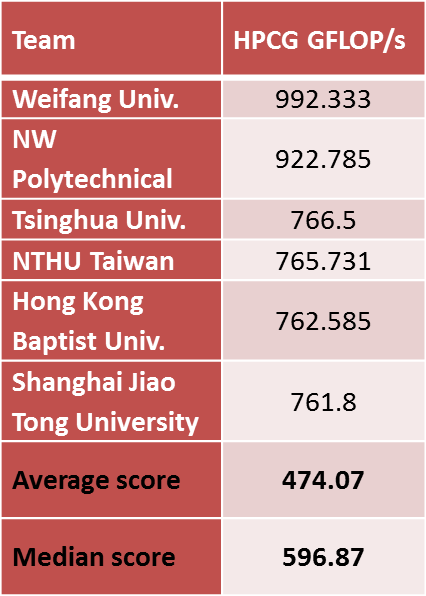 Only China's Northwestern Polytechnical University came close to Weifant's score, with the whiz kids from traditional student clustering powers Tsinghua and NTHU farther back in the pack.
Semi-newcomer Hong Kong Baptist and veteran team Shanghai Jiao Tong grab honorable mention status due to their scores being so far above average.
HPCG is a challenging application both to man and machine. It's much more complex than LINPACK and does a much better job of simulating today's HPC workloads.
The benchmark has multiple components that, when run, put incredible strain on even the most robust hardware. For comparison sake, even the largest supercomputers in the world only reach a fraction of their HPCG potential when running this benchmark. You can see some of the scores for your favorite supercomputers here.
As if being a much better simulation of real-world HPC workloads isn't enough, HPCG is also much quicker to run – coming in at only 30 minutes. What's not to like?
While it's been used a few times by the major cluster competitions, it's not a required application. I'd like to change that – I think that HPCG should be part of the compulsory program, just like LINPACK. This would give the students a different challenge and stretch their minds just a little bit more.
With that in mind, I'm now tracking world student records in HPCG, and here's how we look with only two data points: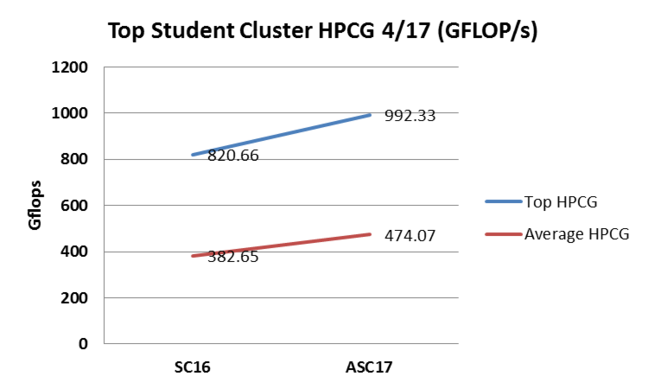 As we can see from the chart, the top HPCG increased significantly (almost 21 per cent) over only five months. We haven't seen any major hardware upgrades from the manufacturers, so I'd guess the increase is due to the students better understanding the benchmark and applying more sophisticated tuning.
The average HPCG result rose by nearly 24 per cent, meaning that the entire field of teams at ASC17 did a better job on the benchmark in aggregate versus the SC16 competitors.
I hope that HPCG becomes a standard benchmark at future cluster competitions. It will give me more to analyze and write about – and it's really all about me, right? ®