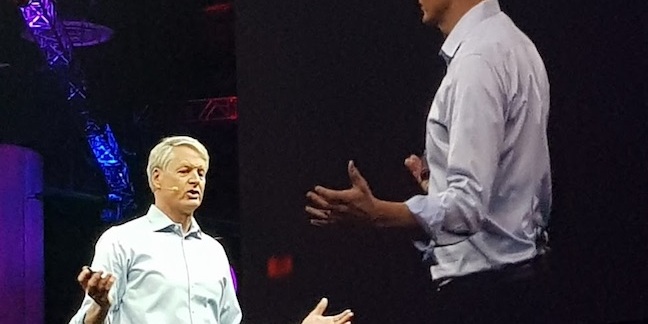 ServiceNow's new CEO John Donahoe has introduced himself to the company's community at its Knowledge17 conference in Orlando, Florida. Along the way he introduced some new machine learning-fueled automation tech and offered his opinion that IT departments can put a stop to future corporate re-organization efforts.
Donahoe came to ServiceNow – a California-based cloud giant – from a year's sabbatical earned after 20 years as a consultant with Bain & Company and seven years at the helm of eBay. Over those years he reckons he's seen countless groups re-organize in attempts to fix broken processes.
Re-orgs tend to put all the people responsible for bad process into one team, he suggests, in the hope that creating the new team will fix things. But the real reason for process failure is that an organization lacks the tools to do stuff well – even when all the people responsible for a task work together, they still struggle to work across the different parts of the infrastructure and get the job done.
His preferred approach echoes ServiceNow's ethos of letting business units run their own silo-ed applications, but making it possible to create services that span multiple apps and departments and routes work to where it needs to be done.
The example he used to explain this idea is on-boarding new staff, a process that requires input from HR, IT, finance, facilities and other departments. Companies can either create an on-boarding team to handle the task and bounce new staff through all of those departments, or build a service that spans them all, making them all aware of an impending new hire and when they need to have the person working at their desk.
ServiceNow will throw machine learning at that kind of problem, with new "intelligent automation" tools that examine work as it flows through ServiceNow users' instances, note anomalies and offer predictions about looming problems. Predictions will be made against service levels set by a user and also against industry benchmarks if desired.
A demo during the conference keynote showed the "Intelligent Automation Engine" detecting unusual CPU usage spikes, referring to past usage patterns for the app in question, predicting a likely outage as a result, and popping suggested remediation activities high on sysadmins' to-do lists before any lights turn red.
The Engine comes from the company's 2016 acquisition of an outfit called DxContinuum, whose code has now been baked into ServiceNow's cloudy platform.
Cloud not yet taking off
Later in the day at a roundtable event, Donahoe offered the opinion that the cloud is yet to make a major impact on enterprise IT.
He explained that prima facie controversial comment by saying US consumers have quickly come to rely on the cloud for everyday activities like shopping, transport and communications. Enterprises use cloud for many roles, he said, but are yet to rely on it for a wide spread of activities.
His theory suggests that consumers became cloud dependent when smartphones arrived, as their advent made it imperative for services to work at scale and to be boiled down into an essential but user-pleasing form.
Donahoe couldn't say what enterprise tech's moment for the same transition would be, but thinks that machine learning-as-a-service is a possible trigger. Here he got a bit self-serving, referring back to the intelligent automation product he announced earlier, but also leavening his argument by saying that doing bespoke AI is likely even more futile than doing bespoke software for horizontal applications such as finance -which vendors can and will do better than any in-house team.
He also argues that digital transformation often boils down to delivering seriously good experiences into consumers' smartphones. Born-to-cloud companies get that, and thrive as a result. Organizations with legacy software have work to do, and if it takes AI-as-a-service to get them moving and make cloud horizontally applicable, so be it. If that's not the killer app, something else will be.
But Donahoe said the tech alone won't suffice: in his 49 days in charge of ServiceNow, he's met numerous CIOs who say they understand what it will take to to build compelling customer experiences and have the people to wield the tech to do so. Culture, however, is their biggest concern, because teams inside an organization aren't happy to change and are leery of collaboration.
Here he thinks ServiceNow has an opportunity, because many IT departments appreciate its automation and routing services and have enthusiastically spread them into HR and other enterprise islands.
"Painting a picture of what is possible helps with that change process," he says.
Donahoe also has a line for those who worry that more automation means fewer jobs. He suggests that automated organizations will be more profitable and therefore will hire more people over time, while also re-training some of those whose jobs go to bots.
Which means not even AI can stop some corporate re-orgs. ®
Sponsored: Webcast: Discover and secure all of your attack surface