Well this is awkward. As Microsoft was bragging about Office at Build, Office 365 went down
TITSUP: Total Inability To Stand Up Products
---
Build Microsoft scrambled to get its Office 365 service back online after the cloud productivity suite was hit with a mid-day outage.
Loads of people reported that, at around 1245 PT, access to the service went out. Microsoft confirmed shortly after it was having problems, and said it was looking into the matter. Subscribers in New York, Denver, Texas, and Portland, in the US, were, for example, unable to access the service.
We are investigating a problem affecting access to Office 365, and we will post an update as soon as we have more info.

— Office 365 Status (@Office365Status) May 10, 2017
Monitoring site Downdetector was crammed with reports of outages from both coasts of the US and major cities as users reported the cloud-connected Office service to be inaccessible. Meanwhile, sysadmins on Reddit were speculating if an underlying cockup impacted some Azure services.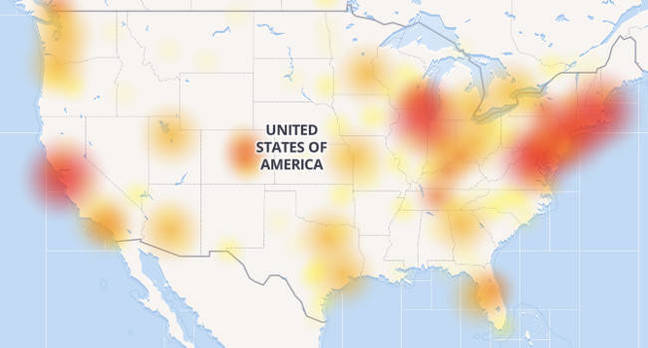 DownDetector's map for Office 365 as of 1315 PT
"Can confirm that Azure Portal gets as far as making a request to login.microsoftonline.com, and then... nothing. Same for the classic portal," reports one administrator.
This is not a particularly good look for Microsoft, as the Redmond giant today has gathered third-party developers in Seattle for its annual Build conference – during which it talked up Office and Azure improvements.
We asked Microsoft for more details on the cause of the outage and timeline for when services will be back online, and have yet to hear back. However, just as we were about to hit the publish button, we notice they tweeted that as of 1338 PT, sign-in issues are being resolved. ®
Updated to add
Microsoft has refused to say what caused today's outage.