Analysis At the Dell EMC World event in Las Vegas, the two put a good face on it, with no apparent resentment bubbling underneath, as was the case for Symantec and Veritas.
Michael Dell and Joe Tucci drove the integration with Rory Read, the chief integration officer at the time.
Both Dell and EMC were experienced company acquirers and characteristically kept acquisitions running as comparatively independent and separate business units that kept their own location, culture and engineered their own hardware and software.
For example:
Dell

Compellent in Minnesota
EqualLogic in New England

EMC

VMware
Isilon
RSA
Virtustream
Dell brought PCs, servers, some storage, some software and networking to the table. EMC contributed much storage hardware and software, VMware, Pivotal, RSA, Virtustream, and enterprise content management (Documentum, etc).
Each company had its own exec staff reporting to the CEO, chief marketing officers Karen Quintos and Jeremy Burton respectively. Each also had experience of working together when Dell resold EMC storage for nine years, under Michael Dell and Joe Tucci. They knew each other already and, unlike Symantec and Veritas, worked in substantially overlapping markets.
EMC had an enterprise sales force and channel, Dell's was more transaction focussed. A default starting position would have the acquiring company, Dell Technologies, running the acquired company, EMC, as a separate business unit like Compellent or EqualLogic.
But customer enterprises, in general, bought products from both Dell and EMC, and having two separate sales forces and channel partners calling on the same customer is dumb. So separate transactional (Marius Haas-led) and enterprise (Bill Scannell-led) sales organisations were set up, which sold products from both the Dell and EMC organisations.
This led to Dell deciding it needed a single enterprise IT infrastructure engineering and development organisation that encompassed servers, storage and networking. So here it initiated a halfway house between full EMC integration into Dell and making it a separate and comparatively independent business unit.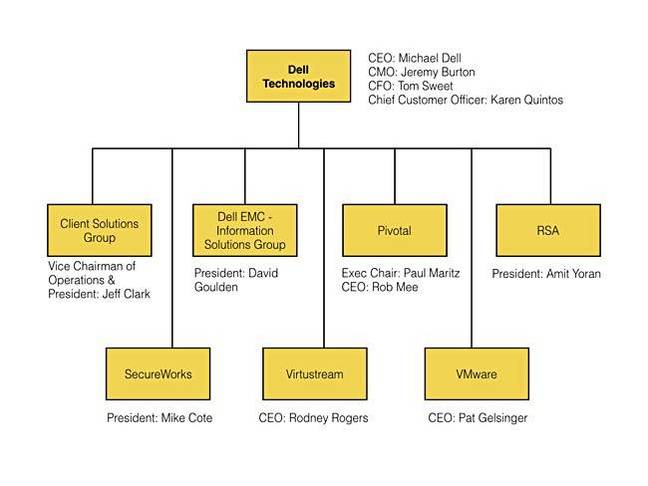 Dell Technologies top level org chart
Non-critical bits were sold off, such as some Dell software and the Documentum stuff.
The core EMC storage development organisation, David Goulden's Infrastructure Solutions Group, became the core Dell Technologies' IT infrastructure development organisation, called Dell EMC, with two Dell product development units grafted on to it:
Ashley Gorakhpurwalla's server division
Tom Burns' networking division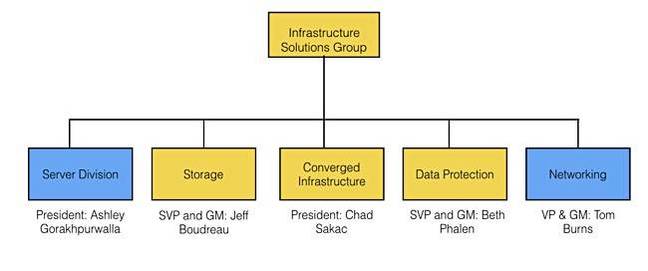 Dell EMC top-level org chart with blue boxes originally Dell units.
With the storage hardware product people told to use Dell servers in their products instead of whatever white box stuff they used before, the product groups staff had to talk to Ashley Gorakhpurwalla's server folks, and Ashley suddenly had an extra bunch of in-house customers he had to work with.
Ditto for the Burns' unit – Tom Burns networking division – with the proviso that the existing Cisco partnership and product sourcing in VCE wouldn't be thrown away. The Dell side of the house (Burns) had to accept that. Equally the Dell deal to OEM the Nutanix hyperconverged appliance (XC) had to continue, the EMC side of the house (Chad Sakac) having to accept that.
Inside Dell EMC, Jeff Boudreau's storage group had Dell's SC unit grafted into it.
At the top level, Karen Quintos became chief customer officer and Jeremy Burton was awarded the CMO slot.
Here in Las Vegas, not quite a year later, we see the organisation presenting a unified front. Unity and SC positioning has been worked out, as has XC and VxRail/VxRack positioning. There is no evidence of any exec backstabbing going on and the company appears to be speaking with one voice.
CMO Jeremy Burton attributes a lot of this to Dell's founder still running the shop, and suggesting a general corporate and non-founding CEO wouldn't have been so able to drive the organisations together.
Overall it looks like textbook stuff. Michael Dell said: "It's working quite well" though there have been "some mistakes on the way".
There hasn't been much collateral damage such as grumpy exec departures, at least so far, which, when you think about it, is pretty unusual in such a large-scale corporate consolidation.
Early days of course, and who knows what will happen if component product groups are challenged by low sales and blame other product groups for their plight. ®