When Dell acquired EMC one of the things we were promised was clever integration between Dell EMC hardware and VMware software.
The results so far? Virtzilla's turn in the Dell EMC World spotlight saw it announce "Dell EMC VDI Complete Solutions", VDI-in-a-box rigs. Dell's done this stuff for ages, for both VMware and Citrix, so nothing to get excited about here, people.
Except for the pricing. As the image below shows, the two companies are going to sell this stuff in something close to as-a-service mode, with per-desktop pricing. They're also going to rent thin clients and PCs.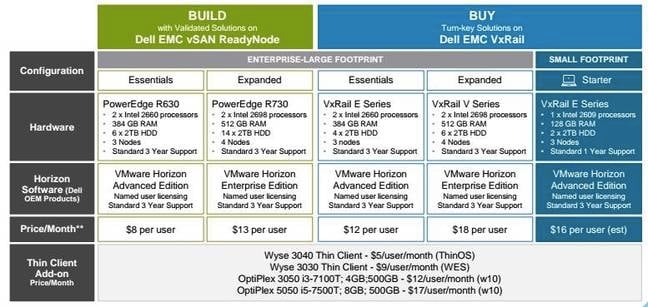 Dell and VMware's VDI-as-a-service prices. Click here to embiggen
That's rather more interesting than pre-integrated software and servers, not least because it is clearly a response to the way cloudy virtual desktops are sold. Dell's also going to offer one throat to choke for support of the hardware and VMware software.
The two have also taught VMware's AirWatch suite to reach out and touch Dell servers. AirWatch is quickly becoming an endpoint management tool and leaving behind its roots as an enterprise mobility management tool, signalling VMware's ever-expanding ambition to manage all the tin an enterprise deploys.
Including Chromebooks. VMware and Google have teamed before to ensure that Virtzilla's Horizon products can publish apps into Chrome OS. Now the two have teamed to make VMware Workspace ONE's authentication features work across multiple virtualised and/or web apps play nice with Chromebooks. The outcome of that effort will mean single sign on to lots of apps, from Chromebooks. Which may well give enterprises just a bit more confidence when considering Chromebooks over PCs.
We're told the stuff in this story is considered the beginning of the beginning of future VMware/Dell integration. ®