This article is more than 1 year old
If you printed out this week's storage news and laid it end to end, it would stretch to the end of, er, your desk
That's still a lot of stuff – and we've summarized it for you
Our weekly storage news roundups are threatening to become multi-page books.
Here's a further collection of updates that covers NVMe-over-Fabrics, AI processors, software-defined storage, file-sharing, OpenStack, the public cloud, performance management, a new storage array, and startup investment and tape, with three sets of quarterly results mentioned as well.
And the ex‑Violin Memory CEO has a new gig. Isn't that surprising? Read on.
AetherWorks
We covered AetherWorks and its AetherStore product in 2014. Its CEO and founder, Robert MacInnis, is a partner at Blue Bear Capital, and AetherWorks describes itself as a New York city-based software research and venture development firm. It is "an active Partner at Blue Bear Capital providing technical due diligence and advising portfolio companies on team composition, product implementation and growth strategy."
The latest news is that AetherStore is available in a freemium edition. This is software that pools unused space from existing Windows workstations and servers to create secure, encrypted, replicated network drives on demand. We're told AetherStore has been deployed as an onsite backup target in hundreds of networks, and across thousands of machines.
Up until now, AetherStore has only been available via resellers. With the freemium edition, up to 25GB of capacity is available. The company says anyone can download the software and easily create their own local "cloud-like" storage, and so avoid ever handing their data over to a third party, such as a public cloud.
HDS
HDS has updated HCP Anywhere – Hitachi Content Platform Anywhere – to v3.0, adding more collaboration, usability and data protection capabilities. The file sharing does not use the public cloud and HCP Anywhere is a fully private enterprise mobility product with sync & share, search, cloud-connected storage, user data protection, device management and more.
It uses HCP, which is object storage providing the backup, mobile computing and cloud enablement.
HCP Anywhere is being used by 824,000+ business users and experienced 94 per cent annual revenue growth in FY2016. Check out a blog here.
Mimecast
Something is stirring down in Mimecast, an email and security supplier, as revenue growth hits the nitro pedal, although profitability has been left behind.
In its fourth quarter and full fiscal 2017 results, the upturn is evident. Revenues in the fourth quarter were $52.4m, up 42 per cent year-on-year from $36.9m and up 8.5 per cent quarter-on-quarter.
There was a net loss of $2.6m, which compares to a net loss of $2m a year ago and one of $3.3m a quarter ago.
A chart of quarterly revenues shows the uptick: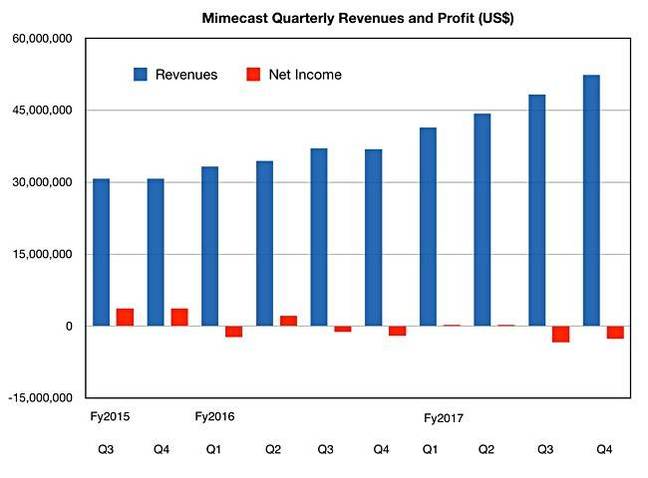 The full year revenues were $186.6m; they were $141.8m a year ago, meaning a rise of 31.6 per cent – kerching!
Full year net income was negative: a loss of $5.4m, worse than the $3.2m loss last year.
Mimecast filed for its IPO late in 2015 and we only have numbers for two financial years. Here's the chart: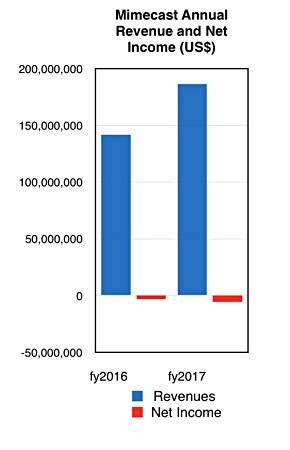 Mimecast said it gained 8,400 new customers in the year, a 2,100-per-quarter average making a current total of 26,400 customers. We only have access to two quarters of new customer acquisition numbers in the previous fiscal year: 1,800 and 1,000 in the fourth and third quarters, an average of 1,400 per quarter. On that score the rate has increased.
CEO Peter Bauer was upbeat: "2017 was a year of outperformance for Mimecast. We exceeded our expectations for both top and bottom line growth. We hired aggressively and acquired industry-leading talent across the organisation. We expanded our ecosystem with channel and marketing partners ... we launched new products, like Internal Email Protect, to support our future success."
The company says sales of Targeted Threat Protection (TTP) increased during the fourth quarter, with more than 1,400 new customers and over 600 existing customers purchasing the service. Some 38 per cent of Mimecast customers are using TTP.
A total of 21 per cent of its customers used Mimecast in conjunction with Office 365 during the fourth quarter compared to 19 per cent in the third quarter of 2017.
The outlook for next quarter is in the range of $54.7m to $55.3m. Full year 2018 revenue is expected to be the range of $239.4m to $247.6m.