If you printed out this week's storage news and laid it end to end, it would stretch to the end of, er, your desk
That's still a lot of stuff – and we've summarized it for you
Nexsan
A next generation of Nexsan's Unity array has been announced, the one with unified file (NAS) and block services, Enterprise File Sync and Share (EFSS), n‑Way sync, and integrated secure active archiving.
The array has, Nexsan says, been re-designed to improve performance and management, increase flexibility, decrease costs, and feature all-flash models. Controllers use the latest Xeon E5 v4 processors, and increased memory enables more IOPs, lower latency, and power to expand and deliver performance up to 40 per cent over previous, similarly configured systems.
There are more ports and connectivity options, and SMB 3.0 is supported. Because of the redesigns, the new hybrid models – in similar configurations to the old – are up to a third less expensive.
There are now all-flash, all-inclusive, unified storage configurations that provide additional performance. Taking into account data reduction technologies used to optimise the SSDs, customers can see an effective usable price of $1/GB or less.
All-flash configs support 1.92TB, 3.84TB, and 7.68TB SSDs, and are supported on every Unity model with up to nine enclosures in the maximum configuration. Hybrid configurations that mix DRAM and SSD for caching with HDDs are also available, and can scale up to 5PB of capacity.
Mr Deep Storage Net, Howard Marks, provided a neat quote: "Corporate IT can, with Unity, offer users a better experience and keep corporate data out of personal Dropbox accounts without all the overhead of creating multiple independently managed repositories."
Quantum
In the earnings call discussing its fourth fiscal 2017 quarter and full year results, CEO Jon Gacek said the depressed scale-out storage (StorNext) revenue number is "an aberration and not indicative of a negative trend."
He was pleased with the full year results. "This was the first full year of both year-over-year total revenue growth and profitability since Quantum and ADIC merged in 2006," a long time ago.
CFO Fuad Ahmad revealed more on the StorNext revenue dip: "This decline was due primarily to a smaller number of big deals closing in Q4, including some in the video surveillance area."
Gacek answered an analyst question to reveal more still, and hinted at sales execution issues: "It's some larger deals that we are tracking and felt like we would close and it also has some smaller deals that are just in sort of the normal competitive or a push-type format."
He said: "There is no question as we think about the company today that the market opportunity that exists for us in scale-out is the largest opportunity."
But, surprisingly, Quantum cut back StorNext market development funding. "A lot of it has to do with, candidly, how much money we spend. I think for sure, we have grown at a higher rate if we spent more money."
"We made a decision to spend ... $8m or $9m less than we guided, because we were very focused on driving profitability and refinancing the debt. We don't feel opportunity-constrained. I think win rates ticked up again. We are at 70 per cent."
Big question: with activist investors forcing a board restructuring and subsequent strategic review, and CEO Jon Gacek, in office since 2011, kicked off the board, there has to be a chance that he will be blamed for Quantum under-performance and sacrificed/kicked in the teeth.
Sphere3D
Sphere3D means Tandberg Data, Overland Storage and RDX portable disk storage products. First fiscal 2017 revenues were $21.7m, 10.7 per cent higher than the year-ago $19.6m. Net loss was $7.8m, 3.7 per cent better than the year-ago net loss of $8.1m.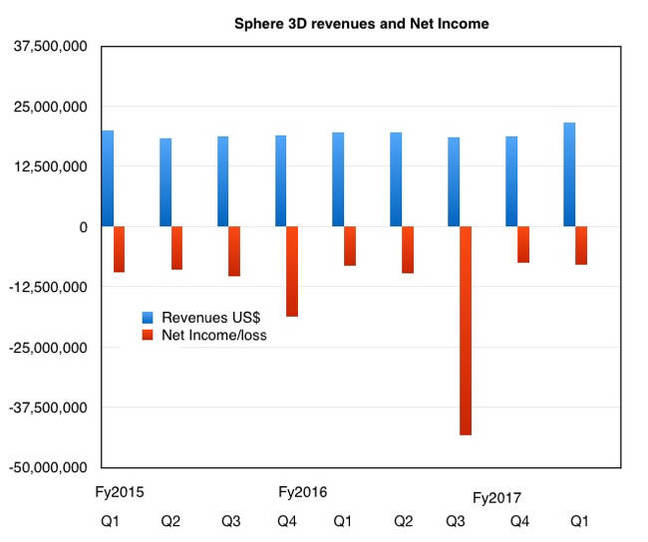 The ever-optimistic chairman and CEO, Eric Kelly, said: "This quarter we continued to see the results from the strategic initiatives we implemented in the second half of 2016. Through the restructuring and execution on the virtualisation strategy, specifically through our acquisition of HVE and UCX, we are able to deliver new large deals for our converged and virtualisation product offerings."
"Meanwhile, our storage products continued to perform well in the market in the first quarter. We continue to make progress towards positioning the company for revenue growth and financial stability."
Violin Memory
This AFA Phoenix still rising out of its bankruptcy ashes has gained a patent relating to managing the compression and/or encoding of data being stored in non-volatile memory to improve the performance of the solid state memory cells with respect to program/erase operations.
Violin describes itself as "the disruptive innovator in All Flash Arrays" – you wish.