If you printed out this week's storage news and laid it end to end, it would stretch to the end of, er, your desk
That's still a lot of stuff – and we've summarized it for you
Nibs
Archive360, a provider of data migration and data management solutions for the Microsoft Cloud, announced general availability launch of its FastCollect for Archives Commvault Edition. It claims this enhanced email and data archive migration and management solution is the first and only to enable the fast and accurate extraction of email, attachments and other data from the Commvault Simpana archive, and the subsequent migration into the Microsoft Cloud (or alternate target(s)).
Cloud backup provider Backblaze has issued its latest hard disk drive reliability stats for 2017's first quarter. A standout number is that Seagate's 4TB ST4000DX000 had a 35.88 per cent annualised failure rate for the quarter, with Backblaze using 170 drives; too small a number to be statistically significant.
Cavium announced its family of QLogic Gen 6 Fibre Channel and FastLinQ Ethernet adapters will support NVMe over Fabrics technology, enabling the faster access of flash storage platforms.
Fujitsu Limited and Mirantis, which calls itself a managed open cloud company, have signed a global, strategic collaboration agreement to help customers adopt open cloud infrastructure based on OpenStack and related open source technologies such as Kubernetes.
Druva announced 300 per cent revenue growth across its server data protection in the cloud business and it has added more than 150 marquee brands to the Druva Phoenix customer list. Total Druva Cloud deployments now cover over 4,000 enterprise customers, including 10 per cent of the world's Fortune 500 companies such as Continental, Emerson, Flex, Fujitsu and Lockheed Martin.
Startup Graphcore, developing an Intelligence Processing Unit, has received an investment from Dell Technologies' Capital, as part of its $32 million A‑round of funding, alongside Bosch and Samsung and other venture investors: Amadeus, Foundation, Pitango, Draper Esprit and C4 Ventures.
The LTO Program said a record 96,000PB (96EB) of total compressed tape capacity was shipped in 2016; a 26.1 per cent growth in tape capacity shipped over the LTO Program's 2015 numbers. With a 2.5:1 compression ratio, the raw 2016 capacity shipped was 38,400PB.
Nutanix has an e-book – The Definitive Guide to Data Protection and Disaster Recovery on Enterprise Clouds. Download it here.
Storage Made Easy is now supporting Keystone v3.0 authentication with Ocata OpenStack Swift.
Veritas has announced Veritas HyperScale for OpenStack; software-defined storage designed to maximise workload performance, lower operating costs and protect data in OpenStack-based cloud environments. It has a patent-pending dual-plane architecture that distributes storage functionality between separate compute (control) and data planes. Veritas says it offers predictable performance and storage quality of service (QoS), and efficient use of direct-attached storage (DAS).
Virtual Instruments, describing itself as an application-centric infrastructure performance management company, announced VirtualWisdom 5.2 at Dell EMC World, with new topology visualisations, dashboard enhancements, expanded usability, personalisation pages, enhanced navigation support, REST API access with token-based authentication, and Beta support for the hyperconverged VxRails platform.
It also announced a new lower-cost, entry-level 12‑port 16Gbit/s SAN Performance Probe for Fibre Channel environments.
At Dell Technologies' Dell EMC World event, its enterprise cloud provider, Virtustream, announced a Healthcare Cloud and an Enterprise Cloud Connector for VMware vRealize Automation.
Startup Waterline Data is experiencing rapid growth in both the US and EMEA. It's managed to double revenues for the past three consecutive quarters. In Q1 2017, it managed to do nearly all of 2016's revenues in a single quarter.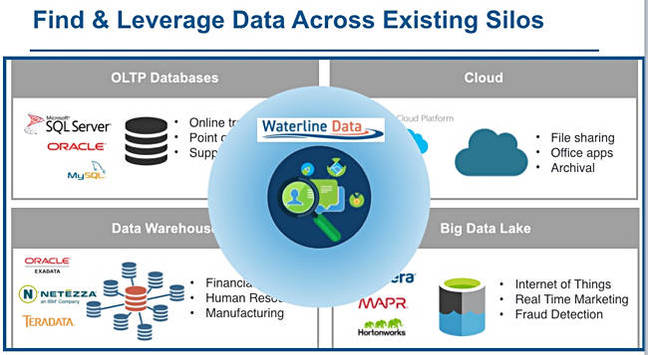 People
Ex-Violin Memory president and CEO Kevin DeNuccio is now executive chairman of digital infrastructure management company SevOne. The VC‑backed company says it "provides the world's largest CSPs, MSPs and Enterprises with the most comprehensive technology portfolio to collect, analyse and visualise network and infrastructure performance data to deliver actionable insights to compete and win in the connected world."
SevOne has received more than $200m in funding over three rounds – in 2007 ($3.3m?), 2013 ($150m) and 2015 ($50m). De Nuccio's crash and burn experience at Violin Memory does not seem to have held him back.
Cohesity, the so‑called hyper-converged secondary storage startup, has announced that Todd Palmer has been hired to serve as VP worldwide channels to continue building the company's partner network. ®