This article is more than 1 year old
Never mind custody decisions, let's AI up our police cars
GPU-flinger Nvidia offers cops artificial intelligence
HPC blog Not long after the news that UK cops may use artificial intelligence to make decisions on custody, Nvidia was showing off AI-for-cops at its GTC event – except this time it's the vehicular sort.
Of course, all of this is par for the course at the GTC event, you'll always hear about the latest car sensor technology, self-driving cars and the like.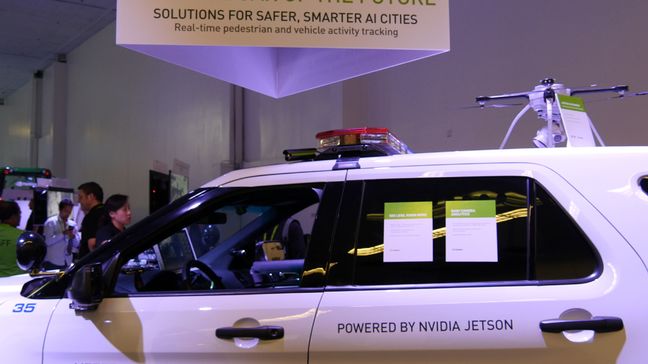 But this year, there was a show floor display of all of this technology pulled together and integrated into a police car. From the outside, it's a typical mid-sized SUV in police trim – although the roof-mounted drone would probably attract a bit of attention.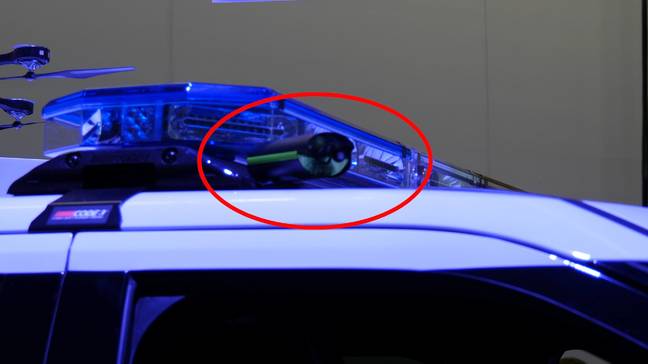 There are three unobtrusive surveillance cameras, two mounted on the sides of the light bar, plus what appears to be one rear camera (I'm not positive about the rear camera – but it would make sense to me).
The cameras relay lots of information to the officers seated inside the car. In the picture below, the cop car is cruising through a suburban parking lot and on the surrounding streets.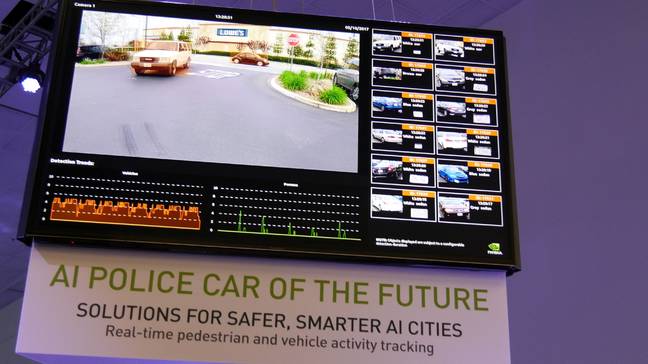 As the car moves, it captures images of each car it passes from the front, and both sides. In the parking lot, it was capturing licence plates and, presumably, has the capacity of running those plates through a central database to ferret out wrong doers at the local Lowes. Parking ticket scofflaws beware.
There was another display inside the car that was running different video. In this scenario, the car was driving along downtown streets, merrily capturing the faces of pedestrians, matching them up with images of super villains, underworld kingpins, tortfeasors and punks. Oh, and people like us too.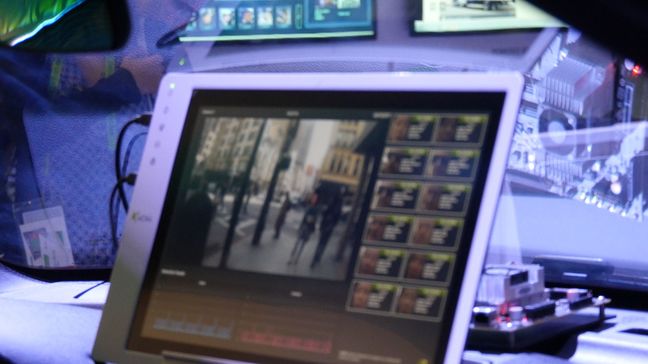 Capping off the dream cop car is, of course, a drone. I'm not sure exactly when a street cop would deploy a drone. It wouldn't be much good in a high speed chase – although it would give some great footage before it crashes due to an exhausted battery.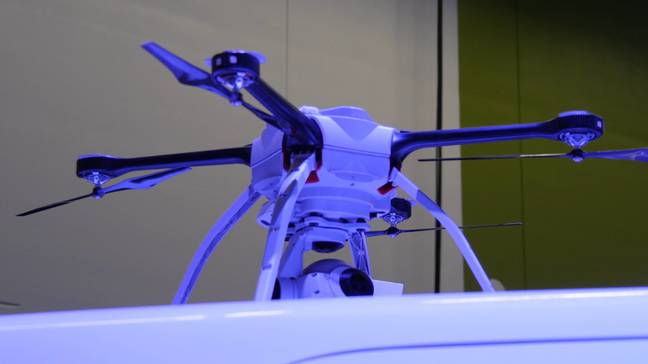 It could be used for crowd control situations, it looks like it has a loudspeaker on it, so it could order crowds to disperse. Considering that the drone must have an extremely high fidelity 4k camera on it, any self-respecting rioter would certainly make destroying the police drone priority one. Besides, it would make one hell of a trophy.
The technologies on this police car aren't pie in the sky, they're available today – it's just a bit of engineering and software away from being deployed on the street where you live. I think it's undeniable that technology like this will lower crime rates. Criminals will be nabbed quicker for sure. But, like everything, it comes at a cost in terms of money and, something less quantifiable, our privacy. Is it worth it?