This article is more than 1 year old
HTC's 2017 flagship U11 woos audiophiles and bundles Alexa
But is it enough?
Hands On It made everyone's favourite Android just three years ago, the "Alfa Romeo of phones", but today finds HTC like Sony, hanging on in the market despite shareholder pressure to bail out.
The wraps came off HTC's flagship for 2017, the U11, this morning. Don't expect too much change from previous years, which provided a solid premium Android geared for for audiophiles. And at £649, it matches the market's flagship inflation. But for discerning ears, it looks a decent prospect.
Notably, EE and O2 are listed as channels for the U11 with a strong emphasis on online sales. Huawei achieved a clean sweep of all four operators with its P10 this year. This is the first time in years HTC hasn't.
So what are the highlights? Other than audio, it has one gimmick – and the design has been given a lurid glossy, glassy makeover.
The U11 introduces a "squeezable" UI ("HTC Edge Sense") with the lower half of the edge of the phone responding to pressure. Activating it requires fairly firm pressure, I found, to avoid it being set off by accident. And there are just two squeeze gestures: short and long. It's handy for activating the camera, or voice activation, or... well, complete your own list. It probably won't be a long one.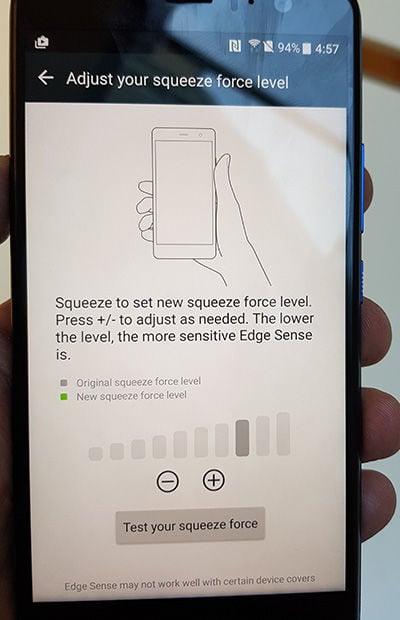 The U11 will feature Amazon's Alexa voice assistant, in markets where Alexa is supported, with four dedicated microphones listening for the Alexa wake word. It's the first time always-on Alexa has been bundled with a UK phone, which gives Amazon a significant advantage in the creepware race. HTC stressed that the Google Assistant will continue to be supported as "equal-class citizens".
Alas, that's not all. There are actually three voice assistants, as HTC Sense is retained, surely two too many. Which means helpful suggestions you don't want will be popping up all over the place – something that blights the Bixby-packed Samsung Galaxy S8.
The camera looks like HTC's strongest contender for years, relatively speaking. A new feature is "HDR Boost" where the camera is constantly capturing and calculating optimal light balance for your photos. So there's no post-processing lag when you snap an HDR image, HTC says. The image sensor is a wide aperture 12MP 1.4um, f/1.7 unit. The selfie camera is a 16MP f/2.0 UltraPixel unit with 150 degree angle.
Design wise, the unit looks bland, until you turn it over. HTC has ditched the aluminium for a glossy two-tone glass this year with colour that changes according to the angle of the light. So the gold model turns red, the silvery model purple.
It's startling, but as you can see, a real smudge magnet.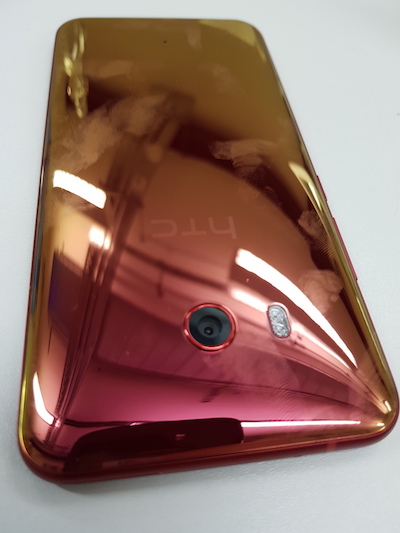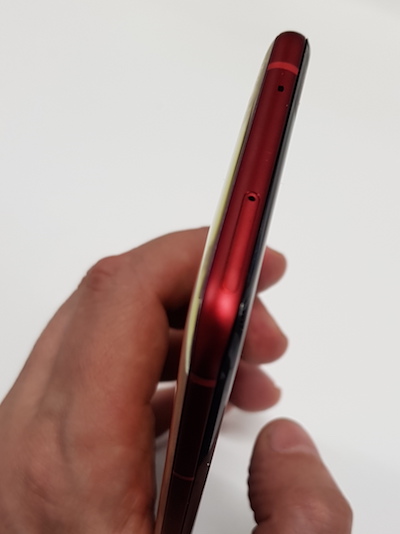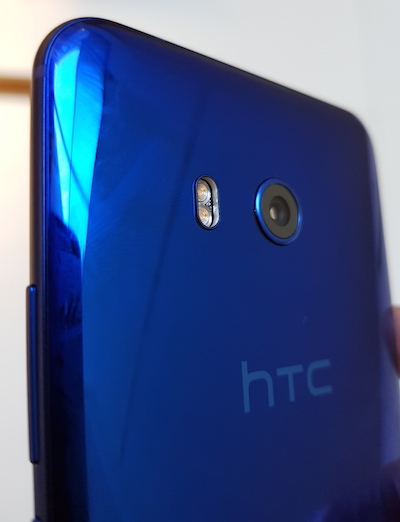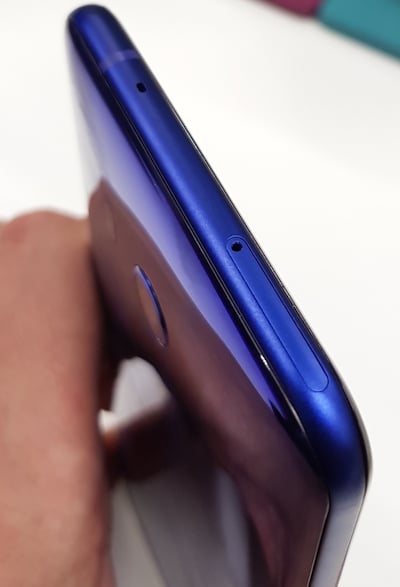 Ear porn
However, it's with audio that HTC shines. The bundled digital USB-C "USonic" headphones contain a built-in DAC, and also have active noise cancellation. They also have one additional feature, beaming ultrasound into your ear on first use, to tune an equaliser profile most suited to your age and earplugs. You can then manually tweak this if you like.
The U11 also records "3D audio" thanks to four directional microphones, which HTC calls "Acoustic Focus". I liked the acoustic focus idea a lot – it's reminiscent of Nokia's extraordinary HAAC (High Amplitude Audio Capture), a great technology the market lost after Microsoft abandoned its devices.

Having made dual front-firing speakers a hallmark of its M7, M8 and M9 flagships, HTC turned to a more conventional design last year. The HTC still featured stereo speakers, but like last year these are separated into an ersatz woofer below and a tweeter above given more room this year. For the U11, HTC designed "the whole device as a resonating chamber". It sounded solid and bright, but not quite as startling as the HTC M8 did in its day.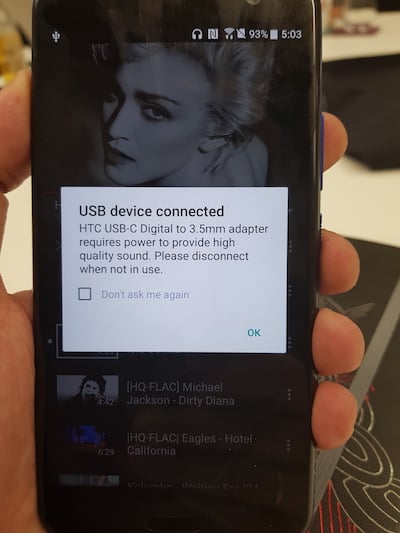 Testing the audio with third-party headphones. Like Apple, HTC bundles an USB-C adaptor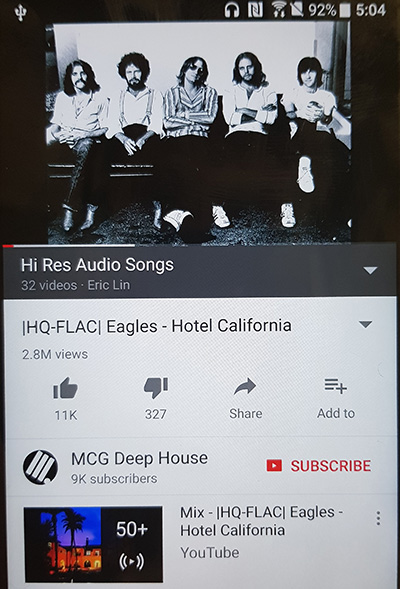 "What should we hear... I know, The Eagles. Everybody loves The Eagles."
And it's worth remembering that the HTC supports the widest range of streaming output, including blasting to Apple Airplay devices. No rooting required.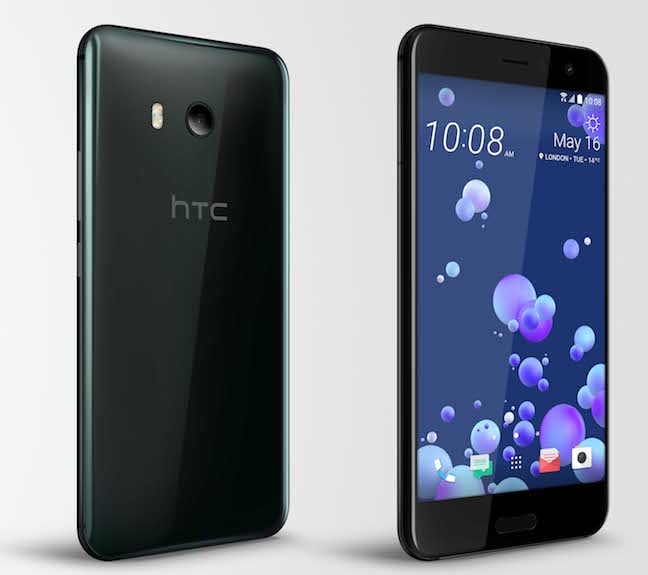 The headline specs
The HTC U11 is a tad heavier than the HTC 10 it supersedes, at 169g and 153.9 x 75.9 x 7.9mm, vs the 10's 161g and 145.9 x 71.9 x 9 mm. But it does gain IP67 water and dust resistance.
The battery remains at 3,000mAh but improvements in Nougat and other optimisations allow HTC to claim that web browsing is 45 per cent longer, music 40 per cent longer, and video 35 per cent longer than last year.
The QuadHD display is a 5.5-inch diagonal. The device features a Qualcomm Snapdragon 835 processor and comes in 4GB/64GB and 6GB/128GB SKUs.
Sorry, no matte option. It's available from next month. ®