Traditional array all-flash retrofits knock XtremIO off top sales rung
Dell EMC has four AFAs now...
---
Comment XtremIO all-flash array revenues have fallen from their 2015 peak as all-flash Unity and VMAX revenues have raced past it.
Stifel analyst and MD Rakers has crunched IDC and Stifel's own Dell EMC quarterly all-flash array (AFA) revenue data to produce this chart: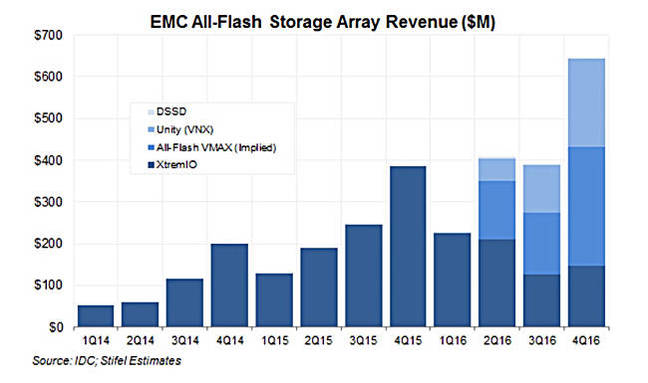 XtremIO sales peaked in the last 2015 quarter and then tailed off, with VMAX AFA taking the largest share of Dell EMC's AFA revenues, followed by Unity with XtremIO third, after their appearance in the second 2016 quarter. In fact XtremIO revenues are now about a third of what they were at the end of 2015.
It was that sales decline which possibly/probably contributed to the unfounded speculation that the XtremIO product was on the way out in mid-2016.
Unity mid-range and VMAX high-end storage array customers have enthusiastically adopted all-flash upgrades of the two products and preferred to use all-flash storage within the Unity and VMAX data services environment rather than step outside and adopt XtremIo.
This mirrors NetApp's experience where all-flash FAS/ONTAP arrays are its leading AFA, selling more than either the EF Series or SolidFire.
The popularity of enterprise AFAs with an existing data management services environment will make it harder for ground-up designed AFA product suppliers, such as Pure, Kaminario, Nimble, Tegile and Tintri, to penetrate existing storage array customer bases.
Dell EMC has upgraded XtremIO to gen 2 with increased capacity, scalability and performance. But it has also introduced an all-flash Isilon product as well as upgrading Unity and VMAX AFAs. The Isilon all-flasher rendered the addition of file services to XtremIO redundant and that feature was canned earlier this year.
Dell EMC customers now have four AFAs to choose from, which should benefit Dell EMC overall AFA revenues, but probably prevent XtremIO being top of the Dell EMC AFA heap again. ®