Samsung has finally launched its mobile payments service, Samsung Pay, in the UK. The chaebol acquired the technology by buying LoopPay and launched the service in South Korea in August 2015.
It seems odd that you still have to swipe a Nectar card separately after you've done your contactless payment thing with your phone or watch, so arriving late to the market isn't necessarily fatal for Samsung. It also has a number of tricks up its sleeve.
Pay's boast is that it integrates store cards much better than Android Pay or Apple Pay (which don't integrate them at all) and the device can also act as a passive magnetic reader. In practice, that means on Transport for London contact readers, it can act as a plastic Oyster card: it will get you through the barriers without having to wake up and unlock the phone, as rivals do.
It's also easier to set up for the user.
Pay is now live on TfL.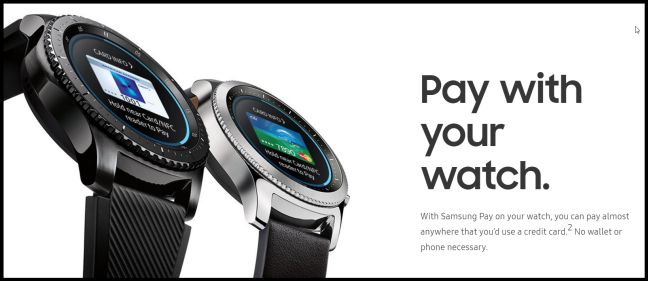 Or not
For it to work you need an S8, S8+, S7 or S7 edge, S6 or S6 edge. Samsung's devices website claims to support Pay on its Gear S3 watch, but when we checked with Samsung, they simply referred us to the list of supported Pay hardware, which doesn't include the Gear S3.
Samsung Pay will initially only be compatible with Mastercard and Visa cards issued by Santander, Nationwide and MBNA. Amex, First Direct, HSBC and M&S Bank have been named as ready to join soon.
Even with Apple's two-year head start, using smartphones or wearables hasn't really caught on. Using an iPhone at a TfL reader incurs a slight delay, which at rush hour is sufficient to get you beaten up. The Apple Watch and Android Pay are faster but nevertheless remain less reliable. We look forward to putting Samsung Pay to the test. ®