HGST paints go-faster stripes on Ultrastar flash drive range
The SS300 comes in 2bits/cell and 3bits/cell variants
HGST has released the Ultrastar SS300, an enterprise server SSD that's 1.6 times faster than its predecessor.
It follows the MLC-based SS200, which used SanDisk 15nm NAND and came in a 480GB-7.68TB capacity version and a 400GB-6.4TB endurance version.
The SS300 is a bewilderingly varied SSD, coming in both 3D MLC (2bits/cell) and TLC (3bits/cell) versions, with varying power and endurance levels.
WDC says the SS300 was developed in partnership with Intel and is its fastest SAS SSD to date. There is no capacity increase over the SS200 but a useful sequential bandwidth boost. The drive has variations to hit a wider range of OEM requirements and features:
2.5-inch form factor
12Gbps SAS interface in active:active dual port or single/dual port
400GB-3.2TB capacity range for MLC version
480GB-7.68TB capacity range for TLC version
Up to 400,000/200,000 random read/write IOPS with MLC
Up to 2.1/2.05GBps sequential read/write bandwidth with MLC (at 14w power)
85μs latency with MLC variant
0.35 per cent annualised failure rate (2.5 million hours mean time between failures)
9, 11 and 14 watt power options – higher IOPS with higher wattage
Five-year warranty, unlimited reads, up to 59PB writes (equivalent to 16TB/day for five years)
Four endurance choices, from 0.5 through 1 and 3 to 10 drive writes per day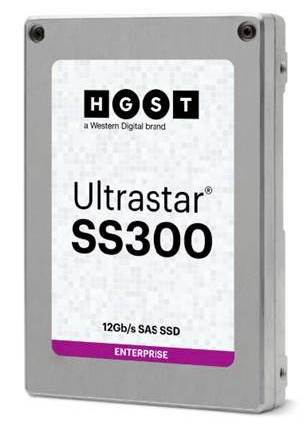 The SS300 also has a choice of security options, including Instant Secure Erase (ISE), Self-Encrypting Drive (SED)-compliant with TCG Enterprise and SED-compliant with TCG Enterprise with FIPS 140-2 certification.
It is currently shipping to OEM partners, like Oracle. Get a datasheet here. ®