Let's sum up Google's VR strategy so far: Making life less crap for a lonely 20-something
Eyeball-chasing ad giant literally traps your eyeballs
---
Google I/O Google wants more for its Daydream virtual reality platform than phone displays framed in cheap cardboard.
At its annual outdoor developer festival and tanning experiment, Google I/O, the Chocolate Factory presented minions to talk up the arrival of standalone VR headsets from HTC and Lenovo toward the end of the year.
By severing the tether to a PC, this self-contained face-hugging hardware will free wearers to bump into furniture and other tangible objects. And it may make participating in VR a bit more fun.
Google is providing a technology called Worldsense for these gizmos that will enable positional tracking without external sensors. Tracking how objects like a person's hands move in the real world is necessary to present them in a virtual world. The aim of the game is to help the wearer escape from our crazy reality into a believable albeit made-up happier place, after all.
Right now, before these standalone devices arrive, the Daydream platform's $80 View gadget is some goggles you slip your Android phone into, with the display beamed into your eyes: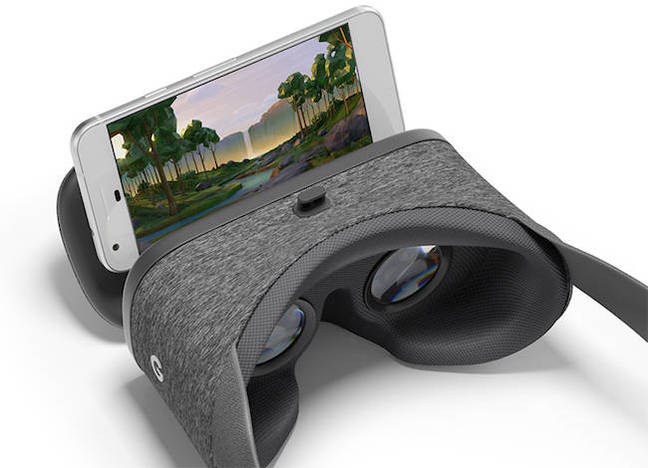 Six months after this Daydream kit debuted late last year, there are more than 150 VR apps. And with the arrival of a Daydream update for the Samsung's Galaxy S8 and S8+ this summer and the release of LG's next flagship phone, there will be 11 Daydream-compatible devices, in case anyone is keeping score.
Google calls this momentum. Check back after the holidays for actual sales figures.
Daydream consists of software development kits (SDKs) for Android, Unity, and Unreal Engine 4. Apps that meet design and functional quality requirements – Motion Intensity level must be specified, for example, so users are forewarned of potential motion sickness – can look forward to Google publishing support in the Play Store.
And clearly support is necessary to help VR reach mainstream appeal. Established developers and content creators have reportedly received six-figure financial support from Google, to seed the pool of available titles.
The VR market, however, appears still to be a money pit. Facebook's Oculus tried funding VR content creation through its in-house production arm Story Studio, only to shutter the digital entertainment mill earlier this month. Worse still, unit sales of VR headsets have underwhelmed.
VR, OH #IO17: "They're not doing anything interesting. They're just making it less of a shitty experience of a 20-year-old alone in a room."

— Thomas Claburn (@ThomasClaburn) May 18, 2017
In an online post Wednesday, Google virtual reality veep Clay Bavor took stock of the state of VR and AR efforts. He acknowledged that the next step for the industry isn't clear because "everything needs to get better."
Several of those presenting during Google's VR and AR keynote said it was "still early days," Google's favorite phrase for half-baked.
"Our goal here is really to raise all boats by doing heavy lifting," Bavor said on stage, as if Google were a rising tide rather than a company with a financial interest in VR.
Echoing his published thoughts, Bavor attempted to frame Google's various VR and AR projects as part of the spectrum of immersive computing. Immersive computing, he said, is important because it has the potential to change how we interact with computers.
Indeed, developers now have the opportunity to reimagine tired desktop and mobile interaction models. Unfortunately, it will take time to figure out what works and what leads to eyestrain, nausea, and headaches. But progress is being made.
Google has taken its Tango real-time 3D location mapping technology and rolled it into a service called "Visual Positioning Service" or VPS. Evidently no one at the company thought this might confuse people using virtual private servers.
Showing little faith in the guidance of retail employees or aisle-based signage, Google imagines that vendors like Lowe's will be able to map their facilities with millimeter precision using VPS to do things like direct phone-toting customers to specific products in retail spaces.
No specific release date was mentioned, though the technology is active in a few Lowe's locations, apparently. Google anticipates indoor location mapping will be useful in conjunction with a variety of services, including its AR smartphone camera tech, Google Lens.
Mike Jazayeri, director of product management for Daydream, said that in conjunction with Google's plan to launch standalone headsets, Daydream has received a software update dubbed Euphrates. It includes a VR window manager in Android, so system UI elements are accessible in VR on devices that lack a touchscreen, he said.
He also announced the addition of screen capture and Google Cast support, so VR apps can transmit imagery to nearby Chromecast devices and share them through social media. "It really brings your friends and family into the fun with you," he said. Sharing, he said, "is critical to keep people engaged."
Meanwhile, don't forget, while using virtual reality to escape actual reality, ads are coming to your VR world one way or another. ®