Payroll-for-contractors company named at centre of AU$165m tax scam scheme
Plutus Payroll's owners arrested, aircraft seized, tax office suspends senior staff … and tech contractors sweat
---
When Australian payroll-for-contractors outfit Plutus Payroll stopped paying its customers, several pointed out that the company looked too good to be true – because it did not charge for its services. And now we know why: the biz has been named at the centre of an AU$165 million (US$122.5m, £94.5m) fraud against the Commonwealth of Australia.
As detailed by the Australian Federal Police (AFP), a syndicate ran Plutus and "... accepted money from legitimate clients to process payroll on their behalf. This money was transferred to seven sub-contracted companies known as Tier 2 companies, which then made payroll payments to individual workers of clients."
The AFP points out that Plutus was a legitimate company, but asserts that "directors of these Tier 2 companies … are essentially a front – individuals recruited to appear to be running the companies, but the syndicate members retain effective control."
The syndicate used that control to direct the Tier 2 companies to pay only some of the income tax they were required to pay on behalf of customers. The AFP says "The remaining money was allegedly siphoned off by the syndicate members and channelled through a complex series of companies and trusts for their own personal gain."
And what gains they were: raids in Sydney yesterday seized 25 motor vehicles, a dozen motorcycles, 18 residential properties, over 100 bank accounts holding over $15m, $1m of cash from a safe deposit box, firearms, jewellery, vintage wines and even a pair of aircraft.
The AFP has provided The Register with the diagram below to illustrate how the scheme worked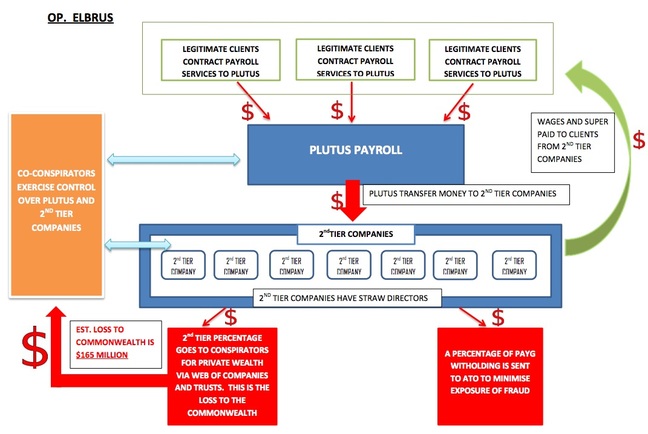 How Plutus Payroll was allegedly used in a scheme to defraud the Commonwealth of Australia. Source: AFP. Click here to embiggen.
Among those arrested in yesterday's raids was one Adam Cranston, son of Michael Cranston, a deputy commissioner of the Australian Taxation Office (ATO). Michael Cranston is one of four ATO employees who has been stood down pending an internal investigation into the office's role in the mess.
AFP investigators said Michael Cranston is not suspected of having been aware of the conspiracy or having assisted it in any way, but is alleged to have shown his son ATO records and thereby abused his role as a public official.
Andrew Mills, the ATO's second commissioner, said that the office was not compromised and that its systems detected unusual Plutus-related activity and investigated accordingly. The AFP and ATO collaborated on the matter, culminating in more than 200 AFP officers yesterday.
News that Plutus was allegedly involved in the scheme has dismayed those owed money by the company. In the closed social media forum in which affected contractors vent, several now doubt whether Plutus will be able to make superannuation payments. Others say the company has not made payments for leased cars.
The Register imagines they'll struggle to see the cash they're owed.
Plutus' outsourced spokesperson tells us the company has nothing to say at this time. Nor have other companies identified with the situation returned our calls.
We will update the story as news comes to hand. And if you are affected by the situation, write and let me know ®