Who loves tapas? Of course you do. What about storage tapas?
Well, here are some plates full of bite-sized news anyway
For this round-up of storage news we start with Data Gravity and Veeam, move on to a McLaren super car crash, and pass through company news, some customer wins, news snippets and on to people moves.
Did you know Ratmir Timashev has joined a startup's board, or that a blast from the past has arrived at Violin Memory? You will soon enough.
Data Gravity
Paula Long's Data Gravity startup announced DataGravity for Availability with Veeam support. It automatically responds to data exposure and security threats in a Veeam backup repository. The firm says it is changing the data protection paradigm from being solely a time-based process to an intelligent, automated and targeted one.
It says DataGravity for Availability monitors user and file behaviour, identifying and stopping attacks against data such as ransomware as a first step. A second step is rapid recovery with little to no data loss.
IT and security teams get a full trace of user and file changes to guide fine-grain restores. These are triggered in realtime once an incident, such as an insider threat or ransomware, is recognised and halted.
DataGravity complements Veeam's restore capabilities to provide forensics-level recovery based on a full audit trail of all the changes that occurred within and across backups and by whom.
DataGravity for Availability works in conjunction with DataGravity for Virtualization in production. Get more info or a free trial here.
Dell EM-Chee
HengLoon Chee, a sales channel director for Dell EMC in New Zealand, is up for driving in a dangerous manner after crashing a black NZ$500,000 McLaren super car close to the Point Chevalier motorway on-ramp near Auckland.
The car, said to be screaming along, hit a barrier at the side of a motorway, turned over and slid into a ditch, according to a report. One person involved, the driver we suppose, suffered moderate injuries.
The actual model of the McLaren is not known.
A video shows the car's recovery.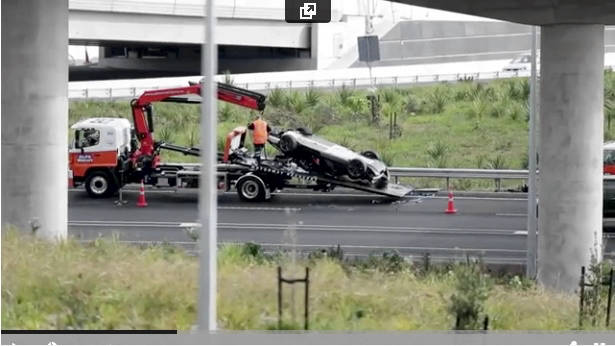 Click here to roll the video
If convicted of the driving charge, he could be fined up to $4,500 or jailed for up to three months.
Gartner
The research/analyst house published semiconductor company revenues: "Market Share Analysis: Semiconductors, Worldwide, 2016." Worldwide semiconductor revenue totalled $343.5bn in 2016, a 2.6 per cent increase from 2015 revenue of $334.9bn, and the top 25 semiconductor vendors' combined revenue increased 10.5 per cent, better than overall industry growth; however, most of this growth resulted from merger and acquisition (M&A) activity.
Intel retained its position as the largest semiconductor manufacturer and grew its semiconductor revenue 4.6 per cent in 2016. Samsung Electronics maintained its number two spot with 11.7 per cent market share.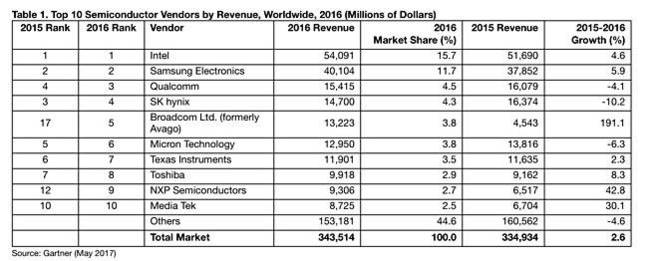 Merger and acquisition activity among the major vendors in 2016 included Avago Technologies' acquisition of Broadcom Corp to become Broadcom Ltd, On Semiconductor's acquisition of Fairchild Semiconductor, and Western Digital's acquisition of SanDisk. The largest mover in the top 25 was Broadcom Ltd, which moved up 12 places in the market share ranking.
infinite io
infinite io – a determinedly lower-case startup – has announced network storage controllers which support clustering for scale and fault-tolerance.
It says the boxes put the intelligence to move data freely between traditional storage systems and low-cost clouds directly in the network, eliminating the need for complex overlay file systems and cloud gateways.
Data is automatically moved to the most cost-effective and performance-matched location while maintaining a consistent access profile.
Infinite IO – we're a standard case media outlet – says its technology installs in the network like a switch and uses deep packet inspection technology to understand and monitor storage traffic in realtime at wire rates. The collected information is used to abstract storage systems and the cloud at the network level, creating a transparent control plane.
Accessing clients and servers get a consolidated view of all data that appears just as it did when all data was stored locally on traditional storage, even though the majority of it has been migrated to a low-cost cloud. Customers get a seamless hybrid cloud and on-premises environment.
The company says its product is able to capture metadata requests inflight over the network and respond with a copy of the information directly from memory, in a fraction of the time it takes the fastest all-flash storage arrays to respond. By intercepting these requests before they reach an end-point storage system or cloud, Infinite IO is able to enhance the [access] performance of data in use whether stored on a storage system or a cloud.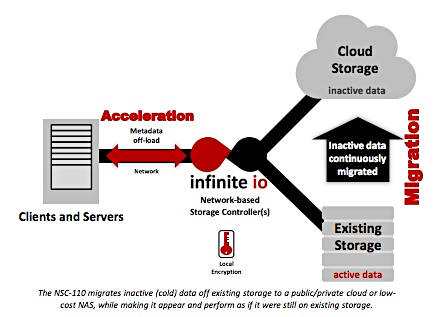 CEO Mark Cree said: "Infinite IO is doing to the storage industry what ride sharing apps did for transportation. Just like ride sharing apps do not own vehicles, Infinite IO does not actually store any data. [It] transparently moves the storage control plane into the network where it belongs... Storage systems do not move data, networks do, and in the age of the world-wide web it's time to tap into this knowledge base to transform data management."
Interesting idea, retrofitting public cloud storage to legacy arrays and virtualising the access.
The new clustered controllers are in beta and are planned to be released this quarter. Single controller pricing starts at $59,995 and varies by configuration. More info here.
Kaminario and ViON
All-flash array firm Kaminario is partnering with ViON to deliver flash-as-a-service to US Federal agencies. ViON will implement the Kaminario K2 all-flash storage array with an as-a-service model.
Kaminario is already included on three of ViON's contract vehicles including CIO-CS, SEWP Group B SDVOSB and NCPA. ViON's president and CEO Tom Frana said: "Our partnership with Kaminario will allow customers to gain new cost efficiencies, along with the performance, scalability, and agility needed to achieve their objectives."
We asked Kaminario a couple of questions about this.
El Reg: Where are the Kaminario arrays located?
Kaminario: It's the customer's choice. The arrays can be located in a customer data center provided as infrastructure-as-a-service with their staff, or off-premises as a managed service in a partner data center with the highest certifications to serve state government or Federal agencies. These partner data centers are compliant with FedRamp, FISMA, CIGS as well as IRS and healthcare laws and DOJ regulations for the management of data.
El Reg: And how do Federal users access them? Is it over a network?
Kaminario: If it's on-premise with the customer, it's located behind their firewall and part of the customer's existing network. If it's off-premise, ViON uses trusted connections with partner data centers that already have the infrastructure to support Federal agencies. We've been doing this since 2003, so that connectivity is not a hurdle for us and the Kaminario K2 flash arrays provide the ease and scalability the Federal space needs.
N2W Software
Israeli startup N2W Software has gained funding, a new CEO and COO, and a glamorous board member.
Its Cloud Protection Manager (CPM) product offering, which protects and enables recovery of Amazon Web Services (AWS) EC2 instances, including all volumes and configurations, with a mouse click. Cloud Protection Manager can also instantly recover EC2 instances to other AWS regions or AWS accounts, for disaster recovery.
This CPM product is available as an Amazon Machine Image (AMI) on the AWS Marketplace, with Basic Edition, with five backup instances, prices starting at $62.50/month, and up to $750/month for the Enterprise Edition with 500 backup instances.
N2W Software was founded in 2012 by now ex-CEO Uri Wolloch and VP Business development Ohad Kritz. The new CEO is Jason Judge, who was previously CEO of 5Nine Software, Veriato, and ScriptLogic. Wolloch becomes the CTO. The new COO is Andrew Langsam who was part of the LOGICnow team that was recently acquired by SolarWinds, and part of the SciptLogic team that was acquired by Quest Software.
Ophir Shalitin is the CMO.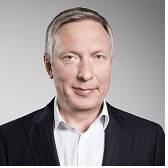 Ratmir Timashev
Veeam co-founder and president Ratmir Timashev is joining N2W's board, which is a nice vote of confidence.
The undisclosed A-round investment, described as significant, comes from shy and retiring private equity and venture capital firm Insight Venture Partners. We think it's in the tens of millions of dollars area; say $20m-40m.
The invested cash will be used to enhance the CPM product and also help N2W expand its sales and marketing efforts. The company will expand its development centre in Haifa, Israel, and open a new headquarters in the United States based in West Palm Beach, FL.
Find out more about N2W Software here, especially if you are a marketing, sales and development person looking for a new job in Haifa or West Palm Beach.
Customer wins
Hitachi Elevator, the elevator company that had risen to be the world's most popular lift supplier [Ed – sorry], has decided to use Nutanix and its AVH hyperconverged system. It's deploying big data, remote surveillance and manufacturing execution system applications, as well as migrating other applications off a legacy multi-tier environment based on EMC storage, to the Nutanix Enterprise Cloud Platform.
Startup Rozo Systems – a provider of software defined, erasure coding using, scale-out NAS storage using the Mojette Transform – says the IRCCS Istituto di Ricerche Farmacologiche Mario Negri in Milan, Italy, is using RozoFS for storage and analysis of next-generation sequencing data (NGS), in preference to a 20-node clustered NFS filer alternative.
Nibs
BackupAssist, which sells automated Windows server backup and recovery software for small and medium enterprises (SMEs), says its v10.0 BackupAssist backup and disaster recovery software lets customers choose between AWS and Azure for the storage of their backup data. They can choose redundancy level and backup vault locations to meet cost, compliance, and performance requirements.
Cisco and SAP say SAPId often run on UCS servers, and they are working to optimise the SAP-UCS server customer experience with unique features for smoother manageability and better return on investment (ROI). An IDC survey found UCS is the leading platform for SAP HANA deployments, as well as its leading storage infrastructure vendor, with 20.4 per cent vendor share in both categories.
DCIG announced the availability of its 2017-18 Hyperconverged Infrastructure Appliance Buyer's Guide developed from the converged infrastructure body of research. It weighs, scores and ranks more than 100 features of 24 products from five vendors. Using ranking categories of Recommended and Excellent, DCIG says this Buyer's Guide offers much of the information an organisation should need to make a highly informed decision as to which hyperconverged appliance will suit their needs.
Register to access this report via the DCIG Competitive Intelligence Portal.
Hong Kong-based XSky Beijing Data Technology has had a US$17 million (RMB 120 million) funding B-round, having previously raised US$7 million in a 2016 A-round and US$3 million in a pre-A-round in 2015, the year of its founding. It develops open source storage software and has partnerships with Intel, Mellanox and Samsung. The X-EBS product is enterprise grade distributed block storage and X-CBS (XSKY Cloud Block Storage) is carrier grade software-defined, scale-out storage.
Zadara Storage, a provider of enterprise-class storage-as-a-service (STaaS), and IT service provider consalco. have opened a storage-as-a-service demo centre near Munich, Germany, in collaboration with Intel. Presumably it will get a Xeon SP upgrade later this year.
Zadara says its Zadara Storage provides enterprise-grade storage-as-a-service in any location (cloud, on-premises or hybrid configurations), supporting any data type (block, file and object) and connecting to any protocol (FC, iSCSI, iSER, NFS, CIFS, S3 and Swift). These offerings combine servers with Xeon E5 v4 processors and Intel 3D NAND SSDs, with the Zadara Storage Cloud software architecture, to offer a fully managed, elastic storage service.
People
DataCore Software has announced the appointment of Rosario Perri as director of strategic partners and alliances across EMEA.
Andre Leibovici has joined Datrium as vice president of solutions and alliances, coming from Nutanix. He'll be responsible for expanding the global partner ecosystem by developing strategic and technology-driven partnerships to accelerate the adoption of Datrium Data Cloud and DVX Rackscale system. At Nutanix he was senior director for alliances engineering and vertical alliances.
Storage Made Easy has appointed Ron Kaplan as the regional vice president (RVP) responsible for North America, and Kim Syrett as UK sales director.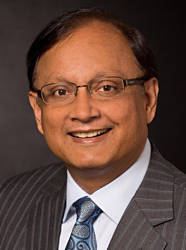 Pankaj Patel
Pankaj Patel has joined hybrid cloud storage supplier SwiftStack's board of directors. He is a former Cisco chief development officer and will be focused on advising SwiftStack in the areas of technology strategy, partner go-to-market, and scaling the company. Cisco is Swiftstack's largest partner.
Vic Mahadevan has joined Violin Memory as a strategic advisor. We're told he has served as chief strategy officer at NetApp, CEO for five companies, and has played strategic roles at various companies including LSI Corporation and BMC Software. Mahadevan was on board before, in 2014 and associated with the Clinton Group, an activist investor then trying to get Violin to change its ways. It didn't... and fell into bankruptcy. Now it's back and so is Mahedavan. We watch and wait. ®