The general solid state drive price premium over disk should decline from 6.6x now to 2.2x in 2021, according to new IDC numbers.
IDC updated its SSD forecast last week and Stifel analyst and MD Aaron Rakers has had a look at the updated forecast. It says SSD shipments will increase from around 157.5 million units shipped in 2016 to 312.9 million in 2021; a 15 per cent CAGR (compound annual growth rate.)
SSD capacity shipped will grow much faster, with a 44 per cent CAGR over the period. It is expected that SSD capacity shipped will grow from 7 per cent of total HDD + SSD capacity shipped in 2016 to about 19 per cent in 2021.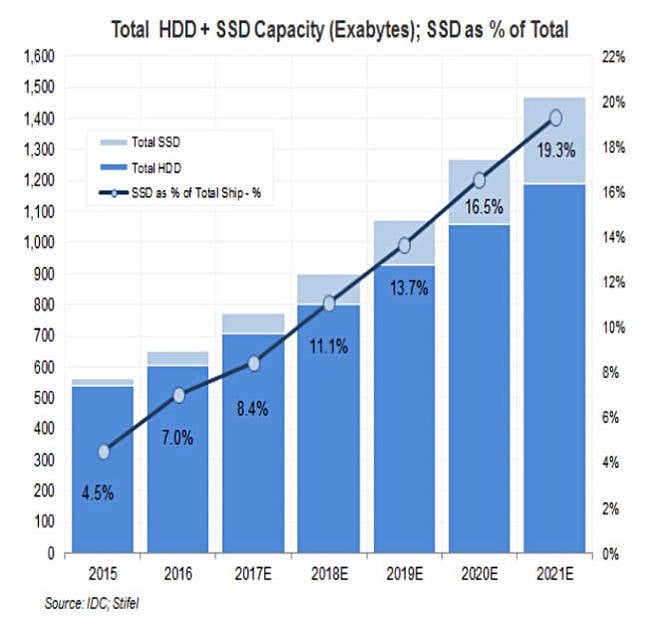 Over 80 per cent of total capacity shipped in 2021 will be on spinning disk.
SSD price premium
Current SSD supply shortages have caused IDC to reduce its SSD unit shipment forecast for 2017 and 2018 by 3 per cent and 1 per cent respectively, but increase its 2019 and 2020 estimates by 1 per cent and 3 per cent respectively. IDC has also increased its SSD revenue forecast compared to its December 2016 forecast by an average of 10 per cent over the forecast period for the same reason – tight supply.
IDC sees the SSD $/TB price premium over disk drives reducing over the 2016-2021 period. It sees a general 7.2x premium in 2016 reducing to 2.2x in 2021.
Rakers has charted IDC and Stifel price premium numbers for mission-critical enterprise drives, nearline enterprise drives, PC drives and SSDs in general versus spinning disk drives, looking out to 2021: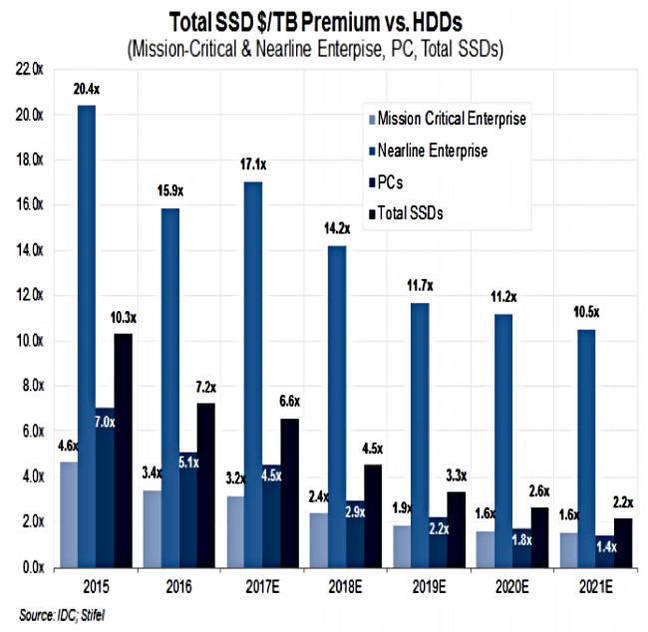 He thinks that, in enterprise drives generally, IDC's numbers imply an increase in the SSD premium from 12.7x in 2016 to 13.7x this year, possibly reflective of tight supply/demand dynamics in the NAND flash industry.
The chart shows the nearline enterprise SSD premium rising from 15.9x in 2016 to 17.1x this year and falling to 14.2x next year when, presumably, supply constraints ease.
IDC thinks this general enterprise SSD premium will begin to decline again in 2018 and reach 8.8x in 2021.
PC pricing premium on a $/TB basis is expected to decline from 5.1x in 2016 to 1.4x by 2020 – quite an accelerated fall. IDC thinks PC SSD revenues will increase at a 7 per cent CAGR over the same period.
Rakers, using IDC's HDD forecast, estimates that PC SSD capacity shipped in 2016 was 14 per cent of PC HDD capacity shipped that year. It will rise to 46 per cent of the total capacity shipped in 2021. This is all good news for the flash foundry gang and SSD shippers. ®
Similar topics