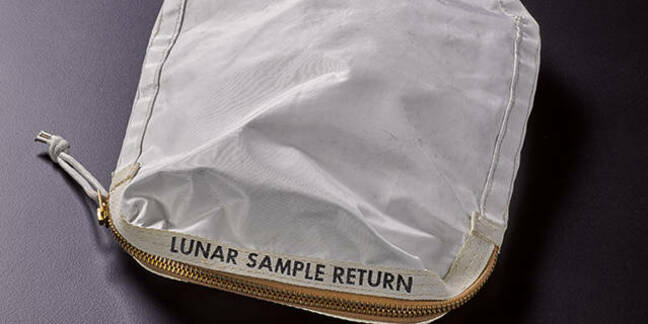 The bag Neil Armstrong used to carry home lunar samples from the Apollo 11 mission could fetch up to $4m at auction next month.
Auction house Sotheby's says the bag, which carried a half-kilo of material from the Moon to Earth, is one of the few artifacts from the mission that can be purchased by members of the general public – most Apollo 11 gear is held by the Smithsonian.
The bag will be part of a special Space Exploration Auction that Sotheby's plans to hold in New York City on July 20th, the 48th anniversary of the Moon Landing.
"During the Apollo 11 mission, Neil Armstrong collected nearly 500 grams of material finer than 1 cm, as well as 12 rock fragments larger than 1 cm from five different locations on the lunar surface in the region known as the Sea of Tranquility," the auction site said of the zip-up pouch.
"Given the then-unknown nature of lunar material, this decontamination bag was used to minimize any potential harm the samples might pose to the Command Module and planet Earth."
According to Sotheby's the (by now empty) lunar sample bag was never picked up by the National Collections and was instead lumped into a lot of items the US Marshall's service set for auction in 2015.
A woman purchased the bag for $995 and took it to NASA, where researchers found it was part of the Apollo 11 landing mission. That woman now stands to get a hefty return on her investment, as the bag is expected to fetch $2m-$4m – though most of the profits are said to be going to charity.
Such auctions are not quite as rare as Sotheby's makes them sound. In 2014, rival auctioneers Bonhams sold off a lot of memorabilia from both the Soviet and US space programs, including some artifacts taken from the Apollo 11 and other NASA moon missions.
One year later, a watch worn by Apollo 15 commander Dave Scott fetched $1.63m at auction. ®
Sponsored: How to simplify data protection on Amazon Web Services