Huawei missed memo that PC's dead – so here are three new notebooks
Touchscreens? Who needs 'em?
Hands On Huawei this week launched three Intel devices running Windows 10: a slim notebook, a Surface-a-like 2-in-1, and a conventional 15.6" laptop.
"We want to bring a full range of products for your digital life including a smartphone, a smart tablet, smart watch, wearable devices, and also notebooks, the PC," said Richard Yu, CEO of Huawei Consumer Business Group, at a press conference in Berlin.
The Chinese company, which is the world's third biggest smartphone vendor, behind Samsung and Apple, released its first Windows notebook, the original MateBook, in the first half of 2016.
The PC market is in decline and many significant players have pulled out of the European consumer market, including Samsung, Sony and Toshiba and Fujitsu. Worldwide shipments declined 2.4 per cent in the first quarter of 2017, according to Gartner, dipping below 63 million units in a quarter for the first time since 2007. So why is Huawei investing in this market?
It is all about communications, according to a Huawei spokesperson. PCs matter because they are mobile communication devices: "The notebook is connectivity, like a smartphone or tablet."
MateBook X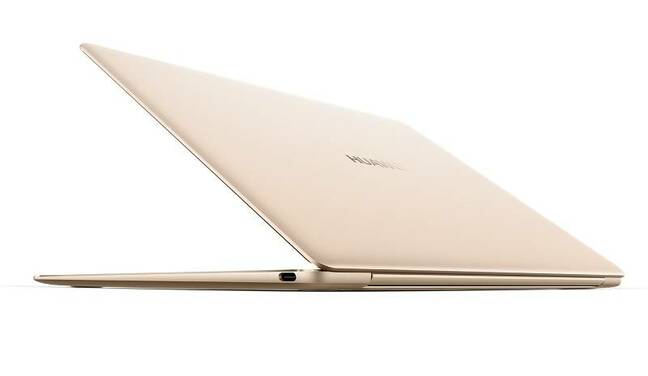 The slim side view of the Matebook X
The Berlin announcement shows that the company is serious about notebooks. The MateBook X (from €1399) is the world's smallest 13" notebook, according to Yu, and is the star of the range. The screen has very thin borders, giving an 88 per cent screen-to-border ratio - compared with MacBook Pro's 76 per cent. There is still room for a front-facing camera at the top. The device is smaller than an A4 sheet of paper, and 12.5mm thin when closed. Weight is approximately 1.05kg.
Borrowing a feature from Huawei smartphones, the power button on the MateBook X doubles as a fingerprint sensor, giving you one-touch power and log-on.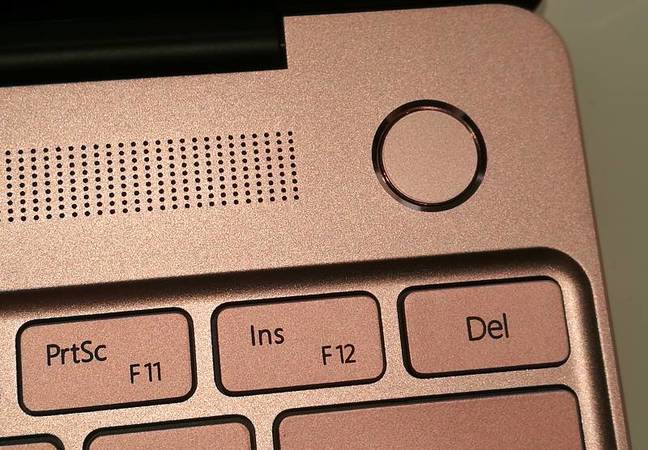 The MateBook X power switch is also a fingerprint sensor
The device is delightful to hold, as you would expect from such a thin and light device, and the sandblasted metallic body is attractive. The keyboard is chiclet-style with 1.2mm of stroke travel and I had no problem typing at a decent speed. It is also said to be protected from coffee spillage.
The built-in speaker system is another plus. There is an unusual near full-width grille, behind which sit two 11 x 34 mm speakers, each with dual coils. These are part of the hardware support for Dolby Atmos, a system for simulating 3D sound. Sound was good in Huawei's demo booths - with anechoic panels just like you have at home (ha!). Lenovo also has Dolby Atmos notebooks, but this works via headphones only, whereas the Huawei notebooks have Atmos via speakers. "This is a combination of a unique hardware design with a custom version of the Atmos software," A Dolby spokesperson at the conference told us.
Battery gives up to 10 hours video playback.
There are a couple of snags with the MateBook X. One is lack of a touchscreen. At the press hands-on session, journalists constantly found themselves stabbing at the screen, and I was no exception. Why no touch?
"It was because of the thickness of the screen part," a spokesperson told The Reg. "The design should stay thin and light, and therefore we decided against touch for the X."
Is being thinner than a Macbook Pro that important? A touchscreen would not add all that much bulk or weight, though apparently the screen part of the MateBook X is actually thinner, at 4.2mm, than a Huawei P10 smartphone, and this is because of the lack of touch capability.
Also you get just two USB C ports, one on either side. The one on the left supports data transfer and charging, and the one on the right data transfer and an external MateDock 2 expander that gives you one USB A, one USB C, one HDMI, and one VGA port. If you need these ports, the dock will be a nuisance, but you can understand why there is no room for them on the main unit. Fortunately there is a standard 3.5" headphone socket.
Fit and finish is good though not the very best. We noticed some keyboard wear even on the demo units. And when you close the MateBook X, the screen is not quite perfectly flush to the keyboard but this is nit-picking. It is a lovely device.
MateBook E and MateBook D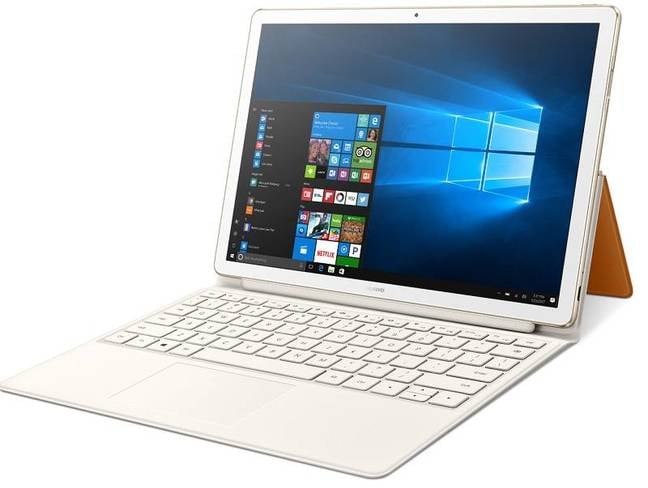 The MateBook E 2-in-1
Next up is the MateBook E 2-in-1 (from €999). This is a 12" tablet with a folding type cover and is a refinement of the original 2016 MateBook. The cover has an improved design, with a stiff hinge that allows free choice of angle when used like a laptop. When positioned on your lap it is better than its predecessor but not as good as a "real" laptop. The pen is an optional €69 accessory and can detect 2048 degrees of pressure – not quite as good as Microsoft's latest Surface pen but good enough. The E 2-in-1 has a touchscreen, which is welcome.
There is a headphone socket and a single USB C port, with support for the MateDock 2 for expansion.
The MateBook E feels great when folded but Huawei has work to do on the ergonomics. Although the device is perfectly usable, I found the tablet came away from the type cover too easily when experimenting with different stand positions.
Microsoft came up with the Surface design for Windows 8, the idea being to support hybrid tablet and laptop use at a time when Windows was heading for a touch interface as primary for new-style "Modern" apps. In practice you almost always see a Surface used like a laptop, and with Windows 10 Microsoft has moved back to focus more on keyboard/mouse interaction, though touch remains important. The outcome is that the 2-in-1 design feels like a slightly worse laptop most of the time, and I can see this being the case with the MateBook E.
Finally, the MateBook D (from €799) is the cheapest and least interesting of Huawei's Notebook range. This is a traditional 15.6" laptop and not a high-end device. There is a choice of graphics, integrated on three lower-end models, and Nvidia GeForce 940MX discrete graphics on the top models.
In the first instance Huawei is positioning the device as a gaming notebook for the Asia market - as Europe and North America require "a very intense level of notebook graphics" that the current model does not deliver.
Huawei's notebook ambitions
What are the company's goals? Huawei is testing the water, a spokesperson told The Reg. "We are entering the market as a newbie for notebooks, there is no particular number of sales we want to generate but it's more important to arrive successfully on the market. We want to create acceptance for the brand."
Consumers are the initial target - the company is still planning how to approach the business market.
Prices seem high for home buyers, but expect discounts. "There might well be some surprises coming up. We are aware of how to deal with the prices," we were told.
No availability date has been published but a worldwide release for the MateBook X and E, starting with Germany is slated in "about three to four weeks".
Is Huawei likely to be significant in the PC market? Given the company's rapid growth in smartphones, you would not want to bet against it. The MateBook X, in particular, is a great little device that shows the company's ability to marry its smartphone expertise with PC technology. It could do well if the price is right. ®
Key specifications and prices
MateBook X
13" screen, 2160 x 1440 pixels, 12.5 x 286 × 211mm, 1.05kg.
7th Gen Core i5-7200U or Core i7-7500U CPU
5449 mAh battery
Dolby ATMOS
i5/8GB/256GB SSD €1399
i5/8GB/512GB SSD €1599
i7/8GB/512GB SSD €1699
MateBook E
12" screen, 2160 x 1440 pixels, 6.9 x 278.8 x 194.1mm, 1.1 kg with keyboard.
7th Gen Cor m3-7Y30 or Core i5-7Y54 CPU.
4430mAh battery
m3/4GB/128GB SSD €999
i5/4GB/256GB SSD €1199
i5/8GB/256GB SSD €1299
MateBook D
15.6" screen, 1920 x 1080 pixels, 1.9 Kg.
7th Gen Core i5 or i7 CPU.
NVIDIA GeForce 940MX GPU
Dolby ATMOS
i5/8GB/1TB HDD €799
i5/8GB/128GB SSD+1TB HDD €899
i7/8GB/128GB SSD+1TB HDD €999