NetApp back on course after $8m loss
Final quarter is third in a row to show revenue and profit growth
---
All-flash arrays led the way as NetApp completed its 2017 financial year with annual and quarter-on-quarter revenue and profits growth.
It reported fourth-quarter revenues of $1.48bn, up 5 per cent quarter-over-quarter and 7 per cent year-over-year. Product revenues were $852m.
Stifel analyst and MD Aaron Rakers said NetApp's strategic product (cDOT, E-Series, all-flash FAS, hybrid cloud, SolidFire) revenue totalled $596m, up 24 per cent year-over-year and now around 70 per cent of total product revenue as the company noted its Clustered ONTAP transition is largely complete.
Mature product revenue (7-mode, OEM, and add-on) declined 7 per cent over the year.
Net income was $190m, which compares very nicely to an $8m loss a year ago, and is 30 per cent more than the third quarter.
It's NetApp's third straight quarter of growth and the charted results look good: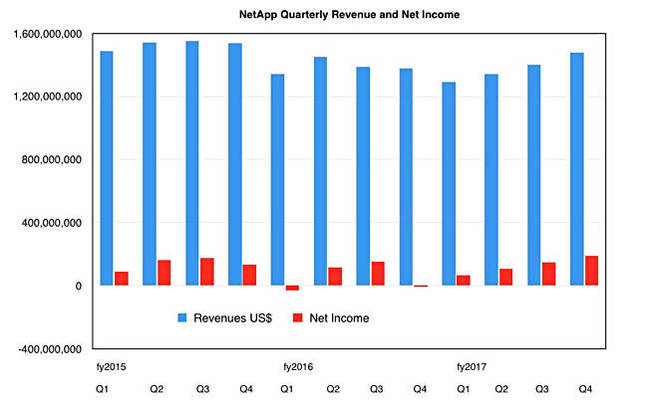 NetApp was within its own forecast for revenues in the range of $1.365bn to $1.515bn for the fourth quarter.
The fourth quarter annualised net revenue run rate of $1.70bn for its all-flash arrays was up almost 140 per cent year-over-year. Rakers writes that NetApp continues to win net-new workload opportunities for FC-attached SAN environments (versus EMC/Hitachi incumbents).
Full fiscal 2017 revenues were $5.52bn, just a tad down on last year's $5.55bn and almost stopping the annual sales fall trend as shown below.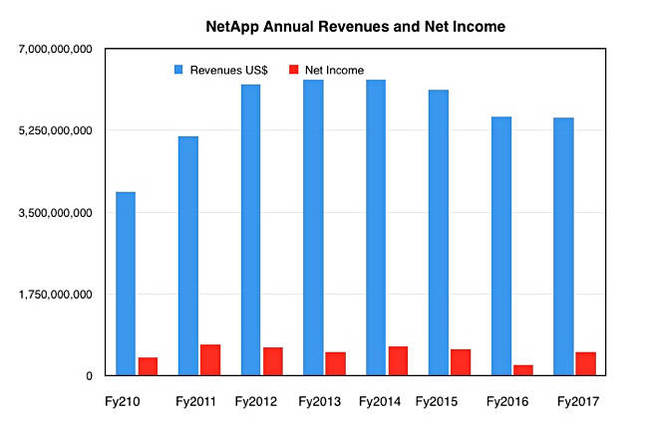 NetApp shipped more than 1 exabyte of flash in 2017 and noted that all-flash penetration of its installed FAS Array base is less than 10 per cent, meaning there is huge all-flash FAS upgrade potential there.
Rakers said NetApp delivered $140m/annum of savings versus its target of $130m. That helped the bottom line.
CEO George Kurian said: "Our continued focus and disciplined execution yielded yet another quarter of solid results. We have regained momentum, returning the company to revenue growth and delivering against all of our fiscal year 2017 commitments."
Earnings Call and all-flash progress
In the earnings call Kurian talked about the all-flash opportunity: "We are in the early innings of the movement to flash and have a significant growth opportunity ahead as we penetrate our installed base and displace competitors' installations with our all-flash solutions.
"In Q4, we accelerated the rate of EMC take-outs for 2-1 a day, and we mentioned that it was once every few days at the [recent] Analyst Day. I think in Q4, we have accelerated that to once per day, representing the fact that we have got the best all-flash array portfolio in the market."
Kurian added: "We are displacing the EMC products, primarily VMAXs and VNXs as we tear out old SAN environments and replace them with all-flash FAS. We are also looking forward to displacing old Isilon environments with ONTAP 9.2."
About all-flash array competition in general, he said: "We are the fastest-growing vendor in the all-flash array market. It's outpacing our competitors, large and small. I think if you look at our numbers, we are up 140 per cent year-over-year as compared to others who are in the 30 per cent range. And if you look quarter-on-quarter, we are up 24 per cent as opposed to them down sequentially in the same range.
"The majority of our growth is coming from outside our installed base."
SolidFire product revenues in fiscal 2017 were between $100m and $120m, according to Rakers.
Phase two transformation includes boosting OEM program
Kurian said NetApp had completed phase one of a transformation he'd set up and will focus on three priorities:
Expand its total addressable market by:

Growing the portfolio and the ways it's delivered
Strengthening its position in all-flash arrays and converged infrastructure
Carry on pushing into Tier 1 SAN opportunities
Introducing its ACI* system as well as new cloud services and partnerships
Reinvigorating its OEM programme and addressing new buyers in new ways

Continue to make fundamental changes to drive productivity, enabling further investment in the business while continuing to expand operating margins
Continue its capital allocation programme, which includes the combination of shareholder returns and investment for the long-term growth of the business
On the OEM reinvigoration front, Kurian said it was a little early to provide details but he does "see the opportunity to access new markets and new geographies using both software as well as hardware. So we have succeeded in some of the smart city projects that are going on in the Asia Pacific region, using a new type of integrator that combines NetApp storage with other components of a broad based smart city solution."
NetApp buys PlexiStor
NetApp has bought PlexiStor, a startup supplying Persistent Memory over Fabric (PMoF), which gives app servers access to disaggregated persistent memory in fabric-connected PM Bricks.
Kurian said: "We have entered into an agreement to acquire Plexistor, a company with technology and expertise in ultra-low latency persistent memory. This differentiated intellectual property will help us further accelerate our leadership position and capture new application types and emerging workloads."
We wrote in August last year: "[PlexiStor] combines DRAM and flash in one memory address space to deliver a higher "memory" capacity with persistent storage from the NAND/XPoint part. It is developing a software layer, its SDM platform, to present DRAM and memory-channel persistent storage – NAND DIMMs currently – as a single memory-class resource pool for use by existing – unaltered – applications to give them a 100-450 per cent performance increase."
PlexiStor was founded in December 2013, and has taken in an undisclosed amount of funding via a 2014 A-round. The acquisition price was not disclosed.
Rakers writes: "We believe this move could leave investors to question NetApp's view of its positioning to address new application sites/emerging workloads with its existing traditional HDD-based storage architecture."
El Reg expects PlexiStor technology to find its way into the DataONTAP operating system, and also SolidFire.
NetApp also bought Immersive Partner Solutions, which Kurian said is "a cloud-based converged infrastructure monitoring and compliance company. We will integrate this intellectual property into our FlexPod solutions to help customers further simplify and automate life cycle management and enhance our leadership in the converged infrastructure market."
Outlook
Kurian talked about the coming hyperconverged infrastructure (HCI) product: "Our compelling hyperconverged infrastructure solution will leapfrog the first generation HCI products by bringing HCI to the enterprise with cloud integration and the ability to run multiple workloads on a shared infrastructure."
NetApp said NAND supply for the next quarter has been secured although prices may fluctuate.
Revenues for the next quarter are expected to be in the range of $1.24bn to $1.39bn, $1.32bn at the mid-point, a 2 per cent annual increase. Pretty conservative but then its first fiscal quarter is typically lower. ®
*Cisco's Application-Centric Infrastructure.