All-flasher Pure Storage has a feeling this could be its first billion-dollar year and is moving into tightly coupled co-processing between Pure and big 3 public cloud players.
Its first fiscal 2018 quarter revenues were $182.6mi; a 31 per cent annual increase and nicely above last quarter's original guidance range of $171m to $179m.
The net loss was $62.4m as CEO Scott Dietzen furiously funds growth. There was a net loss of $63.5m a year ago and one of $42.l9m in the previous quarter.
The chart shows the pattern of a seasonal first quarter revenue dip strengthening: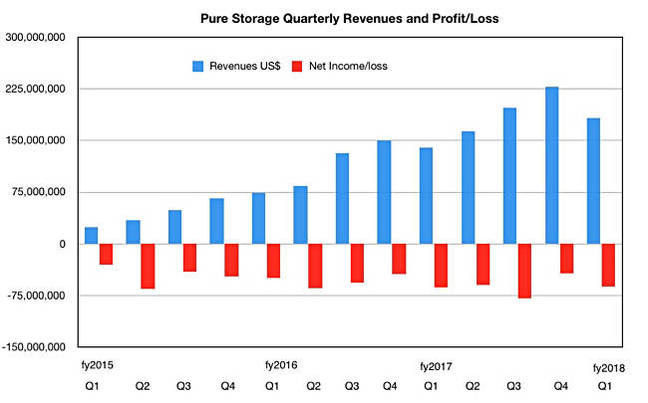 Some 300 new customers were acquired, taking the total count past 3,350 worldwide. This includes some 20-25 per cent of the Fortune 500.
Dietzen penned a blog on the results and mentioned that 20 per cent of Pure's revenues came from outside the US.
He says hybrid cloud is the future, implying Pure will do more with the public cloud and moving stuff between on-premises and public cloud IT centres and some kind of co-processing. In the earnings call, Dietzen declared: "At our Accelerate User Conference next month, we will showcase tightly coupled co-processing between Pure and the public cloud."
Also at Accelerate, Pure will "introduce substantial new releases of our software for both FlashArray and FlashBlade".
He also sees an opportunity with IoT edge data centres, with local data collection and analysis, as opposed to core enterprise data centres:
Public clouds, constrained by narrow wide area networks, simply cannot support data driven use cases at the edge, and legacy storage systems lack the performance, cloud automation and cloud business model needed for success in the 21st century.
He says: "Our first quarter win rates improved versus our top three competitors, Dell EMC, HP Enterprise and NetApp." NetApp claims its win rate against Dell EMC storage is increasing too.
"With the continuing growth in data-driven applications, the centre of gravity in the data centre is shifting away from compute and toward data storage." Hyperconverged infrastructure vendors might well, and strongly, disagree, but then Pure does not have a hyperconverged play.
Dietzen pointed out: "The markets that we are playing in favour converged infrastructure over hyperconverged."
We do see hyperconverged in our business, it tends to only be on the enterprise side, and it tends to be down market, remote and branch office and smaller businesses. But the core growth markets that we are playing in, the large enterprise datacenter, the cloud and these next gen data-driven workloads, hyperconverged is really not effective.
FlashBlade
How is FlashBlade, its newly introduced all-flash array for unstructured data and Big Data analytics, doing? Dietzen divulged: "While FlashBlade only became GA at the start of the year, momentum is strong, with sales growing roughly twice as fast as FlashArray at the same stage."
FlashBlade customer wins include Black Duck Software, the City of Davenport, Iowa (for a variety of unstructured data use cases, including capturing video from body cameras) and the KKG nuclear power plant in Switzerland.
Pure president David Hatfield said: "We delivered more than 50 per cent of our FlashBlade wins from existing FlashArray customers." Unsurprising. Pure is confident about hitting an $80m target for FlashBlade sales in its first year.
Hatfield spoke of "seeing nice crossover for FlashArray into FlashBlade customers, as well as up-selling our FlashBlade to FlashArray."
Public cloud co-processing
Hatfield also talked about partnerships. "Pure's channel momentum continues with our partners contributing more than 70 per cent of net new logos in the quarter. In particular, we benefited from the increasing field engagement with Cisco and our shared partners."
We are continuing to explore alternative routes to market with managed service providers, embedded solution providers and OEM, and we are deepening our relationship with the Big Three public cloud companies. More on this to come next month at Accelerate.
Partnering, Cisco and Pure
Hatfield sees a lot of OEM relationship opportunity in vertically specific embedded and managed service providers in "either oil and gas or in media that we can go get embedded in". He said there were active discussions and more to come.
He added: "The combination of the competitive landscape and the bottleneck shifting back to the network with these large AI machine learning workloads, just creates a natural alignment between Pure and Cisco; and so we are seeing a real natural momentum in the field."
That's reflected in year-over-year FlashStack growth.
"We are also continuing to establish a deeper relationship with the product organisation, so you will see us do more and more integrations with them, and announce that through CVDs*.
"We think there is great momentum that's just naturally formed by the competitive landscape, and the fact that you are going to need a shift of 40-gig and 100-gig networks as AI and these really data intensive workloads, make their way to market in a more mature, and more mainstream fashion."
Outlook
For the next quarter Pure is hoping for revenues between $214m and $222m; $218m at the midpoint and a 34 per cent increase on the year-ago quarter.
CFO Tim Riitters said: "This is based on strong momentum in our FlashBlade business, solid growth in our current FlashArray portfolio and the addition of our new FlashArray//X product offering."
Pure thinks it will be sustained free cash flow positive in the second half of the fiscal year. What about profitability? Dietzen's blog pointed out: "With $536m in cash and investments on the balance sheet and zero debt, we have the financial resources we need to build the leading data platform globally."
In the earnings call he said: "Certainly, the intent is to continue to drive operating leverage in the business, as we cross over to profitability. But we want to do that prudently, right, because the goal is to – we have a $35bn TAM that we want to go capture as much of as possible."
In other words Pure can continue to defer profits to build growth for some time yet.
Full fiscal 2018 revenues are expected to be in the range of $975m to $1.025bn; $1bn at the mid-point, compared to the $728m recorded for fiscal 2017 meaining a 37 per cent rise. ®
*Cisco Validated Designs