This article is more than 1 year old
The hold is filled with storage news! Grab a bucket and BAIL
Keelhauling through the week's movers and shakers
Intel
TrendForce says Intel took first place in enterprise-grade SSD shipments worldwide for this first quarter; Samsung followed closely behind.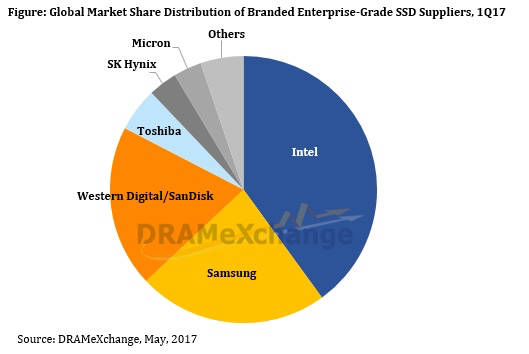 Global shipments of enterprise-grade SSDs for the first quarter of 2017 grew against seasonal headwinds by 3-4 per cent compared with the prior quarter to reach around 6 million units, says TrendForce division DRAMeXchange. These enterprise-grade SSDs represented more than 10 per cent of the total SSD product shipments worldwide.
It says that the US's Google, Facebook and Microsoft, and China's Baidu, Alibaba and Tencent all have a voracious appetite for server systems as they are providing their services via their growing network of data centres. So they are contributing substantially to the global demand for enterprise-grade SSDs.
Alan Chen, senior research manager at DRAMeXchange, said: "Compared with other end applications for NAND Flash, enterprise-grade SSDs have exhibited strong and dramatic demand growth and will continue to do so this second quarter."
TrendForce reckons that, before the first quarter of 2017, Intel had fallen behind in its development of 3D-NAND SSDs. The company had to offer products that were not as cost competitive as Samsung's because they were based on older memory manufacturing technologies. To attract customers, Intel not only lowered prices but also emphasized that its SSDs complement its server processors.
After persevering into the first quarter of this year, Intel was able to ship its 3D-NAND products in greater volumes. The company's global market share in enterprise-grade SSD segment therefore returned to above 40 per cent.
Samsung has captured a significant chunk of the enterprise-grade market with its 3D-NAND SSDs. Its market share was 25 per cent in the quarter.
Western Digital's shipments of enterprise-grade SSDs has been on the rise since the SanDisk acquisition, and it became the third-largest supplier worldwide in the quarter with a market share of more than 20 per cent.
Lenovo
The University of Bristol in England has a new BlueCrystal 4 supercomputer using Lenovo hardware, designed, integrated and configured by an HPC, storage and data analytics integrator called OCF. BlueCrystal 4 (BC4) has more than 15,000 cores making it the largest UK university system by core count and a theoretical peak performance of 600 teraflops. It will house more than 1,000 system users.
BC4 uses a cluster of Lenovo NeXtScale compute nodes, each with two 14-core 2.4 GHz Intel Broadwell CPUs with 128GiB of RAM. It has 32 nodes of two NVIDIA Pascal P100 GPUs plus one GPU login node, designed into the rack by Lenovo's engineering team for the university.
Why? Dr Christopher Woods, EPSRC Research Software Engineer Fellow, said: "To help with the interactive use of the cluster, BC4 has a visualisation node equipped with NVIDIA Grid vGPUs so it helps our scientists to visualise the work they're doing, so researchers can use the system even if they've not used an HPC machine before."
The cluster connects are made from several high-speed networks, the fastest of which is a two-level Intel Omni-Path Architecture network running at 100Gbps.
BC4's storage is composed of one petabyte of disk provided by DDN's GS7k and IME systems running the Spectrum Scale parallel file system from IBM.
Woods said: "Early benchmarking is showing that the new system is three times faster than our previous cluster – research that used to take a month now takes a week, and what took a week now only takes a few hours. That's a massive improvement that'll be a great benefit to research at the University."
BC4 is not located in Bristol but nearly a hundred miles away in Slough, at VIRTUS's LONDON4 shared data centre for research and education. The system is directly connected to the Bristol campus via Jisc's (Joint Information Systems Committee, which supports higher education by providing digital resources and network and technology services) high-speed Janet network.
Good wins for DDN and IBM.
Qubole
Qubole, a Big-Data-as-a-service startup, says it can intelligently automate and analyse platform usage to make data teams more effective. How?
It is building an autonomous data platform with three products:
Qubole Data Service (QDS) Community Edition
QDS Enterprise Edition, which replaces the existing QDS product
Optional QDS Cloud Agents to autonomously execute a range of data management tasks that are typically time-consuming, manual tasks. There are three sub-agents:

Workload Aware Auto-Scaling Agent: Optimises cluster size precisely to workload requirements, reducing the over-provisioning typically seen with alternative solutions. The agent is workload-aware and manages scaling up and down dynamically based on actual processing load to reduce overall compute costs by up to 50 per cent.
Spot Shopper Agent (AWS Only): Intelligently shops across AWS cloud to assemble the compute instances in the optimal combination of performance and cost. This can include AWS Spot Instances and Spot Blocks, mixed instance types, different availability zones and provisioned dynamically at run time. The Spot Shopper can reduce compute resource costs by up to 80 per cent vs on-demand instances, and up to 50 per cent more than commodity spot instance solutions.
Data Caching Agent: This agent optimises the locality of your data for fast, interactive access speeds. Data Transporter takes into consideration which data sets are frequently accessed and intelligently moves data in the background for the best performance.
Clever, huh?
This QDS trio self-manages, self-optimises and learns by watching platform usage. The architecture analyses metadata (queries, clusters, users, data, etc) generated by platform usage and applies machine learning and artificial intelligence to create alerts, insights, recommendations and autonomous agents which perform actions automatically.
So... the QDS platform is the only product that intelligently automates and analyses usage to learn how to make data teams scale and be more effective.
Ashish Thusoo, co-founder and CEO of Qubole, claims: "With the release of Qubole's autonomous data platform, data teams can optimise cost, performance and reliability by intelligently automating tedious manual data management tasks – helping organisations gain the full value of their data."
QDS Community is a free product, providing the same functionality as QDS Enterprise, and is free forever for up to four nodes and five clusters. It's for developers interested in building and testing applications before moving to production.
QDS Community, QDS Enterprise and QDS Cloud Agents are available in July 2017. Visit www.qubole.com to learn more.