This article is more than 1 year old
El Reg straps on the Huawei Watch 2
Sports ready, LTE ready, but still a solution looking for a problem?
Real World Test Back when Captain Scarlet was still fresh, in the 1970s, I wanted a watch that made phone calls. I think I might have drawn one on my arm with a Biro. This has been a sci-fi staple since Dick Tracy in the 1950s. Now I've got one, I wonder why I ever wanted it.
After using Huawei's Watch 2 every day for over three weeks, I never once felt the urge to make a call. It has its uses, though, with Android Wear finally supporting contactless payments.
Huawei's Watch 2 isn't the first contemporary smart watch with a SIM, making it a fully independent phone in its own right: that honour went to LG two years ago. Huawei issued reviewers with a Watch almost three months ago, but it's taken that long to hit the UK, and Huawei has had to shake some serious bugs out. The most serious of which was a wildly inaccurate step counter, so inaccurate, it multiplied the number of steps you took by four or five.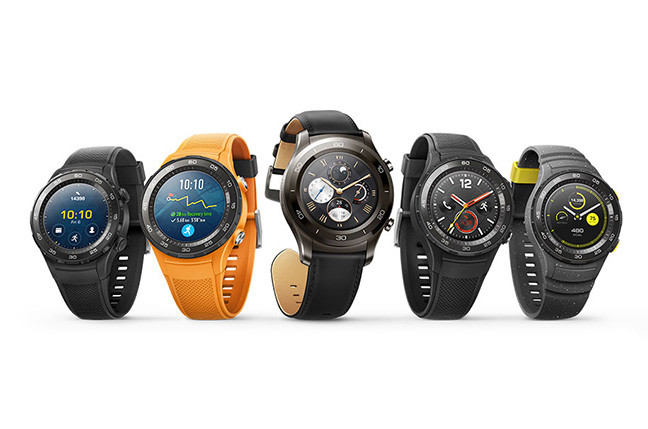 Note: in these photos the Watch 2 is fitted with a third-party strap
April saw a major update, but still no sign of the device in UK retail channels. As of last week, at last, they appeared for sale. Here's what I found.
The Watch comes in three flavours: two sporty designs (with and without LTE) and a 'classic' design, without LTE. I tried the 'sporty' flavour.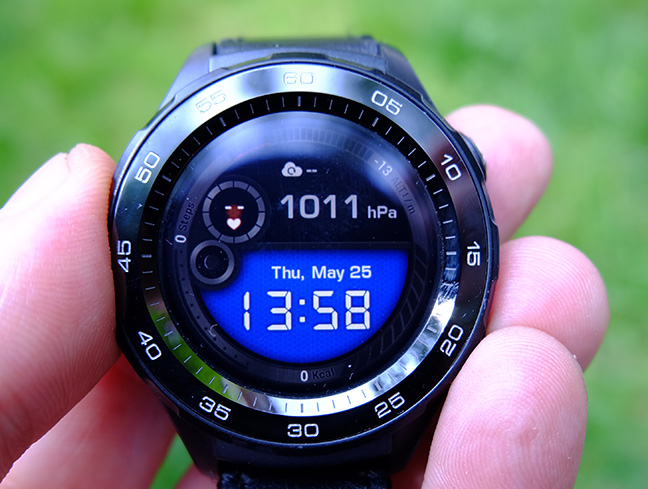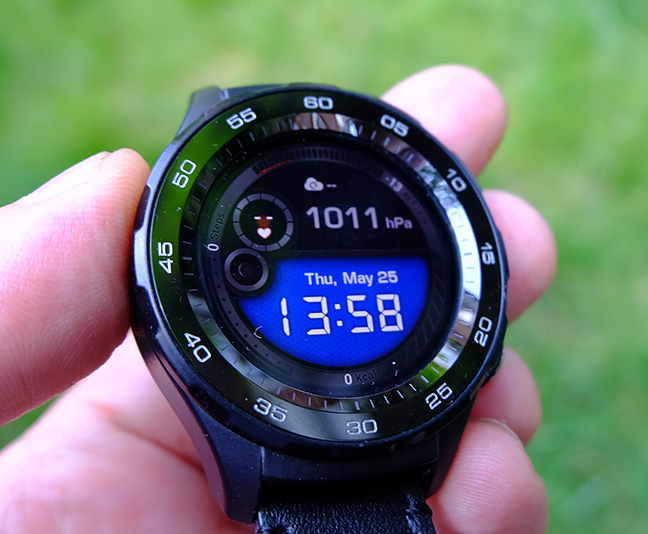 Huawei is targeting active types with this: it has a quite useless ornamental bezel which looks like it should rotate, but doesn't. The bezel dwarves the screen, with a screen-to-body of under 50 per cent, far lower than its predecessors ratio of 71 per cent. The strap is a hefty chunk o'plastic too – I swapped it for a standard 20mm strap and the watch became a lot more comfortable. I even grudgingly began to see the point of the bezel.
The default watchface is a garish affair perhaps designed by someone who has only ever seen Red Bull commercials. (There are others). And the back has some bizarre gibberish:
STUDIOUSLY STUDIO CO.LTD
MEOW MEOW 3
MADE IN CHINA
Whuh, why? Seriously? On a premium piece of consumer kit the price of a DSLR?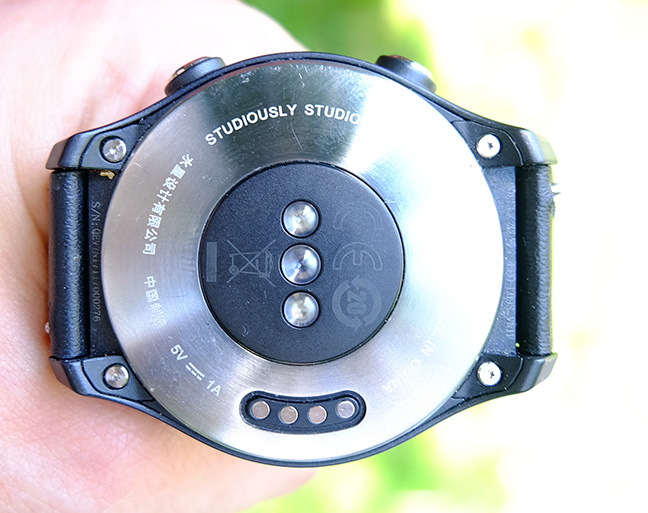 Endurance is where the improvement is really apparent. The non-removable battery is 420mAh, up from 300mAh on its 2015 predecessor. In reality, the battery comfortably lasted around two days, if you weren't using GPS. Use GPS and it depletes rapidly: Huawei claims ten hours, but I left it tracking a walk one day and by midday it had taken about half of the battery's energy. Even with an LTE SIM card fitted, it could eke out over a day (but not much more) from a full charge.
This is a huge improvement over first generation Wear devices which wouldn't last a day, and gave the entire product category a bad name. The Watch 2 does have a very handy feature – perhaps the Watch's best feature – which is a "watch mode" that's dramatically more useful than on rivals. In watch mode, the Watch will still count your steps (and tell the time) for up to 25 days. It kicks in automatically on low power, adding an extra day or more to a regular charge. Neat.
The OLED display itself held up well on a bright day. Unlike Apple's Watch, this one showed a time all the time.
I really wanted to test Android Pay, new in Wear 2.0. This is a nerve racking experience in London's rush hour, and it did flag errors a couple of times, but generally it worked. I still don't see contactless payments as a killer feature, but it's a nice-to-have if you've left your wallet at home (or have maxed out your overdraft limit: the payments are only reconciled later).
Phone calls were surprisingly good, and the antenna maintained LTE signals in areas of poor reception.
The Watch 2 will be sold on fitness, though. These are Run, Cardio, Fat Burning, Walk, Outdoor Cycle, Indoor Cycle, Treadmill, Training Plan or Other. This is considerably shorter than Apple's list which includes Pool Swim, Stair Stepper, Elliptical and Indoor Run and Walk. It's odd to see swimming omitted, given the Watch 2's IP67 rating, but I prefer the shorter list. (You can always use Google's Fit Workouts, separate to the Fit app and Huawei's Workouts).
Huawei needs a web-based dashboard for its activity apps and maybe some rewards. Personally, I can't stand the awards and badges that pop up from these fitness gadgets, I'm perfectly happy with a number. But it seem to motivate many other other lard arses. YMMV.
I found the steps counter wildly inaccurate until the April update, and it can still get confused occasionally.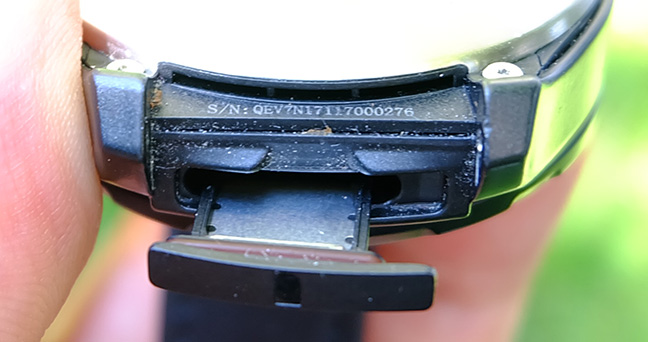 The Nano SIM tray slides out easily. And gathered a fair amount of crap in a month. The Watch 2 also supports eSIM.
As for the long-anticipated (I won't say much-anticipated, because hardly anyone cares) Android Wear 2 update – the less said the better. Google beat Apple to market in 2014 by a full year, but it hasn't used the lead well. It then didn't issue a major platform update to Wear until Wear 2 this year, and it's been shoddy and ill thought out. Every time I'd unlock the Watch it would tell me I had an English UK keyboard installed. This became a kind of demotivational koan. Like "Today will be the best day of your life!", but the opposite. It's the way you tell 'em, Google!
The Google SMS app here got very confused when the phone had a SIM in it. I could see the phone's notifications or the Watch's, and had to switch between the two.
Wear 2 reserves the most popular gesture (side swipe) for something cosmetic: changing the watch face. After fitness and payments, you just can't do much with a Wear smartwatch else with it apart from view notifications. Application support is very poor: there's no WhatsApp, for example, and many other apps are AWOL. So you end up taking your phone out of your pocket to react or engage - something the smartwatch was supposed to make unnecessary. Almost halfway through 2017 and most watchfaces don't support complications which are new in Wear 2.0.
Wear just seems to have received very little attention – doubting that Google is very committed at all to it. You can't accuse Apple of neglecting WatchOS, which has improved dramatically since launch.
Activity trackers and hybrids are attractive and sell reasonably well, smartwatches are still a solution looking for a problem, and perhaps Google has given up on making the product category a success. It feels like it. If you're already invested in Wear, you'll be hoping the number crunchers' report that Samsung's Tizen has overtaken Android Wear in worldwide sales in 2017 may give Google's devices team the kick up the bum it needs.
RRPs
Huawei Watch 2 Bluetooth Sport Smartwatch Carbon Black £329.
Huawei Watch 2 Bluetooth 4G Sport Smartwatch Carbon Black £379.
Huawei Watch 2 Bluetooth Classic Titanium Grey £409.
Huawei Product Page Amazon UK page