This article is more than 1 year old
Brocade goes bye-bye: Out on a high note ahead of Broadcom slurp
Revenues increase as it faces dismemberment
+Comment Say goodbye to Brocade as an independent company. It has just published its last quarterly results before being gobbled up and dismembered by Broadcom.
Revenues of $553m were up 6 per cent year-over-year and down 5 per cent quarter-over-quarter.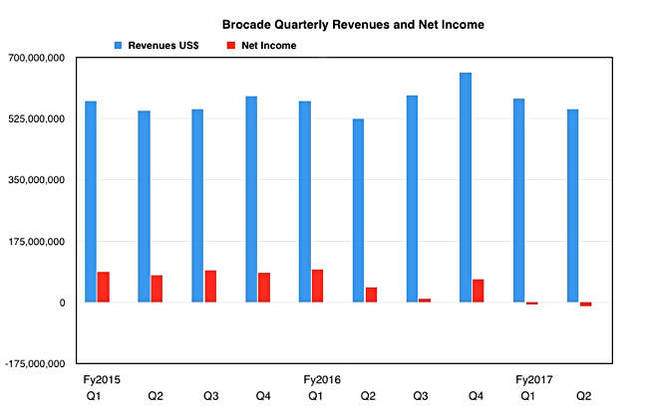 Brocade said SAN product revenue of $282m was down 5 per cent year-over-year. The decline was primarily the result of lower director and embedded switch sales, which declined 6 per cent and 12 per cent year-over-year respectively.
The year-over-year revenue performance was affected by competition from alternative storage networking technologies and architectures, and customer uncertainty surrounding the pending acquisition of Brocade by Broadcom.
Sequentially, SAN product revenue – 51 per cent of overall revenues – decreased 8 per cent, consistent with historical seasonal revenue trends, with fixed-configuration and embedded switch revenues down 15 per cent and 18 per cent respectively, partially offset by a 4 per cent increase in director revenue.
IP Networking product revenues – 31 per cent of overall revenues – of $173m, including $71m of product revenue from Ruckus Wireless, was up 32 per cent year-over-year. This was partially offset by lower wired switch and router revenue, due in part to Broadcom's planned divestiture of Brocade's IP Networking business.
Because of the pending $5.9bn Broadcom acquisition, there is no outlook for the next quarter. Neither was there a conference call.
+Comment
Farewell Lloyd Carney's Brocade. As CEO you avoided being crushed by Cisco, and built Brocade up enough to be acquired. NVMe over Fabrics looks like the lifebelt Fibre Channel needs to keep afloat and ensure the Brocade storage networking technology should survive and, indeed, prosper; so long as dratted hyperconverged systems don't obliterate SAN arrays. ®