This article is more than 1 year old
Hyper-converged trashes all-flash: Nutanix out-grows Pure Storage
$100m+ quarterly loss fuels relentless drive for growth
Nutanix is racing on to the billion dollar revenue mark for next year with a $100m net loss fuelled quarter of growth.
Third fiscal 2017 quarter revenues were $191.8m, beating the year-ago's $114.7m by 67 per cent. That's faster year-on-year growth than Pure Storage, which yesterday reported a 31 per cent revenue increase to $182.6m.
Nutanix made a net loss of $112m, again beating Pure's net loss of $62.4m, if that's the right way to describe it. Both companies are burning tens of millions of dollars a quarter in their relentless drive for growth, hoping investor's keep hold of their shares on the big-win-jam-tomorrow principle.
To put this in context, Rubrik says it has become a hundred million dollar run-rate startup and isn't that great. Nutanix is saying it's making a hundred million dollar-plus loss a quarter and isn't that great. What a weird world we live in.
There might be a concern centred on losses deepening faster than revenue is rising.
Here's a chart showing Nutanix's quarterly results and net losses so far: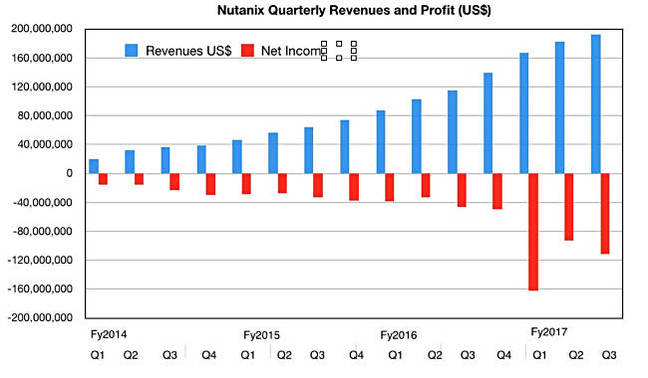 Nutanix beat its third quarter revenue forecast with the $191.8m; it suggested it was going to make revenue of between $180m and $190m but exceeded that.
It can carry on funding its dash for growth, like Pure, for a good few quarters yet. Cash and short-term investments of $350.3m, up 83 per cent from a year ago, will see to that.
CEO Dheeraj Pandey put out a bullish quote: "We continue to execute on our strategy of building a cloud operating system that provides our customers maximum choice of hardware platforms. We recently established a partnership with IBM to bring to market the industry's first hyper-converged solution on Power Systems, and introduced support for HPE ProLiant and Cisco UCS blade servers. Our third quarter results reflect our continued focus on the Global 2000 as well as a measurable improvement in the number of larger deals in the quarter, particularly in North America."
+Comment
We recall that the HPE and Cisco "partnerships" are one-sided, and don't involve, for example, any active HPE support. That company recently bought Nutanix competitor SimpliVity and has its own hyper-converged products to push. Ditto Cisco with HyperFlex. When it wants to, it does the cuckoo move of partnering with others by jumping into their nest whether wanted (Dell EMC and Lenovo) or not (HPE and Cisco.)
The IBM POWER play, though, was one desired by both parties.
Nutanix revealed that:
790 new customers in the quarter,
Total of 6,172 customers, up 99 per cent year-on-year,
521 Global 2000 customers,
71 per cent of bookings from repeat customers,
No inventory,
23 per cent increase quarter-on-quarter in Acropolis hypervisor nodes; 21 per cent last quarter.
Earnings call
In the earnings call Pandey said he was "pleased to see our North America business return to strong growth in addition to continued solid performances from EMEA and APAC."
Our concentration on increasing our number of large deals paid off with two deals greater than $5m in the quarter and 34 deals greater than $1m. Further we reached a major milestone with a largest customer crossing $50m in lifetime sales and still growing strong.
Isn't hyper-converged just for SMEs and remote and branch offices? Pandey smacked that idea on the head: "Today approximately 50 per cent of our Q3 new customer workloads are considered tier-1 business-critical applications including Microsoft's SQL server, Oracle, SAP, Microsoft Exchange, Hadoop and Splunk."
He added: "Legacy vendors, typically our biggest naysayers, would want to think otherwise, but any new architecture that changes the consumption model has had the right of passage similar to ours."
Partnering
Dell-based business (the OEM'd XC) is a little less than 15 per cent of Nutanix's revenues. Dell bookings did decline this quarter compared to the last quarter, but it was the same bookings percentage decline as seen last year – a seasonal effect in other words.
Lenovo is ramping fast and might reach the Dell level. Pandey said: "We did a really good business within this quarter. Our joint largest deal to-date with them was this quarter. And they are doing well with us in the large enterprise, verticals such as high-end financials, heavy industry, retail, flood, healthcare and technology.
"They just split their PCG and DCG division. So there is a lot of go to market stuff that we are co-designing and building together. But the early signs look good and the fact Global 2000 is actually very much friendly towards Lenovo is actually a great sign for us."
Pandey talked about the Cisco relationship, discussing a process "where Cisco understands what HyperFlex is and Cisco also understands the value that we can bring to their rack bound servers, because, as you can see from their predictions and everything else that the blade business is actually weakening and kind of fading away in this new environment which is more web-scale and cloud-like and rack mounts are a very different gross margin profile.
"So I think there is something there between us. But, we continue to work in this art of negotiation where what was non-negotiable yesterday could probably become negotiable tomorrow."
OS as a platform
Lastly, Nutanix is focused on building its operating system out as an enterprise application stack platform:
While many of our me-too competitors read the form-factor of hyper-convergence as a destination, we are focusing on an operating system which will holistically re-platform the enterprise data center. Top down consumption of infrastructure is key to our vision which is why we are so focused on developer interfaces such as self-service portals and application-centric automation.
"Building an operating system is a journey and no more than one or two are successful each decade."
More comment
Nutanix's situation in the hyper-converged market is different from Pure's in the all-flash array market.
Pure faces four massive competitors – Dell EMC, HPE, IBM and NetApp – and is in fifth place in its market. To become a viable all-flash array supplier and keep its stock price up it has to stay with them.
Nutanix faces just two: Dell EMC and HPE. To become a viable hyper-converged supplier and keep its stock price up it has to stay with them. The hyper-converged market is a three-player game and Nutanix has to spend large to keep up.
The all-flash array market is less consolidated, being largely a 5-player game, and so there is, if you will, less spending pressure on Pure compared to Nutanix.
Outlook
The outlook for next quarter is for revenues between $215m to $220m; $217.5m at the mid-point. That would make full fiscal 2017 revenues of $758.3m; a 70 per cent jump from last year's $444.9m; greater than Pure's 65 per cent annual increase to $728m in its fiscal 2017 full year results.
Nutanix is growing faster than Pure Storage, and could roar past the billion dollar annual revenues mark in its next fiscal year, assuming its progress isn't slowed by the terrible hyper-converged twins, Dell and HPE, and their chasing pack of followers, led by Cisco and bulked up, then, by NetApp. ®