Much-hyped
Ara

Blackphone

LeEco

Essential handset introduced
Andy Rubin's new project gets specs
Android founder Andy Rubin's new hardware company Essential Products has unveiled the smartphone it hopes will discomfit the rest of the market.
The former Google robotics exec on Tuesday showcased an Android handset that sports 13MP rear and 8MP front cameras, 128GB on-board storage, 4GB of memory, and a $699 price tag. The Essential Phone will also be an unlocked handset, sold without a carrier tie-in.
The smartphone itself weighs in at around 185 grams and is 141.5 x 71.1 x 7.8mm, with a 5.71-inch diagonal screen covered in Gorilla Glass 5. The body itself is made of titanium and comes in black or white (grey and a blue-green hue called "ocean depths" are also planned).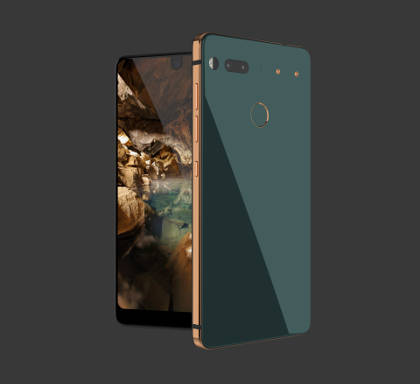 "Ocean Depths" (or you can just call it "green")
Qualcomm will be supplying much of the silicon, including the Snapdragon 835 SoC and LTE antenna.
In addition to the front and rear-facing cameras, punters can also put down an extra $200 ($150 for a limited time) to get an attachable "360 view" module with a pair of 12MP cameras and four microphones. It snaps onto the phone magnetically via a pair of on-board "power pins." Essential said the magnetic pin connectors will be used for all handset accessories.
Data transfers will be handled via Bluetooth 5.0, a USB-C port or 802.11ac Wi-Fi and LTE, while the snap-on accessories will transfer wirelessly on the 60GHz band at 6Gbps.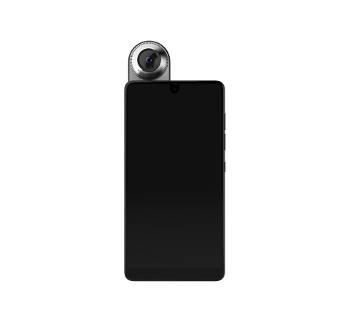 The silhouette, all lit up
The Essential is the first product announced by the super-hyped startup led by Rubin, an Apple and Microsoft engineer-turned-creator of the Android OS.
Rubin has garnered no shortage of hype for the company's first product, including a cryptic silhouette tweet of the hardware last week.
The second product from Essential will be shrouded in far less secrecy. The Essential Phone will integrate with the Home, a home assistant device still listed as "coming soon." It's pitched by the company as a less-invasive take on the home-box with a focus on privacy and integration with other smart devices. ®