This article is more than 1 year old
I'll take the sandtrooper in white: Meet the rebel scum making Star Wars armour sets for a living
Short of £180,000? These guys will sort you out
The Dark Side is in the details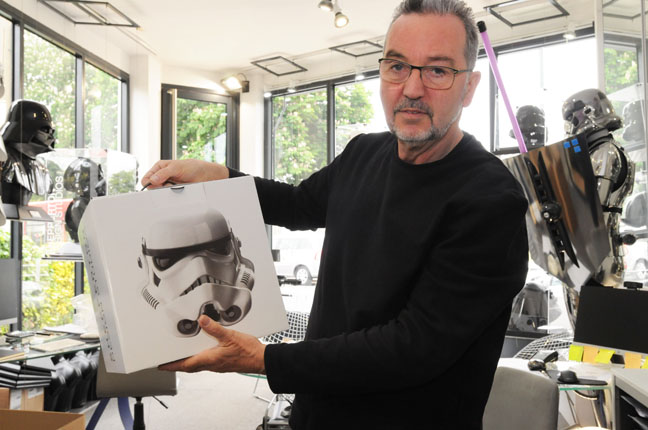 Presentation is everything: Ainsworth's helmets come with an Apple-style flourish. Photo by Gavin Clarke
It was this attention and knowledge of manufacturing process in early 1976 that helped Ainsworth land the job of making the stormtrooper plus "cheese graters" and "jawbones" to name just two sets of Star Wars wear.
Ainsworth was then a newly graduated industrial designer with a studio in Twickenham whose friend – scene artist and puppeteer Nick Pemberton – was working on Star Wars at Elstree Studios, 20 miles away.
Pemberton had been approached by Lucas to sculpt the stormtrooper helmet thereby bringing the concept drawings of iconic illustrator Ralph McQuarrie to life. McQuarrie's bold futurist art gave the world its first visual representations of Lucas's stormtrooper, Darth Vader, C-3PO and others.
McQuarrie pictures look Star Wars but are nowhere near the finished item. It was casting in clay – a necessary step to then form the moulds to cast in ABS – that set the look we know in, er, stone.
There were other models but Lucas picked Pemberton's in February 1976 and, after some revisions, asked for 50 helmets. But Pemberton passed the work to Ainsworth who had the right skills and vacuum-forming machinery. He built the moulds of aluminium and resin to handle temperatures of 200C rather than plaster, rubber and clay as preferred by the studio, and charged Lucas £20 per helmet.
"I already knew about mould making because I was building my own cars, I did a lot of mould making and did industrial design at art school and we came out with a lot of clever tricks," he says.
But Ainsworth's involvement didn't stop there. He then landed the job of making the stormtroopers' bodies. The studio was struggling to vac-form the plastic and with shooting due to start in March 1976 for the Tatooine scenes in Tunisia, Lucas was up against it. Pemberton again put Ainsworth forward. Ainsworth charged Lucas £385 per set of whitewear.
But Ainsworth isn't the only player in town, and others also claim their work has a common ancestry with those first 50 stormtroopers.
RS Prop Masters operates from a 1,000sq ft industrial unit in Stockport making five suits a week – up from, they claim, one or two initially. Production is painstaking. "It's that labour intensive," senior prop maker Rob McCormick said. "It all feeds in from the 501st – they are guys who want that level of accuracy."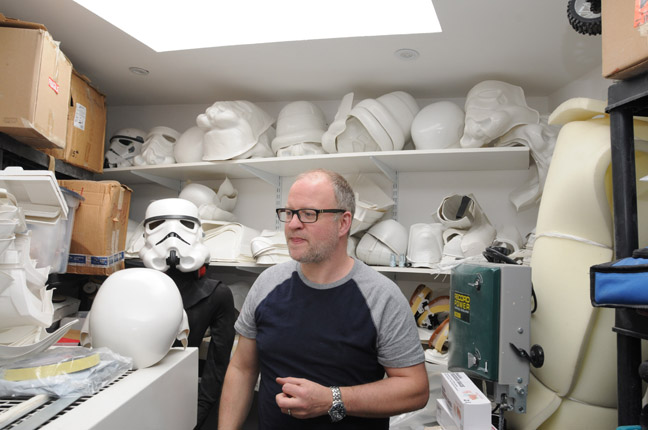 Hands solo: Mark Edwards' studio is crammed with stormtroopers in the making. Photo by Gavin Clarke
McCormick got involved as a fan but eschews Star Wars conventions and autograph hunting. He likes meeting those who have worked on the films. "I'll take somebody to lunch and sit down and tell the stories they have to tell. We get a lot of opportunity to do that," McCormick tells me on the phone.
McCormick has met Anthony Forrest, New Hope's "move along" trooper, Richard Bonehill who played TIE pilots and snowtroopers, Dirk Beer who ploughed his scout bike into the trunk of one of Endor's mighty trees, and Alan Harris who played a reptile bounty hunter and Cloud City guard in Empire, and is credited as the body cast for Han Solo frozen in carbonite.
RS Prop Masters' claim comes via a suit that arrived at McCormick's 30 years ago from his now business partner Simon Windus.
Windus had been given the uniform aged 12 and it had sat in his attic for 30 years. The pair met online and teamed up to restore the suit and form RS Prop Masters.
McCormick and Windus made resin and silicone moulds from that original, from which each RS Prop Masters stormtrooper is also descended.
RS Prop Masters also has the backing of a very important individual in Star Wars circles – Brian Muir. A respected film-industry sculptor, Muir brought many McQuarrie illustrations to life in clay, sculpting Darth Vader, C-3PO and shaping the stormtrooper body in that pre-CGI era.
According to Muir on RS Prop Masters' website, the firm is "the first and only armour that has ever been made with a direct lineage to the original Star Wars – A New Hope armour. A bold claim, but one that can be supported with real provenance, and I should know, I sculpted it."
You could read that as a shot at Ainsworth. Lucasfilm took its prop man to court for copyright violation, selling stormtrooper suits without permission, in a series of cases in the US and UK between 2004 and 2011.
Three elements were key to the case: who made what, whether it was protected under copyright law, and who owned the copyright.
Ainsworth successfully argued that he modelled the clay stormtrooper helmet in the the High Court but Justice Mann sided with Lucasfilm and Muir, that it was Muir whose clay model was the basis of the stormtrooper moulds.
Responding, Ainsworth told me: "It is true that Brian Muir and Liz Moore [another sculptor] made a stormtrooper costume of sorts, but this was totally abandoned as depicted in the court disclosures and bears no resemblance whatsoever to the costume I created and produced for the film."
Before Windus' suit, however, McCormick reckons that the closest ordinary fans could come to those first 50 stormtroopers was one owned by Cameron Oakley.
Oakley was a fan and enthusiast who collected and sold Star Wars toys and memorabillia during the early days of the web. Oakley had bought a Return-of-the-Jedi suit – formed by the studio and supposedly discarded after filming - from a former Ellstree Studio staffer along with a set of moulds for the helmet. Oakley had a set of moulds made of the armour and would occasionally have suits made that he'd sell to others.
"Before Simon, nobody had New Hope armour," McCormick says.
Individuals with a copy of that suit have tried to reverse engineer it into becoming a New Hope suit "but there are glaring differences" – the codpiece and chest were all wrong, among other key elements.
Return of the Jedi aficionado Edwards confirms the scrupulous attention to detail involved in this business. "You can really start getting your geek level up – there are lots of differences."
A former DJ and prop maker, Edwards' vacuum-forming machine is surrounded floor to ceiling on one side by the dismembered limbs and torsos of unfinished stormtroopers and on the other by hefty wood, plaster and aluminium moulds. After pressing, Edwards cuts the curved plastic very carefully using a Stanley knife. There have been accidents. Edwards' metal watch strap once saved his wrist as the blade suddenly broke clear of tough ABS into thinner plastic.