This article is more than 1 year old
Nest leaves competition in the dust with new smart camera
It's not cheap, but it is good
Nest has restated its position as the poster-child of the smart home with a new indoor camera, the NestCam IQ.
This is the third camera Nest has put on the market since its purchase of Dropcam in 2014, but it is the first to move the design forward with significant improvements in both hardware and software.
The new camera comes with its own six-core Qualcomm processor, putting a new facial-recognition feature into the product itself rather than analyzing images in the cloud. The camera has been upgraded to 4K, there are no fewer than three mics to improve clarity and quality, and a new speaker is seven times louder than previous cameras.
The NestCam IQ also comes with a new design: the Dropcam's drop-style has been replaced by one similar to Nest's outdoor camera – a half-egg structure that can rotate freely. It's now white, not black, is smaller and comes with a weighted base. And it incorporates the multi-color glow-ring from Nest's smoke and carbon monoxide detector.
Along with hardware improvements, Nest has expanded on its software and image processing to add a range of new alerts that are designed to make a security camera in your house more helpful and less annoying.
Most usefully, the camera is able to pan and tilt, following someone around the room – something that is done through the software rather than moving the camera physically. The HDR camera enables what the company is calling "supersight" with a 12x digital zoom that far surpasses anything else we've seen on the market (the current Nest cam does 8x).
I see you
The higher-quality camera and the onboard processor also introduce a new feature: familiar faces. The device will constantly scan for faces (using Google's FaceNet technology) and store images of the same person automatically into a folder that you access through the Nest app on your smartphone. You can then either tell the device that they are a "familiar" face or not. If yes, you can assign a name to that person; if not, the data is deleted.
The device and app will then inform you whenever a familiar face appears in view – including their name – or let you know if an "unfamiliar" person is in view.
The new microphone and speaker setup, combined with a software update, will also provide two new features.
The "walkie-talkie" nature of the current cameras where you press a button to speak and then wait for a response (which can cause overlap) will be replaced with a cellphone-style two-way conversation. And the camera will be able to differentiate and alert users if it hears talking or a dog barking (as opposed to the simple "loud noise" currently in place.)
The device is powered by a USB-C cord and includes all flavors of Wi-Fi including 802.11ac. Everything is encrypted using 128-bit AES with TLS/SSL.
And, in a nice feature, if you already have a Nest device set up in your house, the new camera won't require you to enter any login or Wi-Fi password details, but will grab the information through your existing account, making installation faster and simpler.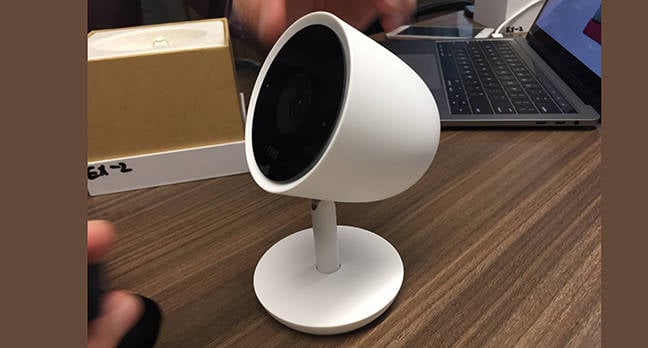 We got a sneak-peek of the new camera. We were impressed