This article is more than 1 year old
PCIe speed to double by 2019 to 128GB/s
Version 4.0's not out the door but connection wonks have decided to fast track version 5.0
The Peripheral Component Interconnect Special Interest Group (PCI-SIG) has revealed a roadmap for PCI 5.0 to debut in 2019 at 128GB/s. And that's before it finalises PC 4.0 at half that speed.
The SIG met last week for its annual DevCon. The basic message from the event is that I/O bandwidth needs to double every three years, if only to keep up with other expected accelerations like the advent of 400 Gbps Ethernet. Hence the roadmap for PCI 5.0 to arrive in 2019, despite PCI 4.0 being at version 0.9.
The other takeaway from the event is that even PCIE 4.0 is going to be impressively swift: the spec calls for 64GB/s of bandwidth. PCIE 5.0 will double that speed and will be designed with all the cool applications of tomorrow – AI, machine learning, visual computing, fast storage and dual 200Gb/s InfiniBand connections – very much in the designers' minds. The extra bandwidth will also make GPUs even more useful and allow them to be more densely deployed.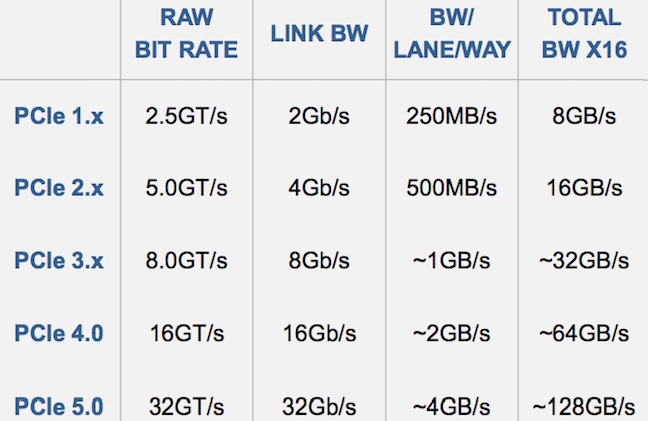 The past, present and future of PCI Express. GT/S, by the way is "gigatransfers per second".
PCIe 5.0's already hit Revision 0.3 and been made available to the SIG's 700+ members to consider. Many of those members are also hard at work on products for version 4.0, which at version 0.9 is considered "feature complete" and awaits only final signoff. The SIG says it's seeing "unprecedented interest in our PCIe 4.0 compliance testing and early adopters have already tested a dozen 16GT/s solutions".
That level of interest is in no way surprising, as between clouds and workloads like AI there's seldom been more need for speed.
All the big PC-and-server-makers are in the PCI-SIG, so once things are signed off it won't take long before the components ecosystem puts it into action. Alongside technologies like storage-class RAM, CPUs tailored for machine learning and 400 Gbps Ethernet, it looks set to accelerate computing impressively in coming years. ®