ZX Spectrum reboot firm Retro Computers Ltd has filed unaudited accounts at Companies House – and they offer few clues as to where the £513,000 of crowdfunded cash for its Vega+ product has gone.
The abbreviated micro-entity accounts appear to show that the company had assets of £417,888 in the financial year to 30 March 2016, with £363,006 falling due to creditors within one year.
Last year Retro Computers Ltd (RCL) raised a total of £513,000 in crowdfunded cash from 5,000 members of the general public. It raised this money to put into production its ZX Spectrum Vega+ console, a handheld modern-day version of the venerable old Spectrum.
Both the "net assets" and "capital" entries in the accounts contain the same figure of £54,882.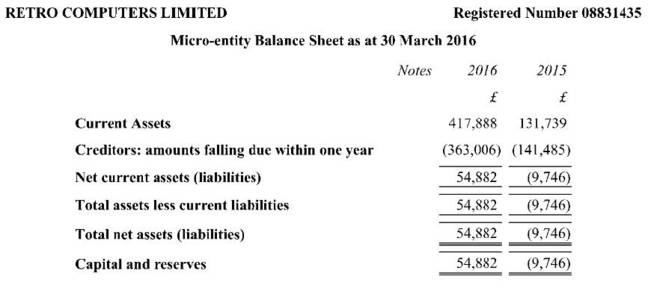 Retro Computers Ltd's 2016 accounts
David Levy, RCL chairman, refused to answer the three questions we put to him:
How large a penalty did you have to pay for the late filing?
Why were the accounts unaudited?
Does the figure for creditors include Indiegogo backers who pledged money to put the Vega+ into production or is this money due to SMS Electronics?
SMS Electronics is RCL's manufacturing partner. Former director Paul Andrews previously claimed the Vega+ project partly came about because RCL had debts to settle with SMS, which manufactured RCL's first product, the ZX Spectrum Vega.
Companies House lists the penalty for filing accounts up to three months late as £375, or £750 for between three and six months. RCL's account were due to be filed by 30 December 2016.
Levy also included a "disclaimer" in the accounts alleging Penny Foster Accounting Services Ltd had not handed over financial information necessary to file the accounts on time. The bean counter previously told us that in the five months it was associated with RCL it did not need to file any annual statements or similar on its behalf.
Whither the Vega+ and the £500k?
As Levy (and company MD Suzanne Martin, who ignored our email requesting comment) has decided not to answer questions about the accounts, this in turn raises the question of what has happened to the £513,000 pledged for putting the Vega+ into production.
It is possible that the £400,000 of assets consists of Vega+ units ready to be delivered to backers. RCL has not made any such announcement on its various web presences to this effect, however.
RCL and all its individual directors, along with web hosting contractor Lee Fogarty, who acts as the company's unofficial spokesman on social media and is the author of updates to its website, were all served with a £52,000 court costs order a month ago. The defendants have applied to the Senior Courts Cost Office to have this order "set aside" (a legal term for ignored), the application for which is due to be heard in the Senior Court Costs Office. ®