This article is more than 1 year old
Burying its head in the NAND: Samsung boosts 64-layer 3D flash chip production
Still lagging WDC and Toshiba chip capacity by half
Samsung says it is boosting its 64-layer V-NAND flash chip production after Toshiba and WDC have introduced 64-layer NAND drives.
Micron and flash foundry partner Intel also have 64-layer product coming.
The Samsung V-NAND 3bits/cell (TLC) chips have 256Gbit capacity and are being punted at mobile, PC and server applications.
Both Toshiba and WDC recently introduced their own 64-layer 3D chip SSDs, with Toshiba's XG5 in 256GB, 512GB and 1TB capacities in its NVMe M.2 format. This TLC chip features an SLC (1bit/cell) cache.
WD's Blue SSD has 250GB, 500GB, 1TB and 2TB capacities in its 2.5-inch and M.2 form factors using a SATA interface.
Micron and Intel also have SSD products using 64-layer NAND chip technology coming.
Samsung will introduce embedded UFS (Universal Flash Storage) memory, branded SSDs and external memory cards using its 64-layer chips later this year. UFS memory is for smartphones, digital cameras and similar devices.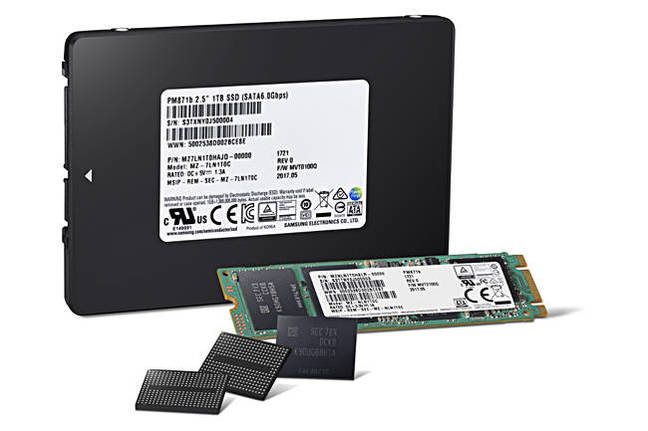 Sammy products using its 256Gbit 64-layer chips
The company says more than 50 per cent of its monthly NAND flash production should be 64-layer chips by year end. It is looking forward to a terabit V-NAND era, meaning a 4x chip capacity increase. That means either an increase in layers and/or a decrease of cell size – possibly both.
Samsung says that its 256Gbit chip has about 85.3 billion cells and several billion holes penetrating "several dozen layers of cell-arrays", with technological difficulties including making these holes homogeneous in shape. Another was "properly dispersing the weight of all the layers to improve the stability of the channel holes."
And a third was uniformly "covering the inner side of each channel hole with an atomically thin, non-conductive substance."
These difficulties will increase as additional layers are added to the chips.
Samsung is now lagging its competitors in the total chip capacity and capacity per layer area and, no doubt, has plans to catch up. ®