This article is more than 1 year old
Windows Server to get twice-yearly updates, plus stable and fast-moving branches
Nano Server to go containers-only, Server Core pushed for all other workloads
Poll Windows Server and System Center will soon receive twice-yearly updates and come in two "channels", one for the latest stuff and another less-frequently-updated channel.
Microsoft's explanation suggests the new arrangement represents "cloud cadence" while its announcement says this is all about enabling faster innovation while also aligning updates for Windows Server, System Center, desktop Windows and Office so they all land at once in a predictable twice-yearly rush.
This new policy means Windows Server will now come in a "Long-term Servicing Channel" that Microsoft is akin to the current way you buy Windows Server – a big bang upgrade every three years or so as a service pack or full new version lands, complete with lots of fixes and new features. This channel will get monthly security updates plus Microsoft's usual support, which currently has a 16-year horizon for Windows Server.
The "Semi-annual Channel" will get new functionality every six months, but will only be supported for 18 months.
Interestingly, Microsoft says "Most of the features introduced in the Semi-annual Channel will be rolled up into the next Long-term Servicing Channel release of Windows Server."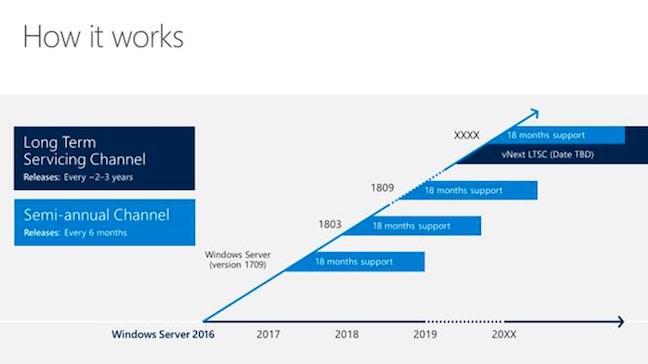 Windows Server's new release cycles
If a server can run the current Long-Term Servicing Channel of Windows Server, it'll handle the Semi-annual Channel too.
Not all Windows users will be able to access the Semi-annual Channel. To do so you'll need to be a Windows Server Standard or Datacenter user and have Software Assurance, or run Windows Server in Azure.
Windows Server Core and System Center also get the new release cadence and two channels.
This new regime will be on show with the next releases of Windows Nano Server which will soon be focussed exclusively on containers and shorn of features that make it suitable for generic workloads. Server Core is also changing: Microsoft says it's now "the recommended choice for hosting your virtual machines as well as your containers – which can be running a Nano Server container image, a Server Core container image, or even Linux container images."
Microsoft's cooking up an Insiders Program so that users can get an early look at these new releases. Registration for that program can be done here.
Microsoft says its customers have been asking for these changes. Is it right? Vote in our poll, or hit the comments. We're keen to know what you think of these rather substantial changes to a widely-used set of products. ®