This article is more than 1 year old
Software 'submarine' surfaces data protection for the Nutanix hypervisor crowd
They kept that quiet: Software for AHV app data protection
Comtrade Software's HYCU is an app-aware data protection product tailored for Nutanix's Acropolis hypervisor (AHV) with fast deployment, backup and recovery.
HYCU (Hyper-Converged Uptime) is purpose-built for Nutanix systems and auto-detects applications running in virtual machines.
But who or what is Comtrade Software?
Apparently, it is a software division within the privately owned $300m Comtrade Group, which is HQ'd in Boston, MA, with offices in Sunnyvale, CA, Ljublana, Slovenia. We understand the company has a presence in 14 countries across Europe and the US.
The Comtrade Group has a 25-year history. Back in September 2010, HERMES Softlab merged with ComTrade and renamed itself ComTrade. Over the years and amongst other developments, it lost the capital T.
It has more than 1,500 employees, 1,200 of whom are software and system engineers, and 200 of them have a backup background. Also it says it's a software partner for large and emerging players in the storage industry, providing R&D and software production services.
Comtrade claims it has actually developed many of the enterprise data protection products available in the market today, with eight active OEM'd products.
It's been profitable for the past 20 years, only sells through channel partners, and has supported over 100,000 data protection users since it was founded.
All in all it has been a bit of a storage software submarine that is only now surfacing with a product for its channel partners to sell to Nutanix AHV users.
Last year it introduced management packs for Nutanix so admins could manage it with Microsoft System Center Operations Manager (SCOM). Now it has cuddled up more closely to Nutanix with HYCU.
The TL:DR message is that HYCU deploys in less than three minutes, auto-detects applications running in virtual machines (VM) and makes them transparent to the infrastructure teams.
Comtrade Software president Simon Taylor issued a canned quote: "In developing hyperconverged uptime, or HYCU, we are ushering in a new way of protecting in an HCI environment. Now , IT administrators using Nutanix have a simple and reliable application-focused solution that will unchain them from hypervisor lock-ins."
We're told it supports all workloads on the Nutanix Enterprise Cloud platform, and helps IT administrators gain deeper levels of insight and better visualise business-critical application behaviour.
Comtrade says that, by using Acropolis V3 APIs, HYCU leverages the storage level snapshots within its data protection workflow, and the CBT API on top of it. It claims that by using storage-level snapshots HYCU outperforms competing products using hypervisor level snapshots and has much less impact on the production system.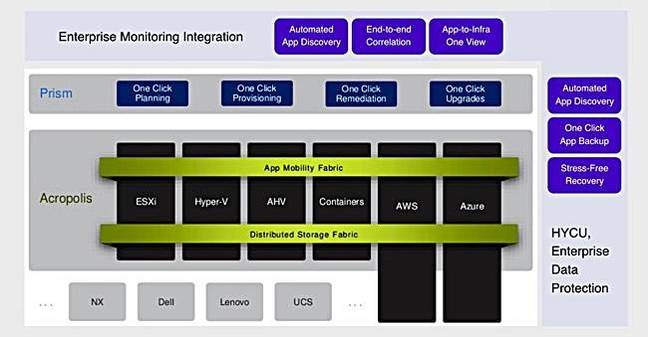 Comtrade HYCU-AHV presentation slide
HYCU is able to automate and use Nutanix infrastructure both as a source or target in backup/recovery scenarios. Acropolis/Prism can also fully leverage HYCU's REST API for higher level workflows (DPaaS).
HYCU features include:
Fully automated with patent-pending Application-Awareness and agentless technology,

Visibility into VMs to pinpoint where each application is running,
Application-specific recovery workflows so apps can be backed up with a single click,
Automated self-service portal so users can manage their own data.

Deploys and recovers in "minutes" with almost no IT admin learning curve, with Comtrade claiming:

Four minutes of ramp-up learning,
Three minutes to deploy,
Two minutes to recover identified data.
Comtrade Software has Nutanix Strategic Technology Partner status alongside Citrix, Commvault, Intel, Microsoft and SAP.
HYCU is available now for purchase worldwide through Comtrade partners. Pricing starts at $999/socket. ®