The Internet of Flying Thing: Reg man returns with explicit shots
A flight to nowhere, complete with streaming Netflix
Pics How do you tell the world you're building smart(er) aircraft tech? If you're Honeywell, you put a bunch of journalists in the front of your converted testbed airliner and take them for a flight 20,000 feet over eastern England, that's how.
Honeywell is partnering with Inmarsat to offer faster in-flight Wi-Fi speeds to airline passengers. In addition, the company has built new apps aimed at flight crews designed to give them not only live weather information but suggested altitude changes and tweaks to pre-planned company routes as well, in the name of fuel efficiency and passenger comfort.
The $39bn American firm builds everything from radars to military avionics to air conditioning units, and this push into cloud-based apps and connectivity tech comes as the rest of the world scrambles into the connected vehicles space.
For passengers, Honeywell Aerospace's GoDirect Cabin Connectivity does what it says on the tin, along with satellite networking gear provided by Inmarsat. On last Friday's demonstration flight, in Honeywell's testbed Boeing 757, the press pack were seeing download speeds of 30Mbps – and were even happily Facetiming friends and family while merrily aviating away over East Anglia and Lincolnshire.
On the flip side, while the speeds we were achieving over Inmarsat's network were rather good for 20,000ft, there were only about 20 people aboard using the in-flight Wi-Fi. Latency, at around 600ms, was what you'd expect from a network where the earth station was several thousand miles away in the US.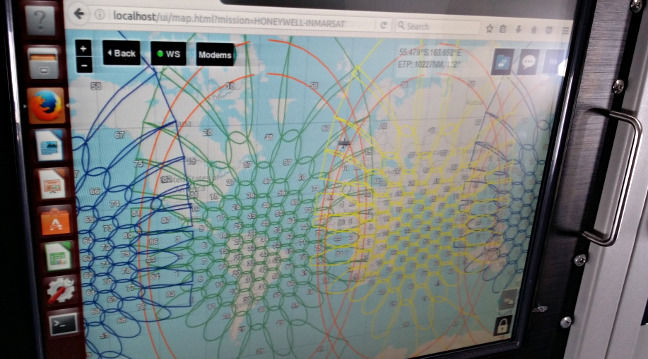 Inmarsat's in-flight satellite coverage. An engineer told us that just three satellites with steerable beams cover most of the Earth - except the North and South Poles and, unluckily for them, Iceland
The above picture shows Inmarsat's satellite network, as seen from the in-flight engineer's perspective. Three sats cover most of the Earth's usable surface, with individual beams providing coverage in each "cell" in the picture above.
Handover between beams is "seamless", an engineer aboard the 757 told us, with the handoff from one satellite to another taking "about 40 seconds" – the time needed to physically rotate the antenna in the aircraft through 120 degrees to point at the next satellite and establish a stable connection.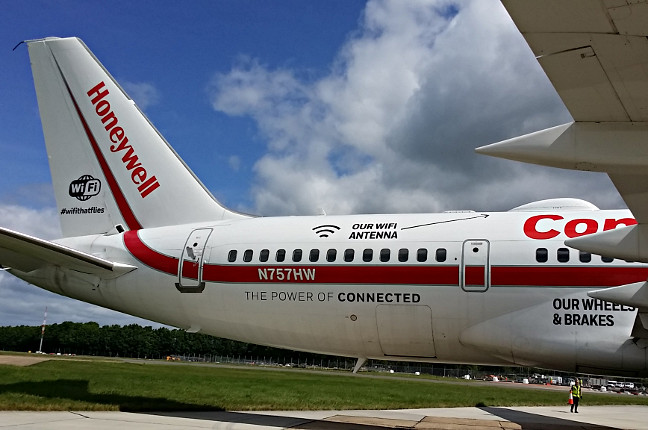 The tail of Honeywell's testbed Boeing 757, complete with blister for Inmarsat satellite Wi-Fi
The blister in the picture above is, as the helpful black text explains, the Honeywell antenna. Unfortunately nobody aboard the aircraft was quite sure what the performance hit of the protrusion would be on in-service airliners, unlike this venerable old testbed.
The onboard network was easily good enough for video calling off your own device, as well as Netflix and YouTube. Whether a modern airliner like a Boeing 737-800, with its 190-odd passengers, would cope with all of them streaming films and telly in-flight is a moot point – though the exact deployment of the tech will, naturally, vary between aircraft and operators.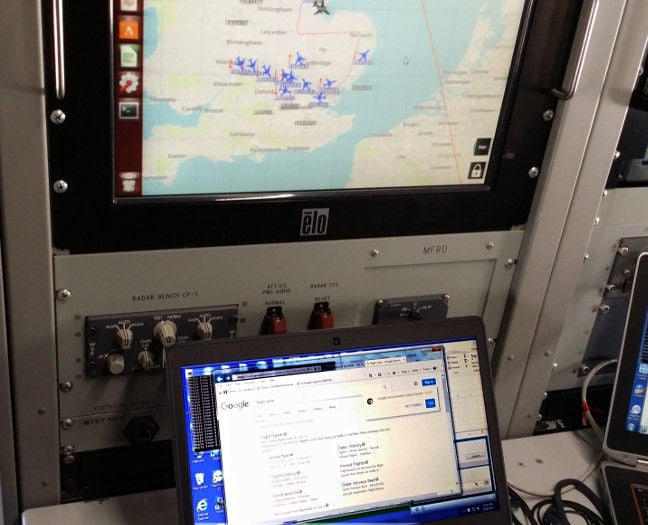 We Googled for the Flight Radar 24 aircraft-tracking website to follow our own flight while at 20,000ft. As you do
We were told aboard the demo flight that Emirates' A380 fleet currently deploys the previous version of Inmarsat's satcom technology. Honeywell hopes that 25,000 aircraft will have Wi-Fi tech on board by 2025.
Enough fat pipes for the self-loading freight, what about the airlines and crews?
The B2B offering from Honeywell Aerospace is focused on driving fuel efficiency up and maintenance costs down.
"A twin-engined aircraft can generate 844TB of data from 12 flight hours," Honeywell's connected aircraft veep, Kristen Slyker, told the gathered press before the flight. In a familiar rehearsal of the ground-based connected maintenance offerings from various other companies, Slyker told us that Honeywell's tech was capable of saving airlines around half a million dollars a year in fuel bills alone.
"The combination of the avionics, FADEC (full authority digital engine control) – all mechanical systems are linked with software," added Slyker. "What do they experience in flight? When did they experience it? They're creating logs, maintenance logs."
Honeywell's apps are all capable of running from the crew's existing electronic flight bag equipment, typically a company-issued iPad or similar. The graphical weather analysis allows pilots to get live data on weather, particularly turbulence, along the route of the flight plan, allowing them to route over or under it and enhancing passenger comfort.
"Any pilot can subscribe to it," Nate Turner, manager, flight services at Honeywell – himself a former commercial pilot – told us. Whereas air traffic control in the US currently relies relatively heavily on crowdsourced en-route weather data, gathered by asking pilots to tell them what it's like in their particular corner of the sky, Honeywell's app "gives you a clear indication of where to expect turbulence." The company hopes that future adoption of its radars and connectivity offerings alike will eventually allow airliners to become distributed nodes in a weather-sensing network, with the output from each aircraft being input to the app.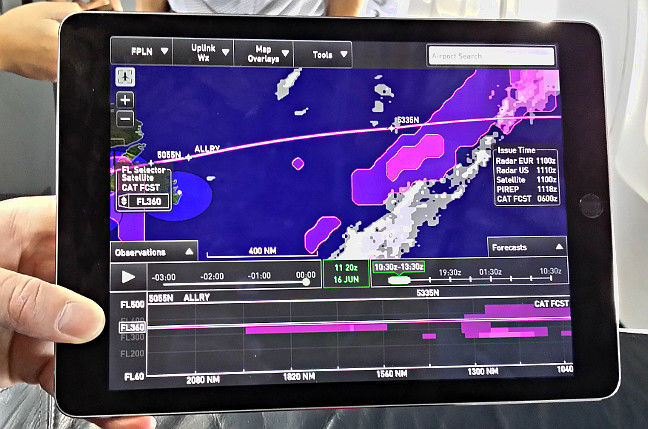 Honeywell's GoDirect Flight Services app. Along the bottom is the height display - purple means turbulence, absence of purple means still air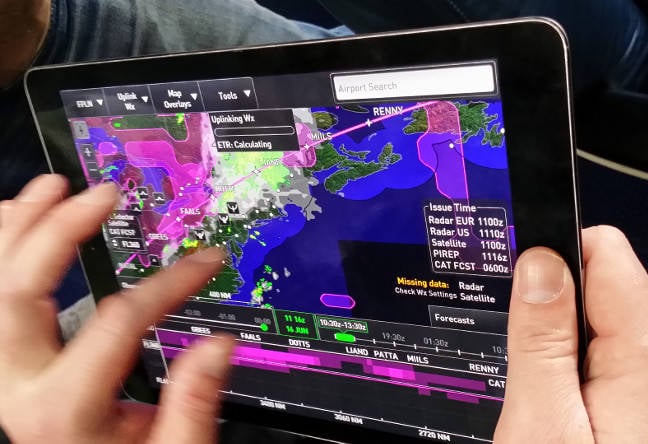 A second view of the GoDirect Flight Services app showing a range of weather patterns over eastern North America. Blighty was just too sunny that day!
The apps are mainly targeted at business jet operators who may not have the dedicated flight planning departments that large airlines do.