NetApp has introduced an all-flash SolidFire-based FlexPod.
FlexPod is a converged infrastructure reference architecture jointly produced by Cisco and NetApp, and sold by partners. It has achieved $8bn in sales for Cisco and NetApp, with more than 8,400 customers and 140+ validated designs.
Up until now FlexPods have used NetApp FAS/ONTAP storage. There is an all-flash FAS FlexPod. For example, there is the FlexPod data centre with NetApp All Flash FAS and VMware Horizon (PDF) system with an AFF8080cc array and DS2246 disk shelves populated with 800G SSDs.
It has also been possible to have a FlexPod with a SolidFire array add-on (PDF). The use case for this is to provide a scale-out storage option for block-based iSCSI workloads within the FlexPod data centre environment using the SolidFire all-flash array.
The FlexPod SF9608, NetApp says, "can support enterprise and emerging architectures with precise storage capacity and performance tailored to the needs of individual tenants in multi-tenant environments."
The SolidFire Elements OS famously solves the noisy neighbour problem with its QoS feature, and has dedupe, compression and thin provisioning.
NetApp says FlexPod SF users can control performance and capacity priorities without disruption.
The FlexPod SF features: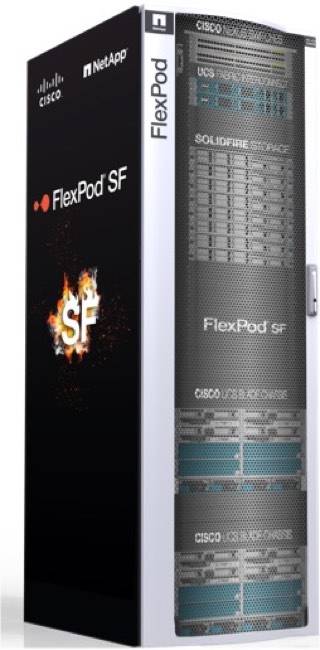 FlexPod SF9608
Cisco C220 M4 chassis,
Cisco UCS B-Series M4 servers
SF608 all-flash array with Elements OS,
8 x Samsung 960GB SSDs - 7,680GB raw
Nexus top of rack switch,
10GbitE iSCSI-only with 40GbitE support catered for.
The minimum configuration is a 4-node cluster, which has a claimed 300,000 IOPS and 30TB effective capacity. It is, of course, a scale-up system and has 1-node increment scaling, with each node adding 75,000 IOPS and 10TB effective capacity.
We can assume a 100-node tested maximum configuration.
The FlexPod SF is described as the first Cisco hardware converged infrastructure platform, which means it uses a Cisco C220 M4 server 4 instead of the original Dell servers used in SolidFire nodes.
Find out more about the system here. It will be available to quote at the end of month. ®