Cheeky IT rival parks 'we're hiring' van outside 'vote Tory' firm Storm Technologies
Strapline on van: 'Where your vote is your choice'. Meow!
Pic A rival of the reseller who threatened to sack Labour-voting employees hired a billboard van to drive past their HQ with the words "we're hiring – where your vote is your choice" emblazoned on its side.
The electoral gaffe by John Brooker, MD of Storm Technologies, was widely reported in the days after the general election on 8 June.
In a company-wide email Brooker told his underlings: "Labour voters will be made redundant first if Labour do win and things slow down."
He added: "VOTE CONSERVATIVE if you believe in free enterprise and progression without being taxed out of the game," highlighting Labour leader Jeremy Corbyn's threats to hike taxes on individuals and companies alike if his party won the election.
Hosted-IT MD Dexter Gaul, meanwhile, saw an opportunity to poke fun at the neighbouring firm, hiring a billboard van of the sort normally seen driving around Westminster with political slogans on the side.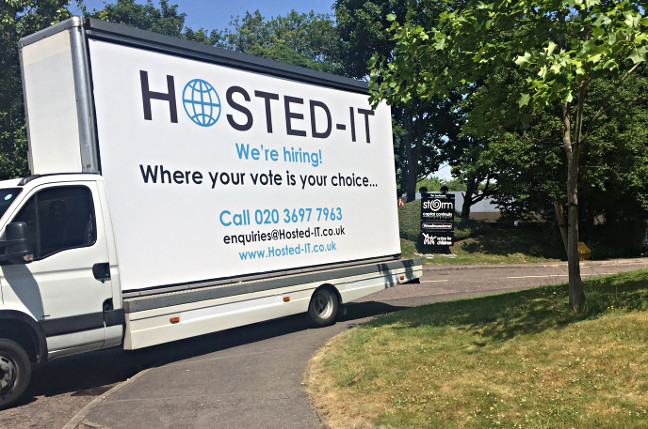 Parked on the lawn: Hosted IT's 'recruiting' van parked outside Storm Technologies' HQ
"We pride ourselves on both our customers and employees exercising their right to vote freely," Gaul told The Register. The van was driven around in front of Storm Technologies' HQ, though Gaul didn't reveal whether its tongue-in-cheek purpose bore any fruit.
Storm went to ground after Brooker's email was released to the wider world by the GMB trade union, ignoring questions from El Reg about the email rather than owning its mistake and admitting that Brooker's Dickensian diktat was an unfunny screwup by someone senior enough to know better. ®