Analysis Here's a resurrected startup that isn't a startup anymore and wants nothing to do with VCs, ever – Coraid.
At a briefing on a Silicon Valley IT press tour in June, Coraid founder Brantley Coile explained the why and how of this, and talked about how he wants Coraid to develop.
Back in May, 2015 we learned SouthSuite had bought the original Coraid ATA-over-Ethernet (AoE) intellectual property. It later bought the Coraid domain and trademark.
The back story is long and involved and starts in 2000, when Coile founded Coraid to provide shared storage access to servers using the block storage AoE access protocol. This is not connection-oriented, uses datagrams and is lightweight compared to Fibre Channel.
It saw a fair bit of success – 1,000+ small/medium business customers, $12 million in sales – enough to attract VCs. Coile took the poisoned chalice (hindsight view) of VC funding in February, 2010.
Kevin Brown became CEO, California became the base, Coile took a backseat, and the startup roared off on a VC‑funded business development spree. At first it was nominally successful, with sales peaking at a $48 million run-rate. But every dollar of sales cost Coraid, with its 159 staff headcount, $2 to earn.
It was not successful, probably due to its business-centric CEO and that it hired execs who had few IT technology smarts. There was an attempt to rewrite the biz's CoreOS software on Solaris, away from its Plan 9 base, with Coile calling this "a huge leadership mistake." Sales staff were instructed to avoid small deals.
The company burned through $114.3m from four funding rounds – changing its CEO to David Kresse before the fourth one – and then crashed in January 2015, Coile having left in May, 2014.
Now Coile has his Etherdrive SRX RAID array, VSX Network Storage Virtualizer (NAT for SAN), and EtherDrive HBA initiator products back. The branded NIC turns SCSI commands into ATA-over-Ethernet. VSX does things like Snap shadow; take a snapshot and shadow it remotely on another VSX. The operating system is now called EthOS to avoid any CoreOS naming conflict.
He is set on developing a stable and reliable business funded on profits from sales and support revenues, and not taking on any debt. He told us the company is profitable and its customers love the products.
One customer's Etherdrive ran so reliably he never had to call support and hadn't even realized the company had crashed and then been resurrected as SouthSuite in Athens, Georgia.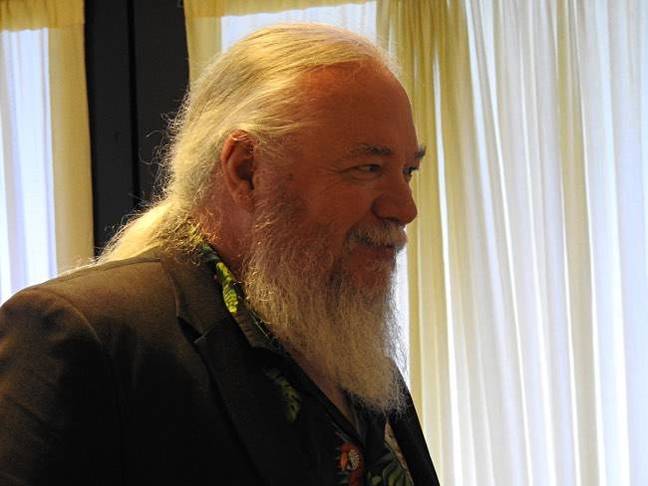 Back at the helm ... Coraid's Brantley Coile
SouthSuite company style
Coile is certainly not your average storage startup/resurrected company CEO. He stopped cutting his hair and shaving when Coraid crashed and now resembles a pony-tailed Old Testament prophet with a sense of humor.
He has no wish whatsoever to take his company public or sip at the VC funding well ever again. Being a private business suits him just fine. In a world of Budweiser and Coors, Coraid is a craft brewery.
He likes simple and elegant protocols, proudly telling us that the AoE spec is six pages, compared to iSCSI's 257 pages. He says the AoE stack is basically three layers: SCSI, AoE, and Ethernet. The iSCSI one has five layers: SCSI, iSCSI, TCP, IP, and Ethernet, while Fibre Channel has six: SCSI, FC‑4, FC‑3, FC‑2, FC‑1 and FC‑0.
AoE storage is cheap, too, with Coile suggesting $0.0013/GB/month over five years for 288TB of disk (36 x 8TB drives).
He says: "We license our software for about the price you pay RedHat."
Coraid sells directly and through resellers, and sells Supermicro-based hardware – or the customer can buy their own Supermicro hardware.
Coile says old Coraid sold more than 10,000 units in its history. SouthSuite is smaller, with over 100 customers and almost 300 deployments. The technology has 10+ years of product development behind it.
Employees have no titles, except for corporate law-mandated company secretary and CEO. He hires employees as if he was hiring them for life, and plans 5, 10 and 20 years out.
SouthSuite product direction
The company will focus on constant product innovation and improvement, not technology churning, and it won't go chasing after big bucks from some glamorous technology.
Coile says, "Moore's Law is done. So software efficiency is going to be a bigger thing. I learned my craft when computers were small and slow. I think that's going to be the future; how you make computers small and efficient."
ARM support? "We have nothing to announce at this time."
He is considering NVMe and NVDIMMs: "NVMe is a neat standard for an interface." Will Coraid add support for NVMe SSDs?
"I have nothing to announce at this point with regard to NVMe SSDs – but we like all media when it gets affordable."
SouthSuite is considering the addition of Rest API, but not an S3‑compatible one. A nice GUI is also being thought of.
What about NVMeF? "I never rule anything out." He is a mine of non-information.
El Reg is thinking of an ARM-powered EtherDrive product with NVMe SSDs; maybe using Mellanox's BlueField 4‑core ARM SoC. But that is just us hypothesizing.
How about the public cloud? Coile goes against conventional wisdom, as he thinks using Amazon is a non-starter for his small/medium biz customers because it's a variable cost. Small businesses need fixed costs so they can control their spending.
This is a man and a company that don't want to disrupt the storage networking business and change the world. Coile just wants to plow his own AoE product furrow in a solid and dependable way, to do his own traditional thing. Make mine an old-fashioned. ®