Here's a storage news item garage sale. Come on in and check out our array of goodies; there's something for everyone.
Acronis and Files Connect
The vendor says its new release of Files Connect gives Mac users instant access to all available file shares and DFS resources plus with a lightning fast search functionality hundreds times faster than the default Mac's Finder application.
Files Connect was previously called ExtremeZ-IP. It streamlines the integration of Mac computers into a Windows-based network, and addresses the reliability and performance issues associated with connecting Mac computers to Windows file shares and DFS resources via AFP and SMB protocols.
Acronis says it only takes three clicks to locate and access a file on any number of file shares with Acronis Files Connect, compared to 10 clicks per share with Mac's Finder application.
Tests showed that it only takes up to three seconds to search 250,000 files on a remote share with Acronis Files Connect, compared to more than 25 minutes when using Finder connected via SMB.
The latest software adds file indexing options on the server side and a lightweight Mac application to provide a single pane of glass into all remote file storage locations.
Acronis reckons its resellers can have a good time with the product, with over 91 per cent of enterprise organisations using Macs.
Check out Files Connect here.
GridGain Systems
In-memory computing vendor GridGain has announced its v8.1 product with a Persistent Store feature and expanded SQL Data Definition Language (DDL) capabilities added to its existing DML and ACID transaction support.
The Persistent Store function provides better performance on hybrid memory/disk infrastructures. It is a distributed ACID and ANSI-99 SQL-compliant disk store available in Apache Ignite. It transparently integrates with GridGain as an optional disk layer, which may be deployed on spinning disks, solid state drives (SSDs), Flash, 3D XPoint and other storage-class memory technologies.
With Persistent Store enabled, users are no longer required to keep all active data in memory or warm up RAM following a cluster restart to utilize the system's in-memory computing capabilities.
GridGain says its Ultimate Edition gives Persistent Store users a cluster snapshot backup feature, said to be useful in mission-critical environments.
iStorage and the most secure disk drive ever
The claimed most secure disk and solid state drives ever made has been launched by UK-based iStorage in the shape of its diskAshur range, with SSD, PRO, PRO SSD and DT models.
How is that claim justified? They feature Enhanced Dual Generating Encryption (EDGE) technology. This uses a dedicated hardware-based secure microprocessor (Common Criteria EAL4+ ready), which employs built-in physical protection mechanisms designed to defend against external tamper, bypass laser attacks and fault injections.
All these diskAshur models react to automated hacking attempts by entering ae deadlock frozen state, which renders all such attacks useless. Without the PIN, there's no way in.
The drives have these common features:
Brute Force Hack Defence Mechanism - Intelligently programmed to protect against all forms of Brute Force Attacks. Upon the 15th consecutive incorrect PIN entry, the diskAshur drive assumes it is being attacked and will delete the encryption key and lock itself, rendering all data previously stored on the drive as lost forever. At this point the drive can be reset to factory default settings and redeployed.
Self Destruct Feature: Users can pre-program the diskAshur drives with a unique Self Destruct PIN which, once entered, instantly deletes the encryption key rendering all data previously stored on the drive as lost forever.
Unattended Auto-Lock Feature: Set the drive to automatically lock after a pre-determined amount of time where the drive has not been used.
Wear Resistant Epoxy Coated Keypad: Designed with protection in mind, the diskAshur range offer a wear resistant epoxy coated keypad which hides key usage to avoid tipping off a potential hacker to commonly used keys.

iStorage diskAshur range
The drives will work on any device with a USB port. Point your browser at www.istorage-uk.com to find out more.
Memblaze and NVMe TLC SSDs
Beijing Memblaze Technology has launched new PCIe NVMe SSD products – the PBlaze 5 700 and 900 series – for hyper-scale data centre and enterprise mission critical use respectively.
Both use TLC (3bits/cell) 3D NAND and support NVMe 1.2a. Capacities are;
700 Series - 2, 3.6, 4, 8, 11TB
900 Series - 2, 3.2, 4, 8TB
The form factors are 2.5-inch U.2 and HHHL add-in card. The U.2 interface drives are hot plugable, hot removable and hot swapable.
The 900 series has a dual port U.2 design and signature firmware download, data security and encryption. It also features an enterprise JEDEC load life up to 3 DWPD for 5 years.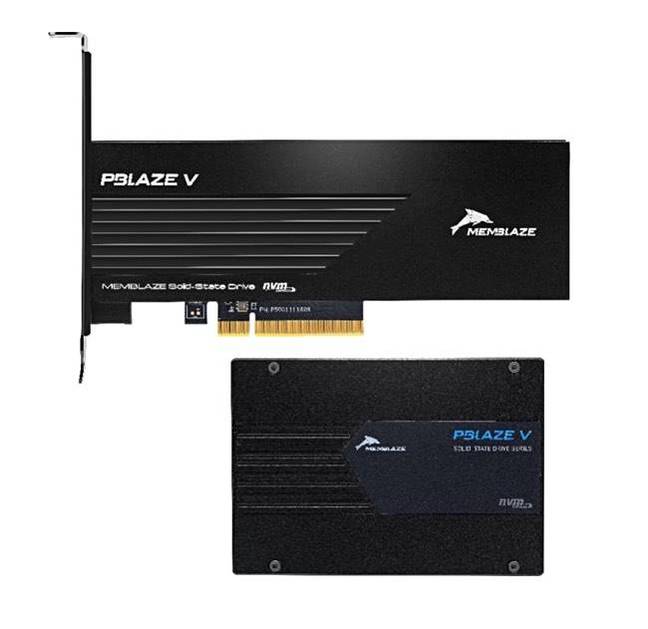 Typical read write latency for both the 700 and 900 series are 90/15μs, and the performance numbers are:
700 - 2.5-inch U.2

Sequential Read (128KB) - to 3.2GB/sec
Sequential Write (128KB) - to 2.4GB/sec
Random Read (4KB) - to 760,000 IOPS
Random Write (4KB) - to 210,000 IOPS

700 - HHHL AIC

Sequential Read (128KB) - to 6GB/sec
Sequential Write (128KB) - to 2.4GB/sec
Random Read (4KB) - to 1,042,000 IOPS
Random Write (4KB) - to 210,000 IOPS

900 - 2.5-inch U.2

Sequential Read (128KB) - to 3.2GB/sec
Sequential Write (128KB) - to 2.4GB/sec
Random Read (4KB) - to 760,000 IOPS
Random Write (4KB) - to 304,000 IOPS

900 - HHHL AIC

Sequential Read (128KB) - to 6GB/sec
Sequential Write (128KB) - to 2.4GB/sec
Random Read (4KB) - to 1,042,000 IOPS
Random Write (4KB) - o 304,000 IOPS
They seem well-specced drives.
Snowflake Computing and its data sharehouse
Snowflake Computing has announced its newest and "most transformative" move, extending the modern data warehouse to the world's first data "sharehouse".
What's this about? AWS cloud data warehouser Snowflake has a Data Sharing feature which enables businesses to share their live, ready-to-use structured and semi-structured data, and consume the same types of data from other enterprises.
There's no additional cost for Snowflake Data Sharing and the business agreements for sharing data are direct between data providers and consumers with no involvement from Snowflake, it says.
An enterprise can share or acquire live and secure read-only access to any part of a data warehouse with and from other enterprises, by using simple commands. No data movement is involved.
Other data sharing methods such as email, FTP, EDI and APIs, which move data, aren't needed. It does sound like a neat idea.
Snowflake CEO Bob Muglia went into marketing overdrive, saying: "Snowflake Data Sharing transforms data into a product, a true business asset."
A true business asset ... like an office desk or a stapler? Ha! Got you there.
Find out more here.
SpectraLogic and Spectrum Scale
Tape and disk archiving system supplier SpectraLogic is partnering UK-based ArcaStream, and using its Ngenea client to enable Spectrum Scale (GPFS parallel file system) users to store data on Spectra's Black Pearl system.
Black Pearl is a converged storage system, encompassing object storage on disk, tape, public and/or private cloud, within multi-user workflows.
ArcaStream developed a tailored BlackPearl-based client for its file system, which has now achieved certification with SpectraLogic.
Spectra CTO Matt Starr says: "BlackPearl is now GPFS-enabled, which is a critical requirement for the HPC market. Customers who deploy this joint solution will not need to deploy any other storage tier."
Virtual Instruments supports 32Gbit/s FC and 40GbitE
The latest 5.6 version of the Load DynamiX Test Development Environment (TDE) is accompanied by a new family of Load Generation Appliances, including new 32Gbit/s Fibre Channel and 40Gbit Ethernet Series Appliances.
The TDE, which supports 32Gbit/s FC and 40GbitE, has a multicore capability to enhance workload load generating capability. This more than doubles the load generating capability over the prior generation.
Infinidat quality assurance veep Eran Rechter provide a canned quote for VI; "With the ability to emulate thousands of SCSI hosts and NAS clients in a multi petabyte scale environment, we perform fully-deterministic and data integrity-aware testing activities which resembles the most demanding modern enterprise data centre."
Other improvements include:
Functionality additions for NAS and Object protocols; including NLMv4 client emulation support for NFSv3, branch control support for NFS, automated SMB credit settings, and HTTP Retry and Pipelining enhancements,
Usability improvements for TDE including User Settings Profiles, Custom CDB Builder templates, and better integration with third party centralised repositories,
Enhancements to improve collaboration in a source-controlled environment,
Support for a new RESTful API that makes it easier to deploy Load DynamiX as an extension to customers' automated test harnesses.
Shorts
DataCore has gained TUI Cruises as a customer, with its SANsymphony software-defined storage product implemented on its five 'Mein Schiff' cruise ships.
Shared NVMe JBOF startup E8 has launched a global channel program, including agreements with Proact in Europe and World Wide Technology (WWT ) in the US. It's expanded its sales force, adding two Europe-based employees in addition to its teams in the United States and Israel.
All-flash array vendor Kaminario says Management Science Associates, Inc. (MSA) is using its K2 array for its internal marketing analytics applications and its hosted infrastructure services.
Micron has appointed Sumit Sadana as EVP and Chief Business Officer with all four Micron business units reporting to him. Sadana will drive corporate strategy and business development for Micron. He is incoming CEO and president Sanjay Mehrotra's first senior exec hire, and comes from Mehrotra's old gig – WDC-owned SanDisk.
®