This article is more than 1 year old
Intel launches 64-layer 3D flash client SSD
You can buy it at consumer electronics e-shop. We're not joking
Intel has hatched a new SSD, a 64-layer one, available in a lovely coincidence at etailer Newegg for $179.99.
This is, Intel claims, the world's first commercially available SSD using 64-layer 3D NAND, and is only shipping with a 512GB capacity.
It has a 6Gbit/s SATA interface and its 4K block read/write IOPS are up to 75,000/90,000, about the same as the existing client SSD 540s series products. The sequential read/write bandwidth (128K blocks) is up to 550/500MB/sec – again equivalent to the 540s SSDs.
This 2.5-inch notebook/desktop disk drive replacement product has a 1.6 million hours MTBF rating, a five-year limited warranty, and AES 256-bit encryption.
The 545s will have additional capacity variants added, starting at 128GB and extending upwards to 2TB, effectively replacing Intel's current 540s series client SSD range with its 120GB to 1TB range. M.2 form factor product will be coming too.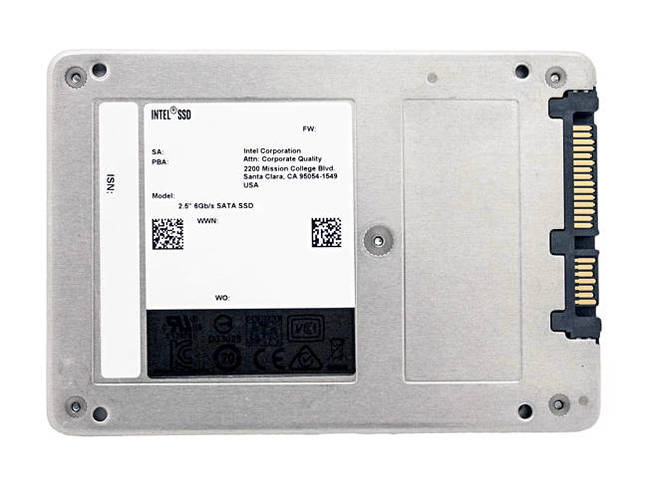 Intel 545s 64-layer 3D NAND 512GB SSD
Intel's Rob Crooke, SVP and GM of its non-volatile memory solutions group, blogged: "This next generation of process leadership will enable a smooth, easy migration and validation cycle for our existing data centrecustomers from today's 32-layer products to 64-layer product extensions. It also enables an expanded product portfolio that supports new business client and embedded products. We have very strong generational synergy in our factories and expect a fast ramp of bit supply based on 64-layer, TLC, 3D NAND by mid-2018."
El Reg's Storage Desk expects Intel fab partner Micron to bring out SSDs using the 64-layer, TLC NAND chips as as well.
Check out a brief product brief here (PDF), and a performance review here, which found a firmware bug that needs fixing. ®