This article is more than 1 year old
Newly Google-emboldened Nutanix aims for data centre dominance
Data centre control plane platform play by mad hyperconverger
Nutanix is making a play to be a data centre control plane platform with a hybrid cloud game plan, buttressed by buddying up with the Google Cloud Platform.
Sunil Potti, chief product and development officer for Nutanix, had a canned quote justifying this Nutanix Enterprise Cloud OS-based game plan: "Multi-cloud IT strategies require much more than today's first generation hybrid cloud architectures, which force companies to provision and manage separate IT silos."
The Nutanix Enterprise Cloud OS is a way to use Nutanix's Enterprise Cloud Software on a whole smorgasbord of server platforms and their deployment stacks:
On-premises

IBM
Dell EMC
Lenovo
Cisco
HPE

Public Cloud

AWS
Google Cloud Platform
Azure
Nutanix Xi Cloud Services
These platforms are envisaged as being distributed across classic on-premises data centres, remote office/branch office (ROBO) and disaster recovery (DR) sites, as well as upcoming edge computing sites, and the public clouds.
The concept appears to be provisioning, instantiating, orchestrating and moving applications in virtual machines (and no doubt containers) across these run-time environments, and with common IT tooling, enabling application mobility across private/public clouds, and not being locked in to any hardware, hypervisor, or cloud.
Customers will be able to use Nutanix software as a native cloud-delivered system via the newly-announced Xi Cloud Services (XiCS). This is a turnkey cloud service built from the same infrastructure stack with the same tooling and SLAs as the Nutanix Enterprise Cloud Platform.
The first available Xi Cloud Service will enable Nutanix customers to set up, manage and test a cloud-based DR service in a few minutes, using the Prism management interface.
Xi Cloud Services is said to enable enterprise apps to be consumed as a service without "forklift" operations, Nutanix claiming this will make lift-and-shift "a thing of the past."
The hyperconverger will partner with strategic cloud providers to deliver Xi Cloud Services globally, and meet data provenance requirements for various multiple industries and use cases.
Virtualised applications will be described in "blueprints" and these are provisioned, managed and scaled into different cloud environments by Nutanix Calm. This uses Nutanix Enterprise Cloud OS capabilities to work across network, compute and storage to converge enterprise infrastructures on AHV, ESXi, Hyper-V, extended to Xi Cloud Services, as well as public clouds including AWS, Google Cloud Platform and Azure.
Nutanix and the Google Cloud Platform
The firm announced a strategic alliance with Google Cloud to blend the Nutanix environment with the Google Cloud Platform. This will feature:
One-Click Hybrid Operations with Nutanix Calm for GCP enabling a single control plane for managing applications between GCP and Nutanix environments. Traditional and cloud-native applications can be provisioned into GCP or Nutanix environments with a single click, and migrated between the two environments seamlessly. With Nutanix Calm, applications are modeled as simple, repeatable application blueprints that can be triggered with a single click and easily migrated across Nutanix and GCP environments. 
Nutanix Xi Cloud Services on GCP, enabling Nutanix customers to natively extend their data centre environment into GCP and providing a unified fabric that will be able to deliver both traditional Mode 1 and modern Mode 2 applications. Customers could use Xi Cloud Services Disaster Recovery running in GCP, and run BigQuery analytics against the full application data set without data migration operations.
Nutanix Enterprise Cloud OS with built-in support for Kubernetes enabling container-based applications to be deployed, managed and scaled in a Nutanix Enterprise Cloud. A joint solution combining Kubernetes, Google Container Engine (GKE) and Acropolis Container Services (ACS) can provide an enterprise-grade environment for containers, including scalable persistent storage services for stateful application workloads.
Cloud managers can self-provision Kubernetes via a pre-defined application blueprint with Nutanix Calm, and instantiate containerized applications in either Google Cloud or a Nutanix-powered environment.
Google and Nutanix are collaborating on Internet of Things (IoT) use-cases to combine real-time edge intelligence with core cloud computing.
Reg Comment
We tried to make visual sense of how all this fits together in a diagram: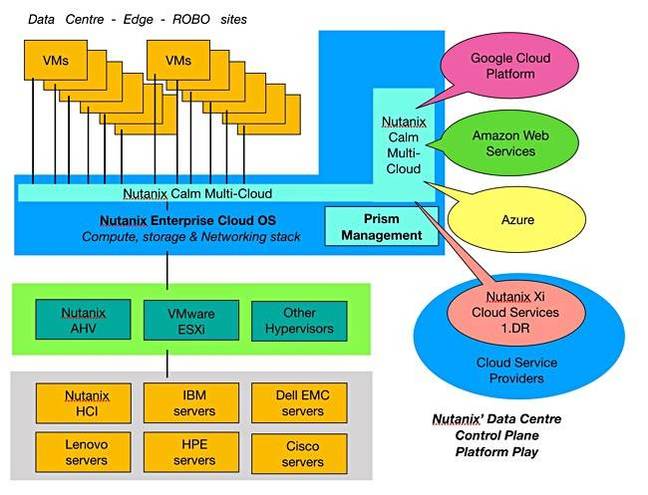 +Comment
Our main point is that Nutanix wants its software to be the main control plane interface between the virtualised applications you want to run in on-premises or public cloud-based servers. In this sense it wants to provide a control plane platform on which it can stick provisioning services like its Xi Cloud Services.
It clearly sees a great opportunity in being the Google Cloud Platform's enterprise on-ramp.
We think that a possible future move by Nutanix could be to extend its offering and influence into secondary data storage, management and use.
Availability
The Nutanix Enterprise Cloud OS is now available as a software-only offering for popular platforms from Cisco and HPE.
Nutanix Calm is planned to be  available for sale by calendar Q4 2017. Nutanix Xi Cloud Services for disaster recovery are planned to be offered for early access by calendar Q1 2018. ®