Analysis Data archiver StrongBox has moved into the data management space with StrongLink.
StrongBox, more properly StrongBox Data Solutions (SDS), was bought out by CEO David Cerf from ETI-NET, which had bought Strongbox and Sphinx products from Crossroads.
SDS says it is now solving storage management, data management and protection problems and reducing storage and operational costs - some distance from storing backup data in tape archives.
It says its StrongLink product is "the future of data management" and a "cognitive" data management solution.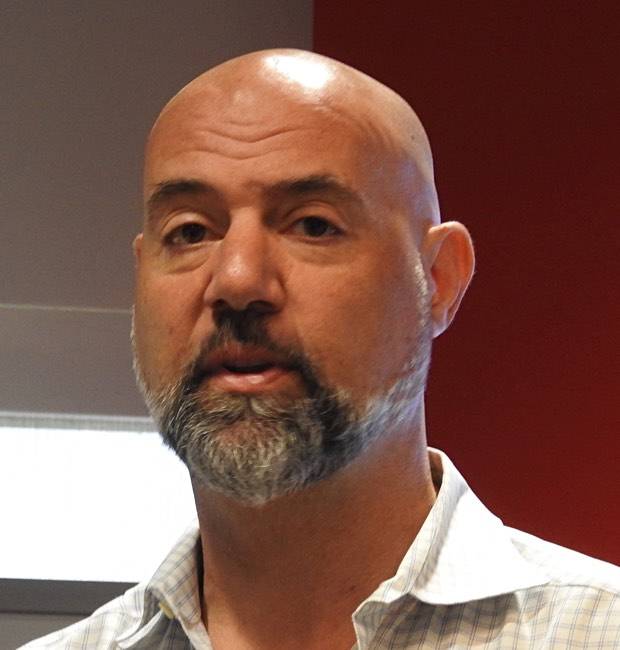 SDS CEO David Cerf
What does it do? It looks at data storage on-premises (in silos) and in the public cloud and moves improperly located data down storage tiers from fast access+expensive, to slow access, high-capacity and cheap. This is done by responding to user-set policies and using file and customer-provided metadata.
Data can be searched so that subsets can be secured, analysed, protected, given an audit trail, etc.
StrongLink connects different data silos and provides a single data management space (whatever that may mean in detail), in which it harvests metadata from your heterogeneous file and object storage estate.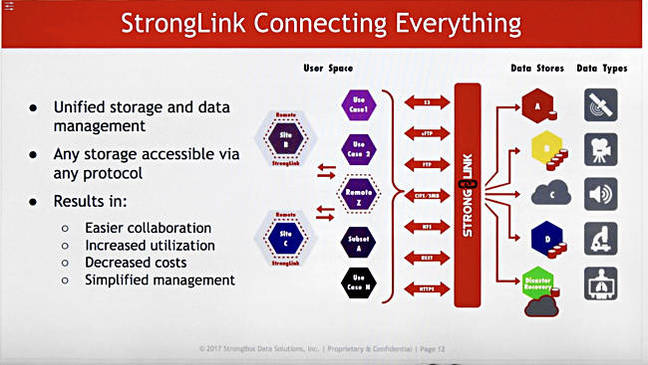 Once it has a metadata harvest, then it can be used to migrate data across tiers or from one storage device to another. It is claimed to use policies and machine learning to do this, and to simplify workflows and operations, creating "Smart Pools" as a new abstraction for grouping data stores and managing them.
There is a global namespace and multiple protocol support: NFS, SMB/CIFS, S3, sFTP, HTTPs, and an open API.
The StrongLink software is said to reduce storage costs, automate data protection, simplify governance and compliance, and generally bring clarification and control to a multiple silo mess.
It is architected to be both scale up and out, provide cross-platform support, be self-healing and always-on, and reduce storage costs by up to 80 per cent.
StrongLink is clearly a highly capable product. The answer to the "what it does it do" question is data management. But not everyone is as successful at putting across what that means - or answering the question: "can any one supplier do it all?"
Data management catching on
Being literal, "data management" is looking after data stored by business and other organisations, and that can mean many things: tiering data, secondary data reduction, copy data management, management across on-premises and public cloud repositories, search and analytics, data protection, and data governance are examples.
It is a burgeoning space as businesses are growing their data mountains and many new companies as well as existing ones, are spreading their product wings in the area.
The marketing vocabulary to describe and differentiate these companies is still developing, and few do one thing only, with much overlap of functionality, such as data movement to the public cloud and some form if co-ordination across on-premises and public cloud stores.
This means that it is becoming harder and harder to differentiate the suppliers in the area and get a clear view of what their product's core competency is, especially if they obfuscate matters by saying they are the only company offering "true" data management.
Here's a chart we quickly drew up to illustrate this point: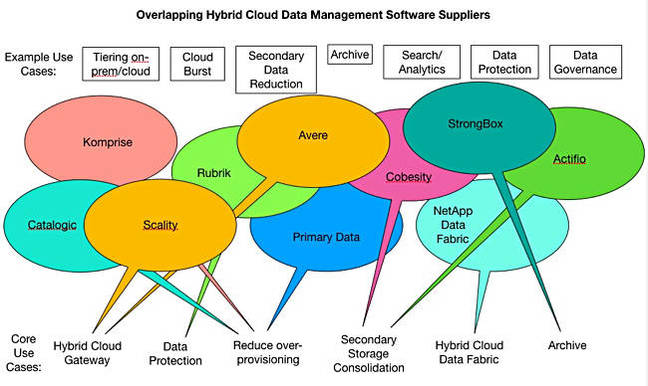 The supplier list is not exhaustive and this is our quick and dirty attempt at positioning them.
We believe that they will all have to pay close attention to identifying what they do that is different, core and material, and encapsulating that in their marketing messages to avoid confusing overlap with other suppliers.
The big question
A question to answer for all of them in this category is: "If a customer buys a data management product from X will they buy another from Y and yet another from Z?"
Suppose a NetApp customer buys into NetApp's Data Fabric ideas: will that customer buy a hybrid on-premises-public cloud data management product from a second or third supplier?
The assumption has to be not, unless the suppliers can clearly differentiate their products from NetApp's and point to a direct customer need that they can satisfy and NetApp cannot.
Suppose a customer buys into Primary Data's DataSphere product - will that customer buy product from Cohesity, Rubrik or Komprise? Again the assumption has to be that it won't unless there is a clear and compelling need.
Ditto for every supplier in the data management space and its emerging sub-categories.
Differentiation in how the market and customers perceive your product in the data management space is going to be key - and saying yours is the only "true" data management product or "true" data fabric or the future of data management will not be helpful unless you can convincingly prove it. ®
Sponsored: Webcast: Discover and secure all of your attack surface