The US government's annual wiretap report, published this week, has revealed the reach and scope of its agents' surveillance abilities.
In 2016, the number of federal and state wiretaps fell 24 percent from the previous year, with 1,551 authorized by federal judges and 1,617 cleared by the states. That's an increase of 11 per cent in federal taps, and the number of state-approved taps fell by 41 per cent. This spying covers American citizens and non-citizens.
Crucially, the devil is in the details:
A single federal tap in a narcotics investigation in the Middle District of Pennsylvania recorded 3,292,385 phone calls over a 609-day period.
Los Angeles police had the most active state tap, with a 114-day listening session picking up 559,003 cellphone conversations, 113,528 of which were found to be incriminating.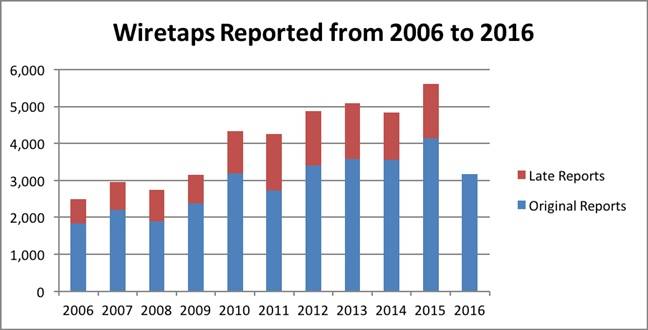 Long term the trend looks upwards
The biggest reason for all this surveillance was America's 46-year War on Drugs, which has proven a resounding failure at stopping supplies hitting the streets. Investigations into just drug dealing made up 61 per cent of all wiretap requests, and that rose to 82 per cent when multiple charges, including drugs, were counted. By comparison, the next most popular cause for wiretaps was conspiracy, which accounted for just 8 per cent, followed by homicide at 5 per cent.
As for what's being tapped there are no surprises. In all, 93 per cent of the wiretap requests were against "portable devices" – cellphones and laptops – and the primary targets were wire, oral, and electronic communications.
The government hasn't given a total cost for all this surveillance, but the average cost for a tap was $74,949, up 78 per cent from last year. The most expensive federal tap cost $5,266,558 for a narcotics investigation in southern California. At the state level, a New York tap that lasted 434 days cost $2,989,930 – and no convictions were achieved.
That's not an uncommon result. In 2016, police made 12,412 arrests as a result of surveillance data – 179 per cent higher than 2015 – but garnered just 1,248 convictions. That's 39 per cent of all wiretaps actually putting a bad actor (no, not Aston Kutcher) away. ®
Similar topics