On-Call Welcome again to On-Call, The Register's Friday reader-contributed tales of tech support jobs gone wrong.
We're mining a bit of a vein of emergency-services-related stories of late, so let's keep that going by meeting "James", who sent us a story from "way back in the 1990s when I was sent to a small branch of a foreign bank in the Govanhill area of Glasgow to look at some IT related fault so minuscule I can't remember the details."
James can, however, remember what happened a few minutes into the job.
"Strathclyde Police's finest arrived 'en masse' about 15 minutes into the job, completely blocking off one of Glasgow's main arterial roads out of the city."
At which point the bank's ashen-faced staff asked James if he'd nudged a small metal bar on the floor.
"Possibly," James replied.
At which point it was explained to him that said bar was in fact the silent alarm that staff could use to call the Police during real emergencies. James must have brushed up against it and set it off. Hence the massed officers, blocked roads and general excitement.
"Once they realised it was a genuine error and the police had stood down, the staff were very apologetic and mightily embarrassed as they had not followed their own procedures for briefing third party support personnel working within the branch," James told us.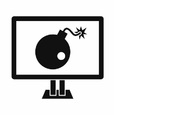 Tech support made the news after bomb squad and police showed up to 'defuse' leaky UPS
READ MORE
"I dare say somebody got a good bollocking from head office too!"
James put the incident down to naivety: "I had never worked in a bank branch – until this point it had never occurred to me such things even existed," he told us. But he has remembered the lessons of that day forever: "I'm a lot more careful working in foreign environments to this day," he told On-Call.
Have you had an … erm … brush with the law to match James? Or just brushed someone or something up the wrong way while doing tech support? Whatever the mess you found yourself in, click here to share it with On-Call and we may run it here on a future Friday. ®
Similar topics