This article is more than 1 year old
Back to ASICs: Mellanox pumps up Ethernet speed to 400Gbps
200GbitE and 400GbitE ASIC-powered switches
Just as we're getting used to 40Gbps, Ethernet networking kit-flinger Mellanox makes it 10 times faster with a Spectrum-2 ASIC running at up to 400Gbps.
It's doing this because of our old friend incessant data growth. Specific drivers mentioned by Mellanox include AI, real-time analytics, NVMe over fabrics storage array access, hyperscale and cloud data centre needs – all needing increased Ethernet switch bandwidth.
The Spectrum-2 switches programmatically operates at 10, 25, 40, 50, 100, 200 and 400Gbps, making it the most scalable Ethernet switch ever. Mellanox says it has a programmable flexible parser and packet modifier, and supports user-defined protocols. The parser and packet modifier can be programmed to deal with future protocols.
The switch has an on-chip 42MB packet buffer which can be dynamically shared between all ports. Mellanox says it can process 9.52 billion packets per second (pps), which ensures full wire speed at any packet size, down to 64 bytes, and zero packet-loss.
It also says the switch has adaptive routing and load balancing, and guarantees zero packet loss and unconditional port performance. It has telemetry capabilities, including in-band ones, to provide visibility into its operation for network operators.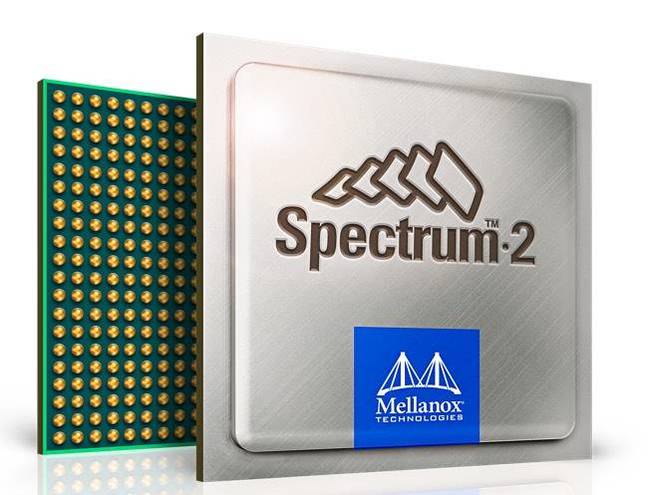 Mellanox Spectrum-2
We're told Spectrum-2 keeps the existing Spectrum switch API, for porting software onto the ASIC via the Open SDK/SAI API or Linux upstream driver (Switchdev). It supports standard network operating systems and interfaces including Cumulus Linux, SONIC, standard Linux distributions and more.
Spectrum-2 is claimed to have 1.3X lower power consumption and 1.4X lower latency, at 300 nanoseconds, than Broadcom's Tomahawk-2 product.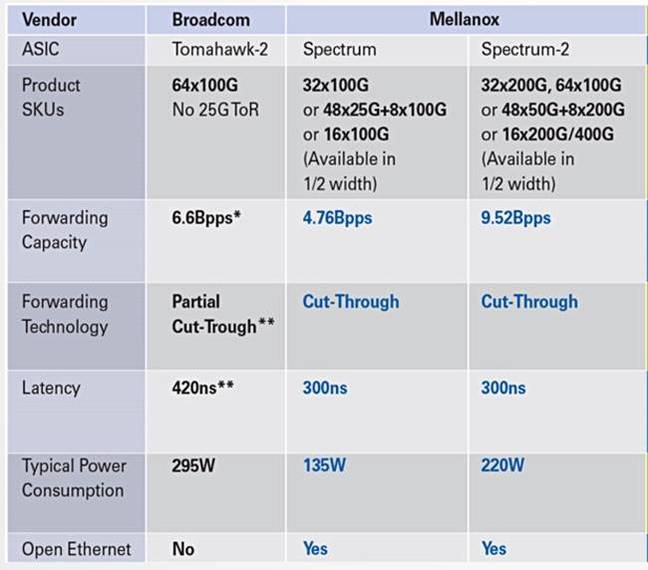 Mellanox table comparing Spectrum switches to Broadcom's Tomahawk-2. In the table, * indicates value estimated as double of Tomahawk and ** indicates it defaults to cut through only when all ports are set to the same speed.
The Spectrum-2 technology can provide up to 16 ports of 400GbitE, 32 ports of 200GbitE, 64 ports of 100GbitE and 128 ports of 50GbitE and 25GbitE. Four products have been identified by Mellanox so far:
SN3700 - 32 x 200GbitE - up to 128x25/50GbtE with cable splitter
SN3410 - 48 x 25/50GbitE + 8 x 200GbitE - 25/50GbitE -->200GbitE ToR switch
SN3100 - 16 x 200GbitE
SN3200 - 16 x 400GbitE
You should be able to get PDF datasheets here. The Spectrum-2 SDK is available now for early-access, and the Spectrum-2 switch ASIC is expected to be available later this year. ®